Home »
NCAD Youth Art Programme (YAP)
NCAD Youth Art Programme (YAP)
Entrepreneurship Summer Camps - NCAD and Rediscovery Centre, Ballymun
NCAD Entrepreneurship Summer Camps for Secondary Students -July /August 2019
Explore Sustainability, Entrepreneurship, Creativity, Innovation, Design Thinking and Design Strategies; Product based business and /or Service based business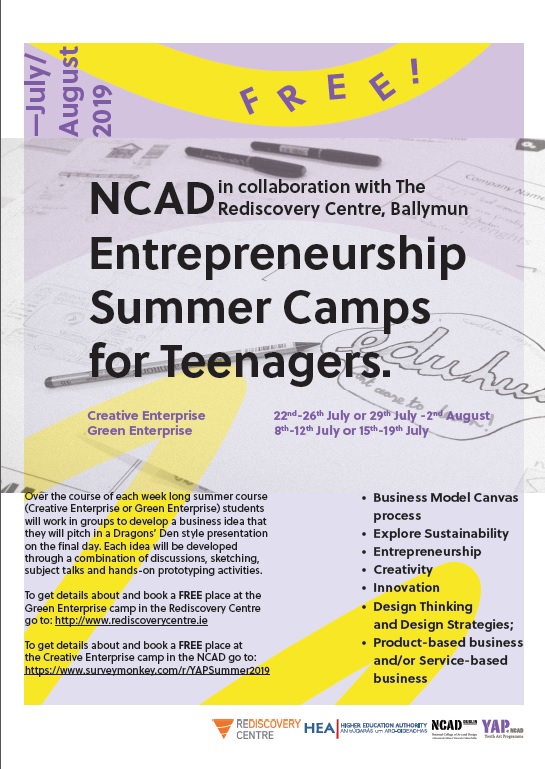 Over the course of each week long summer course (Creative Enterprise or Green Enterprise) students will work in groups to develop a business idea that they will pitch in a Dragons' Den style presentation on the final day. Each idea will be developed through a combination of discussions, sketching, subject talks and hands-on prototyping activities. The camps will be of interest to students who study ANY of the following subjects:
Senior Cycle: Art, Business; Construction Studies; Design and Communication Graphics; Engineering, Physics, Politics and Society, Technology.
Junior Cycle: Visual Art; Business Studies; CSPE; Environmental Social Studies; Technology.
Please Note: The NCAD Entrepreneurship summer camps are NOT Portfolio Preparation summer camps.
Based on the success of the NCAD Entrepreneurship summer camps that ran in 2017 & 2018, the Higher Education Authority (HEA) has given NCAD funding to run four summer camps in July/August 2019 as follows:
| | | | | |
| --- | --- | --- | --- | --- |
| Summer Camp | Date | Time | Title | Venue |
| 1 | 8th -12th July | 09.30-15.00 | Green Enterprise | Rediscovery Centre |
| 2 | 15th -19th July | 09.30-15.00 | Green Enterprise | Rediscovery Centre |
| 3 | 22nd - 26th July | 09.30-15.00 | Creative Enterprise | NCAD |
| 4 | 29th July - 2ndAugust | 09.30-15.00 | Creative Enterprise | NCAD |
To book a FREE place at the Creative Enterprise camp in the NCAD go to: https://www.surveymonkey.com/r/YAPSummer2019
To book a FREE place at the Green Enterprise camp in the Rediscovery Centre go to: http://www.rediscoverycentre.ie/