Home »
MSc Medical Device Design
MSc Medical Device Design
Medical technology needs innovators who are able to generate great ideas and produce great designs for successful products. Innovators who understand the need for empathy with users and the technologies needed.
MSc Medical Device Design - AD460.
A one-year taught masters in Medical Device Design in conjuction with science and engineering at UCD and TCD.
Programme commences in September 2022.
MSc in Medical Device Design Presentation
Are you having trouble viewing the presentation?
In your browser settings, clear your browser cache and opt to accept all cookies.
APPLY for a place on the MSc in Medical Device Design
We welcome applicants from a broad range of backgrounds, including design, healthcare, engineering and business. We prepare graduates to play a leading role in the development of emerging medical devices.
Additional Information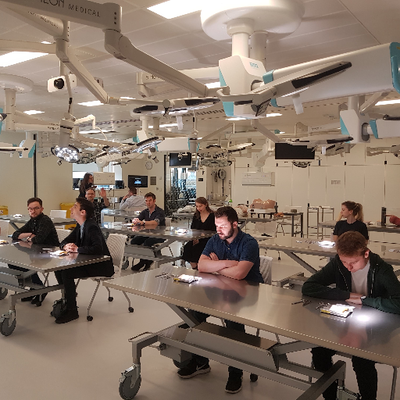 Applications are NOW OPEN for the MSc in Medical Device Design.
Please contact us at admissions@ncad.ie for more information or guidance on your application.
The MSc in Medical Device Design collaborates each year with a number of international medical device companies and local medical institutions. Each project the student undertakes is completed in collaboration with one of these medical device companies or medical institutes.
In this last year we have worked with RCSI, Stryker Innovation Centre Cork, Mater Hospital Dublin, Boston Scientific Cork, St. James's Hospital Dublin and Hollister Medical Ireland to name a few.
Find out more about the MSc in Medical Device Design at NCAD.
Downloads
NCAD, Shaping Design in Ireland and beyond
More information
Find out more about studying at postgraduate level at NCAD.
Visit the NCAD Works 2021 Graduate Showcase to see the work of MSc Medical Device Design students.
Contact
Contact the course leaders: Enda O'Dowd, odowde@staff.ncad.ie
Contact NCAD Admissions admissions@ncad.ie
Follow NCAD
NCAD Twitter @NCAD_Dublin
NCAD Instagram @ncad_dublin
NCAD Facebook @NCAD.Dublin
NCAD LinkedIn