The Research Institute at NCAD: ART, IMAGING AND SCIENCE
Tues 3rd December 2013 5.30pm. Harry Clarke Lecture Theatre, NCAD 100 Thomas St. Dublin 8
ART, IMAGING AND SCIENCE
A symposium held in collaboration with the Science Gallery, Dublin to explore the
interface between science, imaging and art.
Tues 3rd December 2013 5.30pm. Harry Clarke Lecture Theatre, NCAD
100 Thomas St. Dublin 8.

Contributors
Silvia Casini, postdoctoral research fellow at Ca' Foscari University, Venice
Professor Denis Weaire, Emeritus Professor of Physics, TCD
Grace Weir, Artist in Residence, Dept. of Physics, Trinity College Dublin
Emer O'Boyle, UCD, Gloria Project (Global Robotic-telescopes Intelligent Array)
Introduced and moderated by Michael John Gorman, Director of the Science Gallery
ALL WELCOME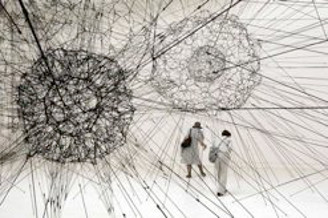 Tomas Saraceno ……morphology of soap bubbles, spider webs, neural networks or cloud ...