THE ENIGMA OF FRANK RYAN
A Film by Desmond Bell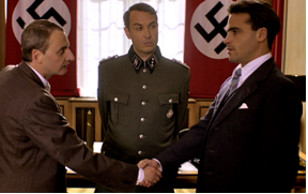 A sympathetic but searching exploration of the life of Frank Ryan (1902- 1944) - Irish radical, International Brigade volunteer in Spain and Nazi collaborator in Berlin. Our film employs the imaginative resources of the drama documentary to explore a human story of truly tragic proportions.
Tues. 8th October, 5.00pm
Harry Clarke Lecture Theatre
NCAD, 100 Thomas St. Dublin 8.

(with a panel discussion after the screening chaired by Tommy Graham, History Ireland with Des Bell, Fearghal McGarry and Pat Murphy)