PwC launches its 2015 Calendar with the help of the students of the NCAD
PwC today launches its 2015 Calendar, themed 'Business Powered by Design', in collaboration with Visual Communication students from NCAD.
PwC has again collaborated with the 3rd year Visual Communications students who have created a calendar for this, the year of Irish design. The calendar showcases the many ways in which design and design led thinking can transform business whether in the workplace, organisational structures, processes, products or services and across industry sectors.
The PwC calendar is also supported by Enterprise Ireland and Irish Design 2015 as part of the year long initiative celebrating and promoting Irish design. The initiative is being convened by the Design & Crafts Council of Ireland on behalf of the Department of Jobs, Enterprise and Innovation and the Department of Foreign Affairs and Trade and Enterprise Ireland.
Speaking at the launch, Ronan Murphy, Senior Partner, PwC, said: "Great design transforms great ideas into real commercial success. We are delighted that the students, in this year of Irish Design, have illustrated through artwork the many ways in which business can be powered by design. I would like to thank the NCAD, Enterprise Ireland and Irish Design 2015 for their involvement. I would also like to particularly congratulate the very talented students for their superb creativity and wonderful artwork. I wish them every success in their future careers."
Professor Declan McGonagle, Director, NCAD, commented: "The NCAD believes that it is important to expose students to real world scenarios and situations in order to create opportunities for them to collaborate with agencies and industry to develop effective and marketable products and services. This ensures that, on graduation from college, they have capabilities and skills which are transferable across a range of creative sectors. NCAD stresses the importance and value of design thinking as well as design skills, internally and externally. Research has shown that investment in creativity in art and design pays dividends for the economy as well as the culture and society. This calendar project, as a product of the successful partnership with PwC, embodies that message - to businesses and opinion formers in Ireland and further afield."
Julie Sinnamon, Chief Executive Officer, Enterprise Ireland, said: "Innovation and design are at the heart of gaining competitive advantages in business and a core competence of successful Irish companies. The designs showcased here from the NCAD are very exciting and give confidence about capabilities and ideas of the next generation of young Irish designers and the important contribution which they will make to Irish business success stories of the future."
Laura Magahy, Executive Chairman, Irish Design 2015, added: "Encouraging investment in design by businesses is a key focus of Irish Design 2015, and we are delighted that PwC are supporting this objective. On 25,000 desks in businesses around the country the PwC calendar will be a great reminder throughout 2015 of the value that design can contribute to the economy."
ENDS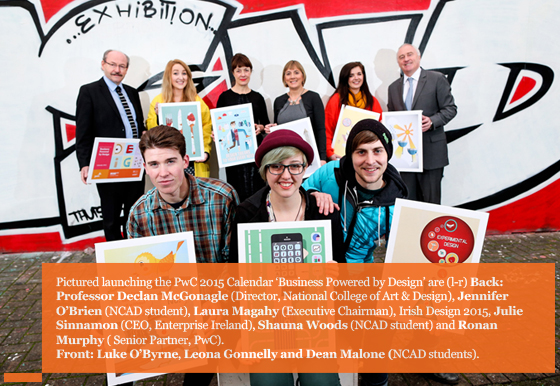 Notes to editor:
Research by the Design Council in the UK has shown that for every €1 invested by a business in design, over €20 in increased revenues can be generated. For every €1 invested in design, businesses can expect a return of over €5 in increased exports and over €4 in increased net operating profit.
In the past 10 years, design based companies outperformed the Standard & Poor's 500 by 228%. Source: Design Management Institute, Boston.
Workplace design can make higher levels of employee engagement more likely. Source: Harvard Business Review 2014.
As part of Irish Design 2015, Dublin has been named World Design Hub by the International Association of Designers.