NCAD's class of 2022 dominate shortlists for major international and domestic art and design awards
NCAD's class of 2022 dominate shortlists for major international and domestic art and design awards
Nineteen graduates, from across NCAD's design, applied art and fine art schools, have been shortlisted in the Global Design Graduate Show for 2022. 
NCAD has said that its graduates from the 2021/22 academic year are featuring exceptionally well in international and design competitions.
Nineteen graduates, from across NCAD's design, applied art and fine art schools, have been shortlisted in the Global Design Graduate Show for 2022. The international digital show, in collaboration with GUCCI, is in its third year. This year, 5489 students uploaded their end-of-year projects, making it the biggest ever online showcase of graduating creatives worldwide. A panel of independent expert judges selected the shortlist, with NCAD producing the third highest number of shortlisted students out of all the art and design colleges, from around the globe, represented in the competition.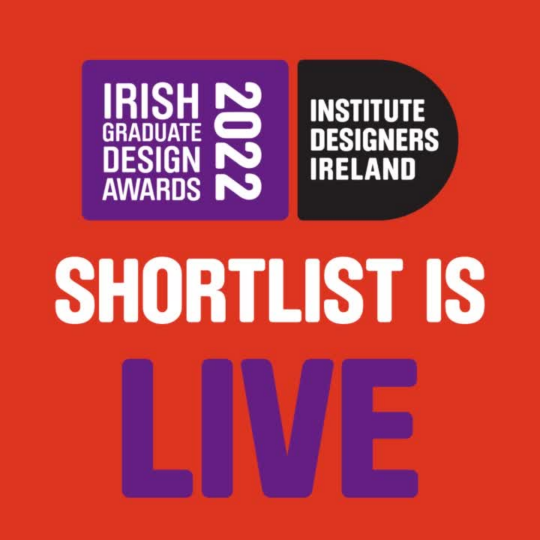 Meanwhile, the Institute of Designer in Ireland (IDI) has shortlisted 30 of NCAD's recent graduates, across the majority of categories, for their 2022 Graduate Awards.
NCAD's Director, Sarah Glennie said "The NCAD class of 2022 have already demonstrated the scale of what they can achieve. The quality of projects and final work that emerged during our graduate showcase in June was overwhelmingly excellent across all of our schools. The fact that these same students are now being shortlisted in prestigious, highly-recognised awards is an endorsement of their excellence. I am very proud of the students – and the teaching staff at NCAD – for demonstrating leadership and courage through the pandemic, and coming out at the other end with such confidence. As social innovators, creatives and solutions-providers, this cohort of graduates face an exciting future. Their learning, coupled with hands-on practice, means they can help us all navigate societies' challenges. As we move into the voting and shortlisting stages of these awards, I can only wish our graduates every success. They have already done themselves, NCAD and the Irish art and design community a great service by what they have achieved thus far," she added.
Professor Alex Milton, Head of the School of Design, NCAD commented: "NCAD could not be prouder of our graduates who consistently inspire us with their creative vision and ambition. We are delighted to see the extraordinary work of this group of talented students gain the recognition it deserves and I would like to pay tribute to them and also to the dedicated NCAD staff who supported and mentored them during their time with us. Success in the shortlisting phase of the Global Design Graduate Show Awards and the IDI awards clearly positions NCAD as one of the most decorated institutions in the world."
The public vote for the Global Design Graduate Show for 2022 is now officially open, and votes can be cast at: http://globaldesigngraduateshow.com Voting closes on Sunday 9th October 23:59 PST and the winners will be announced on Wednesday 12th October.
The short list for the IDI 2022 Grade Awards is now live. Final prizes will be announced on 20th October at an event in TUI Dublin.