NCAD Winners at RSA Student Design Awards
NCAD Leads the World with Three Winners at the Prestigious International Royal Society of Arts Student Design Awards.
We are delighted to announce that NCAD students have won three RSA Student Design awards, and three projects have been highly commended, making NCAD the most decorated institution globally in this years highly prestigious international competition.
The Royal Society of Arts, Manufactures and Commerce (RSA) Student Design Awards is one of the oldest and most-respected international student design competitions, challenging students to apply their skills and creativity to tackle current social and environmental issues. Competitors are challenged to think about the role their design thinking can have in society and asked to think of themselves as the instigators of change.
Past winners of the accolade include former Apple chief design officer Jony Ive, former Nike head of innovation Richard Clarke and co-founder of IDEO and designer of the first laptop Bill Moggridge.

Demonstrating the potential of design to unravel complex problems, explore new possibilities and unlock new ways to meet the needs of people and our planet, we're proud to introduce some of the next generation of changemakers. Congratulations to the students, and to the staff who supported them during their time with us.
Download the Press Release.


Details of the winning NCAD projects:
WINNER: For the Long Time
- Liana O'Cleirigh and Renata Dima, BA Interaction Design, NCAD Dublin
Granted: A digital tool to help migrant community organisations grow by guiding them through the process of funding, capacity building, and handover.

Migrant organisations play an important role in supporting their community members to navigate society and giving them a collective voice, however many of these organisations struggle with longevity and are at high risk of closing down when key leaders exit. Granted is a digital platform that supports these organisations to access necessary grant funding to sustain their work, but also track their activity and celebrate milestones. The platform provides the organisations with greater stability so they can plan further into the future and, when the time comes for a transition of leadership, the synthesised record of activity allows organisations to more seamlessly handover to the next generation of leaders.
WINNER: For the Long Time
- Sarah Heffernan, MA Service Design, NCAD Dublin
The Futures of Food: A speculative design project applying long time thinking to our food culture and ecosystem, to shift the restaurant industry model towards a circular, regenerative collective.

Food production in Ireland has increasingly shifted off the island and many of the traditional communal agricultural practices are being lost. The Future of Food focuses on the restaurant industry specifically and how to encourage respect for the restorative traditions of our past food systems and care for the needs of future generations. Using speculative storytelling, through a pseudo-documentary, website, and 'official' government letters, participants are able to understand how their actions now have consequences in the future. Once the problems are clearly shown, an alternate restaurant business model is proposed that incorporates sustainable practices and promotes food sovereignty and security for all.
WINNER: Moving Pictures
- Zoe McCarthy, BA Illustration, NCAD Dublin
How To Be A Good Ancestor: An animation exploring climate change through an ancestor character and their society, highlighting our impact on the world around us and the message that we can leave it better than we found it.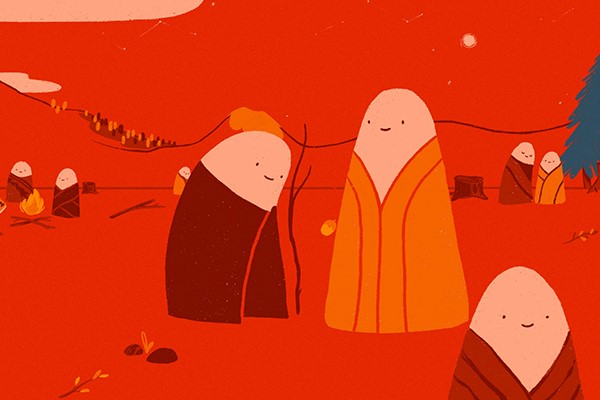 How to be a Good Ancestor introduces a character in their own universe who is also tackling the challenge of caring properly for their planet. By tracing the journey of a single character and their experience of their planet, the viewer is encouraged to consider what is possible when individuals live within their means. A focused colour palette and careful audio additions enhance the visuals and help bring this alternate world to life.
HIGHLY COMMENDED: Right to Breathe
- Aaron Conneely and Enya Carroll, BA Product Design, NCAD Dublin
RePlace: An alternative solution to traditional home hearths, which requires direct user interaction and acts as a social space and homage to our heritage.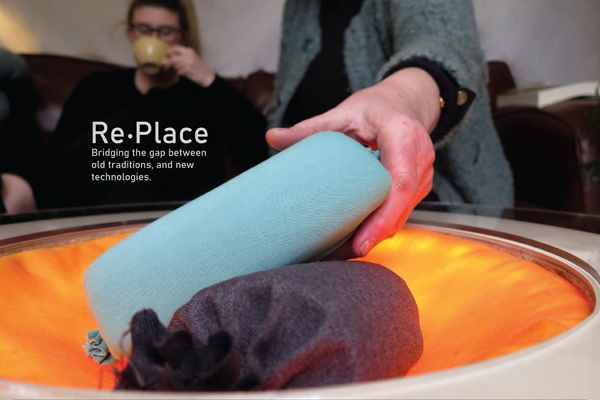 HIGHLY COMMENDED: Material World
- Monique Wiesner and Lorcan Looney, BA Product Design, NCAD Dublin
Denim Soul: A shoe making kit for the creative consumer that enables them to upcycle used denim into fresh custom footwear.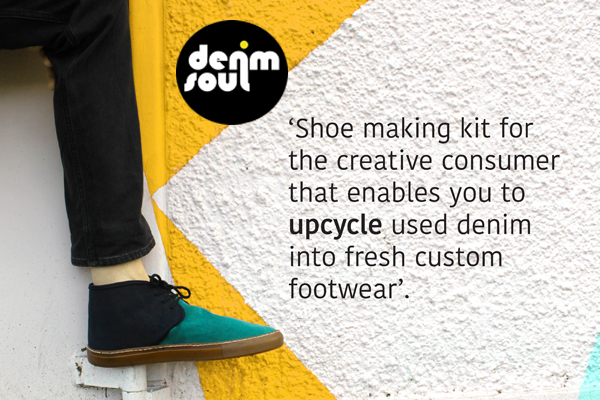 HIGHLY COMMENDED: Moving Pictures
- Lauren O'Brien, BA Graphic Design, NCAD Dublin
Choose Your Future: An animation set in a game show world that highlights the personal burden felt by having to make a choice for your own future and for the future of the planet.