NCAD today announced a partnership with Carlow LEO to develop the Irish elements of the Material Library as part of Craft Hub
NCAD today announced a partnership with Carlow LEO to develop the Irish elements of the Material Library as part of Craft Hub
NCAD partners with Carlow County Council to contribute to International Material Library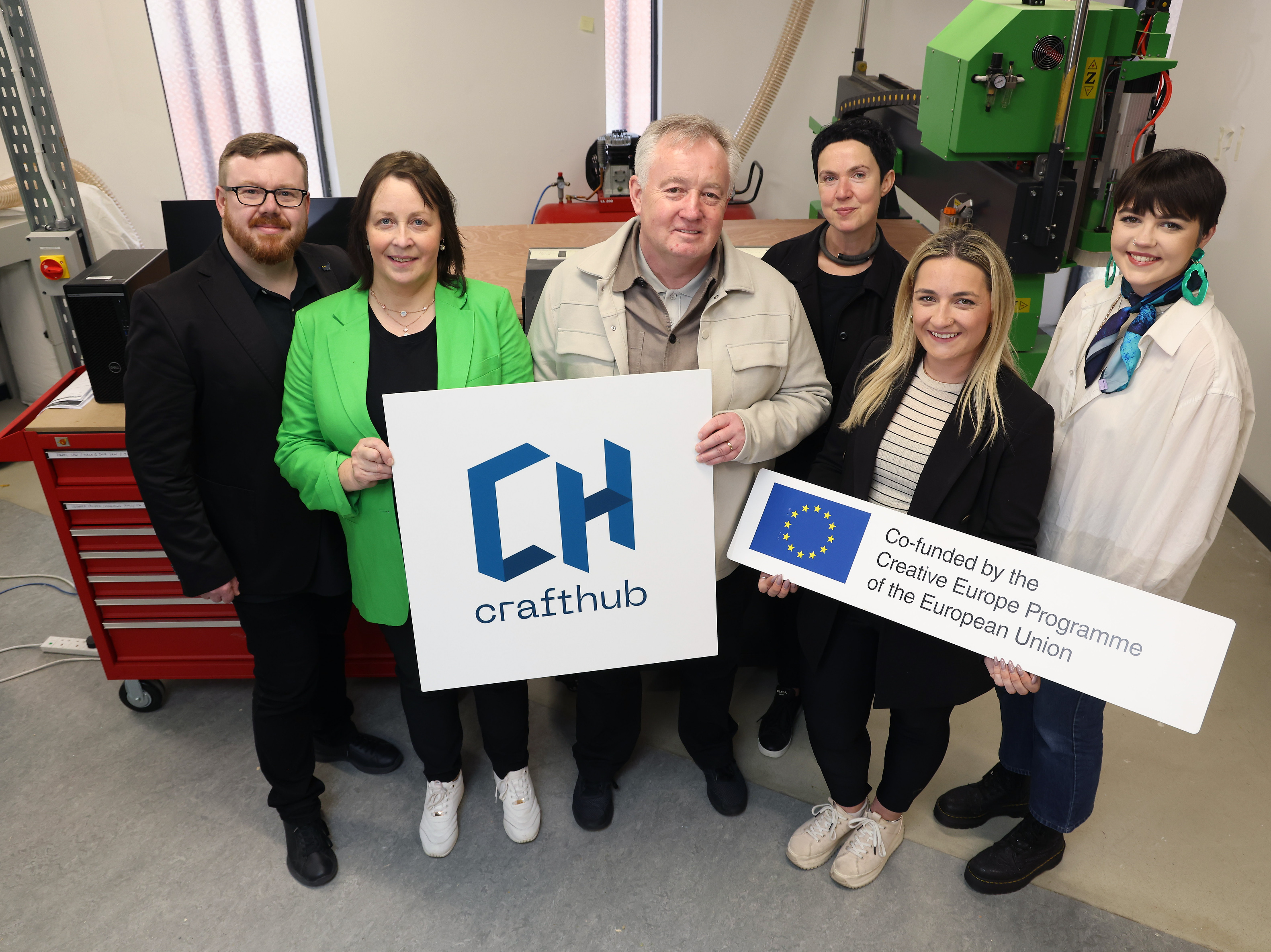 Anthony O' Connor, Lecturer NCAD; Sarah Byrne, Carlow Local Enterprise Office; Derek McGarry, Head of Innovation and Engagement, NCAD; Angela O' Kelly, Head of Design for the Body and Environment (DBE) at NCAD; Stacey Phelan, Carlow Local Enterprise Office; Ami Kerr, NCAD Design Resident. Credit Photographer: Damien Eagers
A materials library, also known as a material resource center or material archive, is a curated collection of physical samples and information about different materials. It serves as a valuable resource for professionals in architecture, design, engineering, and research who work with materials. They enable users to explore, compare, and study materials, aiding in research and development, material selection for projects, and fostering inspiration and creativity. Materials libraries also promote knowledge sharing through educational programs and events while emphasizing sustainability by offering information on eco-impact and environmentally friendly alternatives.
Welcoming the partnership, Cllr. Brian O'Donoghue, Cathaoirleach of Carlow County Council, said, "I wholeheartedly welcome the establishment of this partnership with the National College of Art & Design (NCAD) to develop the Irish contribution for the new Craft Hub materials library. It is a testament to our commitment to fostering innovation, research, and sustainable development in our community. This library will serve as a wellspring of creativity, providing architects, designers, and engineers with an invaluable resource to explore, compare, and select materials for their projects."
Craft Hub is a European project co-funded by the Creative Europe Programme focused on Craft in the context of cultural heritage and its continuing relevance in contemporary practice. The project activities involve investigating and documenting craft skills and processes, their differing application in creative practice across Europe, and questions of cultural specificity and individual motivations of practitioners. This will be addressed through a comprehensive and exciting program to allow the creation of new craftwork/experimental investigations into process and material supported by 42 transnational maker residencies, 305 days of outreach work, 1 festival, 7 exhibitions, and 2 conferences.
Derek McGarry, Head of Innovation & Engagement at NCAD said, "Working with Carlow County Council on the Craft Hub initiative provides a unique opportunity for our students, staff and alumni to internationally promote innovative contemporary Irish craft practice. Our main focus will be contributing to the European Craft Hub open-source material cards digital library. We also set out to build a physical materials library of samples at NCAD. This repository will exponentially expand, explaining both analogue and digital craft practice and where these approaches combine to produce novel and meaningful research."
Speaking about the Craft Sector and its benefits to Ireland, Sarah Byrne, Business Advisor with the Local Enterprise Office, said, "The craft sector in Ireland is not just an industry; it is an embodiment of our identity, a celebration of craftsmanship, and a testament to the enduring spirit of our nation. The craft sector in Ireland is not just a testament to artistic excellence; it is also a thriving engine of economic growth. Beyond the brush strokes and intricate designs, it fuels employment, drives tourism, and fosters sustainable development. By nurturing local artisans, it creates a ripple effect, generating income, supporting small businesses, and bolstering regional economies. The craft sector is a jewel in Ireland's economic crown, showcasing the power of creativity to generate prosperity and enrich both our cultural tapestry and our bottom line."
For further information on Craft Hub, log onto Craft Hub.