NCAD Masters Graduate long-listed for Saatchi New Sensations Award 2013
Sean Molloy, a Masters graduate in Painting from NCAD, has been long-listed for the prestigious Saatchi New Sensations Award 2013.
New Sensations was launched in 2007 by the Saatchi Gallery and Channel 4 to support the most imaginative and talented young artists in the UK and Ireland. Offering bursaries, international exhibition opportunities and a cash prize to fund new work, New Sensations is now established as the most important annual prize for emerging artists in the UK and Ireland. This year it attracted entries from over 800 of the best graduates studying at UK and Republic of Ireland art schools. Only 50 students have been chosen for the long-list, of which Sean Molloy is the only graduate from the Republic of Ireland.

http://www.saatchionline.com/newsensations

Sean Molloy lives in Dublin and has been receiving considerable attention since his BA degree show in 2011. He was hailed as one of Ireland's top painting graduates by the Irish Arts Review for the 'formalistic delight' of his work, which combines a passion for painterly tradition with intense formal experimentation. In 2011, he was selected for several group shows, including the RDS Student Art Awards, the Claremorris Open Exhibition and the Rua Red Winter show. In 2013, while finishing his Masters in Painting, he was selected for the international 'Anonymous Drawings' exhibition, which toured to Berlin and Eindhoven.
Since completing his Masters, Sean's work has showed at the NCAD MFA graduate show at Moxie Studios ('the most accomplished exhibition overall' – Aidan Dunne, Irish Times), where his large-scale painting 'NMT' was purchased by the OPW. He is currently showing as an invited artist at the RHA Annual Exhibition, which has led to his work 'L.O.T.W' being selected by the International Association of Mass Communication Research conference as an example of contemporary Irish Art. Most recently he exhibited at the Jonathan Swift Gallery during Kilkenny Arts Week, alongside the work of highly-regarded artists such as Louis Le Brocquy, Brian Bourke, Anne Madden and Neil Shawcross.

In being long-listed for Saatchi New Sensations, Sean follows the footsteps of successful NCAD alumnus, Amanda Doran, who was short-listed for the Award in 2012, leading to her work being purchased by the Saatchi Collection. The judges for this year's Award are the artists Adam Broomberg & Oliver Chanarin; Nick Hackworth, founder of Paradise Row, London; Ossian Ward, formerly visual arts editor of Time Out; Tabitha Jackson, Commissioning Editor, Arts, Channel 4; and Rebecca Wilson, Chief Curator, Saatchi Online and Director, Saatchi Gallery.
SEAN MOLLOY – Press Quotes

'Sean Molloy's paintings provide an eloquent treatise on the activity of remembering and are grounded in interpretations of psychology and art history… the totality of the experience of these works is happily a formalistic delight. They combine vibrancy with understatement, constant thematic engagement with reflective restraint and they manage their not inconsiderable substance with skill and authority' (IRISH ARTS REVIEW, AUTUMN 2011).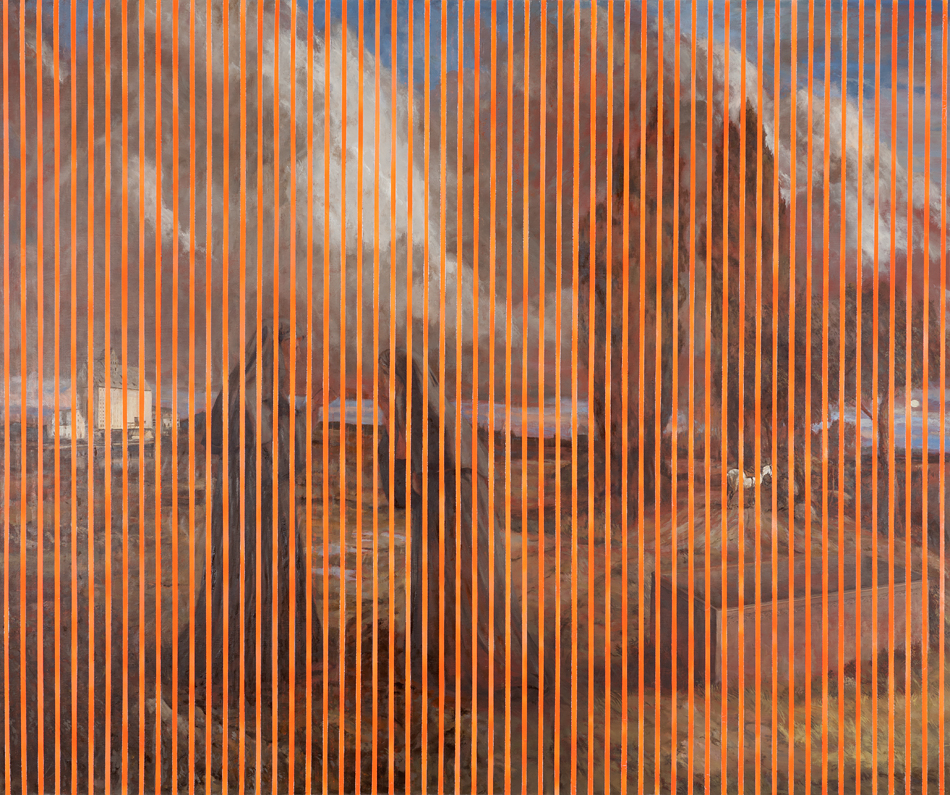 L.O.T.W. by Sean Molloy (Photo credit Davey Moor)

'In Sean Molloy's work (NCAD), portraiture and formal abstraction meet to suggest the impossibility of capturing likeness or presence in an image' (IRISH TIMES, JUNE 2011)
'Sean Molloy… [is] among those who paint well with one eye on the past and the other on the future' (SUNDAY TIMES, CULTURE SECTION, JUNE 2013)

'It's hardly surprising that the most accomplished exhibition overall is NCAD's master-of-fine-arts show at Moxie Studios. If you're going to see just one graduate show, make it this one.' (IRISH TIMES, JUNE 2013)