MFA Students at NCAD present Inscape at Newman House 28th - 31st January 2014
Inscape is a site specific response to Newman House by first year MFA Sculpture students at NCAD.
This experience allows for the opportunity to engage with the allocated space of the front staircase and the steep back staircase as it transcends to the top floor. This exhibition brings together work that has emerged from time spent by the artists in observation of and in keeping with the rhythm of this historic house, offering a unique series of interventions.
Participating artists:
Craig Blackwell
Ricí ní Chléirigh
Angela McDonagh
Donna Mc Loughlin
Margrét Sesseljudóttir
Rosemarie Walsh
We would like to thank Ruth Ferguson for her assistance in providing this unique space for this exhibition, offering an opportunity to present a contemporary view of Newman House as it stands at this point of alliance and collaboration between the National College of Art and Design and UCD.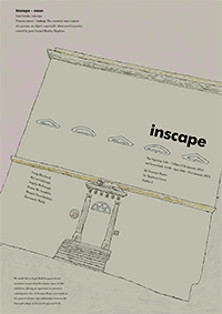 The Opening: 5:30 - 7:30pm 27th January 2014
and henceforth:
28th - 31st January 2014
11:00 - 6pm
86 Newman House
St. Stephens Green
Dublin 2