Kipple: NCAD Gallery Saturday, 14th June - Friday, 29th August 2014
An exhibition of painting by recent NCAD graduates: George Warren, Eveleen Murphy, Natasha Conway, Andrew Simpson and Daniel Jackman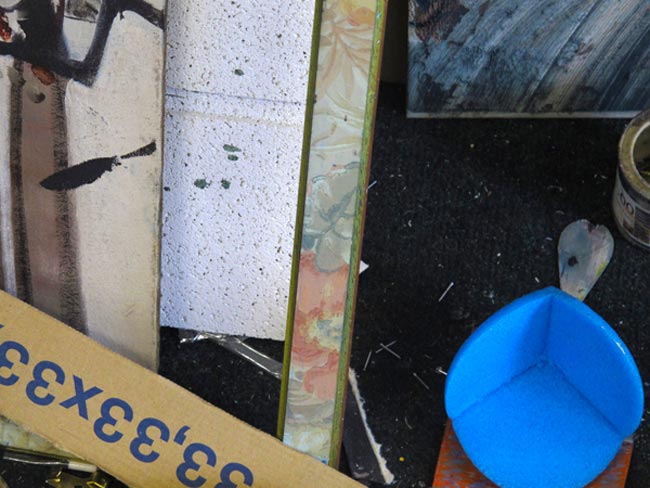 Image Courtesy of the Artists
The National College of Art and Design Gallery is pleased to present the exhibition, Kipple, featuring five artists brought together through a common sensibility in their approach to abstract painting. The exhibiting artists, George Warren, Eveleen Murphy, Natasha Conway, Andrew Simpson and Daniel Jackman all graduated from the NCAD's bachelor or master degree programmes of 2013.
'Kipple' is a fictional word coined by author Philip K. Dick in his 1968 novel Do Androids Dream of Electric Sheep? to describe a proliferation of material 'things' that exist and multiply regardless of a character's presence, or absence. In this instance, kipple is used as metaphor for the thought processes comparable to the materiality of the studio where material accumulates outside of one's immediate consciousness.
Specific to this exhibition is the artists' focus on their relationship to the studio in making paintings which gives an audience an authentic and generous insight into the workings of a contemporary practice, instantiated in the accompanying exhibition catalogue texts. The artists propose, the essence of 'the studio environment as a surrogate space where in an everyday practice: objects, materials and ideas are assembled, disassembled, and lost and found on a daily basis in a never ending cycle'. The site of the studio and what happens there is considered as imperative as the final presented artwork.
Each artist approaches the studio like a lab, a space where the serendipitous 'happy accident' is as revered as the initial concept or impulse in the making of work. The abstract and playful nature of the word kipple echoes the intent of this exhibition, resulting in work shown at NCAD Gallery that is playful and serious, abstract and hyper figurative, material and conceptual, poignant and reaffirming.
* An exhibition catalogue including a short essay by New York based artist and critic Sharon Butler titled 'Paintings Happen' is available. Sharon Butler is an artist, professor and publisher at Two Coats of Paint. Also included is a descriptive text on practice and production written by and pertinent to the artists followed by examples of their artworks and biographical information.
For more information or press enquries please contact: Anne Kelly, NCAD Gallery, 100 Thomas St, Dublin 8, Ireland +353 (0) 1 6364390 or gallery@ncad.ie
facebook.com/NCADGallery twitter.com/NCAD_Gallery
For the duration of the NCAD Season of Exhibitions 2014 the NCAD Gallery will open guided by degree exhibition hours thereafter returning to normal gallery opening hours of 1pm - 5pm, Mon – Fri. Admission is free.
OPENING TIMES for dates June 14th - 22nd 2014:
Mon – Fri: 10am – 8pm, Sat: 10am – 5pm Sun: 2pm – 5pm
OPENING TIMES for dates June 23rd - August 29th 2014: Mon – Fri: 1pm – 5pm