IDI Award Winners at NCAD
6 NCAD staff win at the IDI Awards 2020.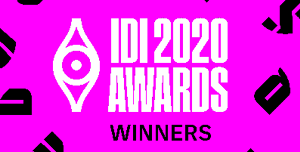 NCAD staff have swept the boards at the IDI 2020 design awards, with 6 winners in their categories. This recognition reflects the high quality of our design education and research, and the fantastic design industry reputation of our staff team.
- Enda O'Dowd and Derek Vallence won the Design Education & Research award for the MSc Medical Device Design collaboration with the RCSI.
- Bob Gray won the Design for Print award for the NCAD Prospectus 2019/20 and the Visual Brand Identity Refresh award for the International Literature Festival Dublin.
- Natalie B Coleman won the Fashion & Textiles: Clothing award for her Sisters Collection.
- Kate Brangan won the Illustration Commercial award for Troy: myth and reality.
- Jamie Murphy won the Visual Communications: Printed Book Design award for 1753 his book on homelessness.
NCAD staff also collected 14 nominations - 10% of the total nominations, and NCAD alumni also won several awards and nominations.
Congratulations to all the winners and nominees!
The winners feature in a special pull out booklet in the Irish Times on Thursday 5th November.

Find out more about the IDI Awards
Follow NCAD
NCAD Twitter @NCAD_Dublin
NCAD Instagram @ncad_dublin
NCAD Facebook @NCAD.Dublin
Contact NCAD