Future Creators Project short-listed for Samsung Digital Media Awards 2014
The Future Creators project has been short-listed under the Best in E-Learning Category in the Samsung Digital Media Awards
This prestigious award ceremony will take place on the 21st February in the Double Tree by Hilton Dublin, Burlington Road. Created in 2003 and now in their 11th year, the Awards offer a platform for the dynamic work that is taking place across the broad spectrum of digital media in Ireland and abroad.
This year's Future Creators project commenced on the 5th November with 24 teenagers from the Liberties and surrounding areas of Dublin. The participants in this innovative after-school programme attend secondary schools located in the area and most of the schools are linked to the NCAD through the Access Programme. Since November the group have been working on teambuilding, social media, blogging, digital image manipulation, stop motion animation, sound editing and flash animation. They have already set up their blogs to record their journey through the Future Creators programme.
Following the Christmas break the young people attended three studio based workshops at NCAD in 3D printing and laser cutting in the Product Design Department, video editing and green screen workshop in the Media Department and digital textile printing in the Textile & Surface Design Department.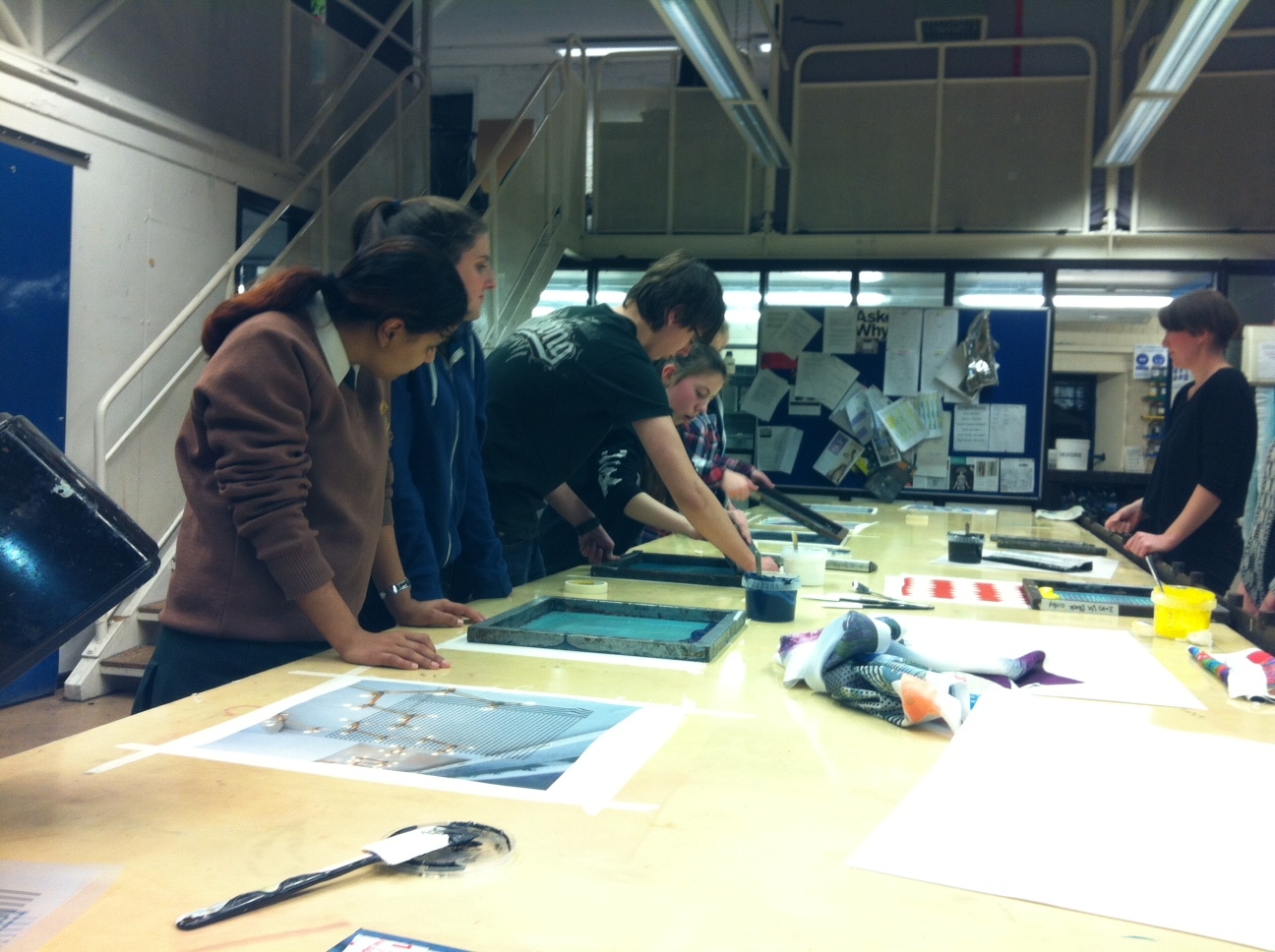 Future Creators Textile Workshop at NCAD
The Future Creators have now commenced the next phase of the programme and can look forward to tasters on coding, film and working on their final projects.
This is the third Future Creators project that has been co-ordinated by The Digital Hub and the NCAD. Three students who have taken part in previous programmes are volunteering on this year's project. Two of the students are participating in Gaisce – The President's Award and their volunteering at Future Creators is contributing towards meeting the challenges set by the Gaisce award programme.
The Future Creators alumni can look forward to taking part in an exciting Film Making project that will commence on the 23rd January with filmmaker Aisling Crudden. Funded by the Ireland Funds, this fourteen-week project will bring the young people through the various stages of film making from pre-production, production to post-production and will have inputs from professional scriptwriters and editors. The workshops will take place in the Digital Hub on Saturday mornings and the final film will be shown at NCAD as part of the Future Creators awards and showcase event in June 2014.
For further details on this project please contact Finola Mc Ternan, Access Officer, mcternanf@ncad.ie