Deborah Brown, 1927-2023
The painter and sculptor Deborah Brown has died aged 95.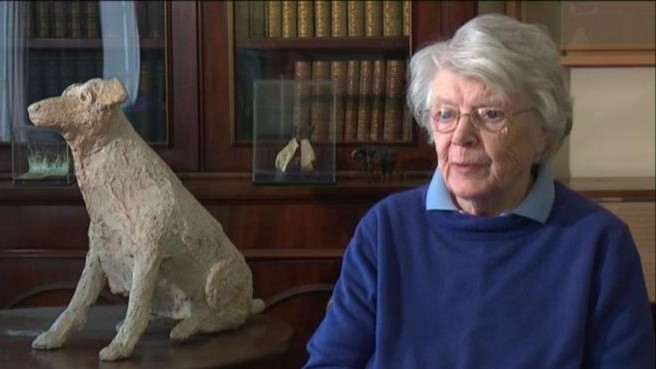 Born in Belfast with a childhood spent in Cushendun, Co Antrim she eventually settled in Ramelton, Co Donegal.
Graduating from Belfast College of Art and NCAD after the Second World War, she exhibited at the RHA and the Ulster Academy in 1948 and had a one person show in Belfast in 1951. The trajectory of her work is summarised in the titles of two monographs, From painting to sculpture' and Abstraction to figuration. Influenced by the modernism she saw in Paris as a young woman she enjoyed a long career working until the early 2000s. Her sculptures in fibre glass are a challenge to conservators but remain fresh and unique. Her two most prominent public pieces are the bronze sculptures 'Sheep on the Road' (1991), near the Waterfront Hall in Belfast, and 'The Goat at Cushendun' (2002). Her work is held in the major national collections.
Brown's life threaded through a century of Irish art. She was taught by JH Craig, Sean Keating and Maurice MacGonigle, met Jack Yeats and was a contemporary of TP Flanagan and Basil Blackshaw. In Belfast she enjoyed the company of John Hewett, Mercy Hunter, Helen Lewis and Alice Berger Hammerschlag. In Dublin she played music with Nano Reid, Anne Crookshank and Hilary Pyle became close friends.
Often appearing quiet and reserved she has been better described by a friend as serene. She was loyal and generous in friendship. Her life and work demonstrated determination and complete integrity.
For more details of Deborah Brown's life and career, please click here.
John Sheeran, April 2023.