Array Collective + ruangrupa
As part of Creative Future Academy's (CFA) events and talks programme, we are delighted to present a special online event centred on the work of internationally acclaimed art collectives.
Array Collective + ruangrupa
21 January, 12pm, online
Our guest participants for this event will be ruangrupa, a Jakarta-based group founded by artists and curators, who in 2022 directed the documenta fifteen exhibition in Kassel, Germany, and Array Collective, a group of multidisciplinary artists located in Belfast and winners of the 2021 Turner Prize.
Hosted by the National College of Art and Design — one of the three partner institutions (along with IADT and UCD) collaborating to develop the Creative Futures Academy — this online discussion will present an opportunity to learn about the work of these pioneering collectives, offering insights into how they have learned to practice as independent groups in their specific local contexts and beyond. The discussion will involve a spontaneous and on-the-spot 'quick-fire' session of questions – using models of knowledge exchange created as part of ruangrupa's artists-led education workshop 'Gudskul'. Gudskul is a public learning space that promotes the importance of critical and experimental dialogue through a sharing process and experience-based learning.
Join us on Saturday 21st January at 12pm (Irish Time) for this exciting online event. Register here
This event marks the formal launch of NCAD's new CFA courses and modules that allow for flexible learning and that respond to the changing needs of the creative industries, our society and economy.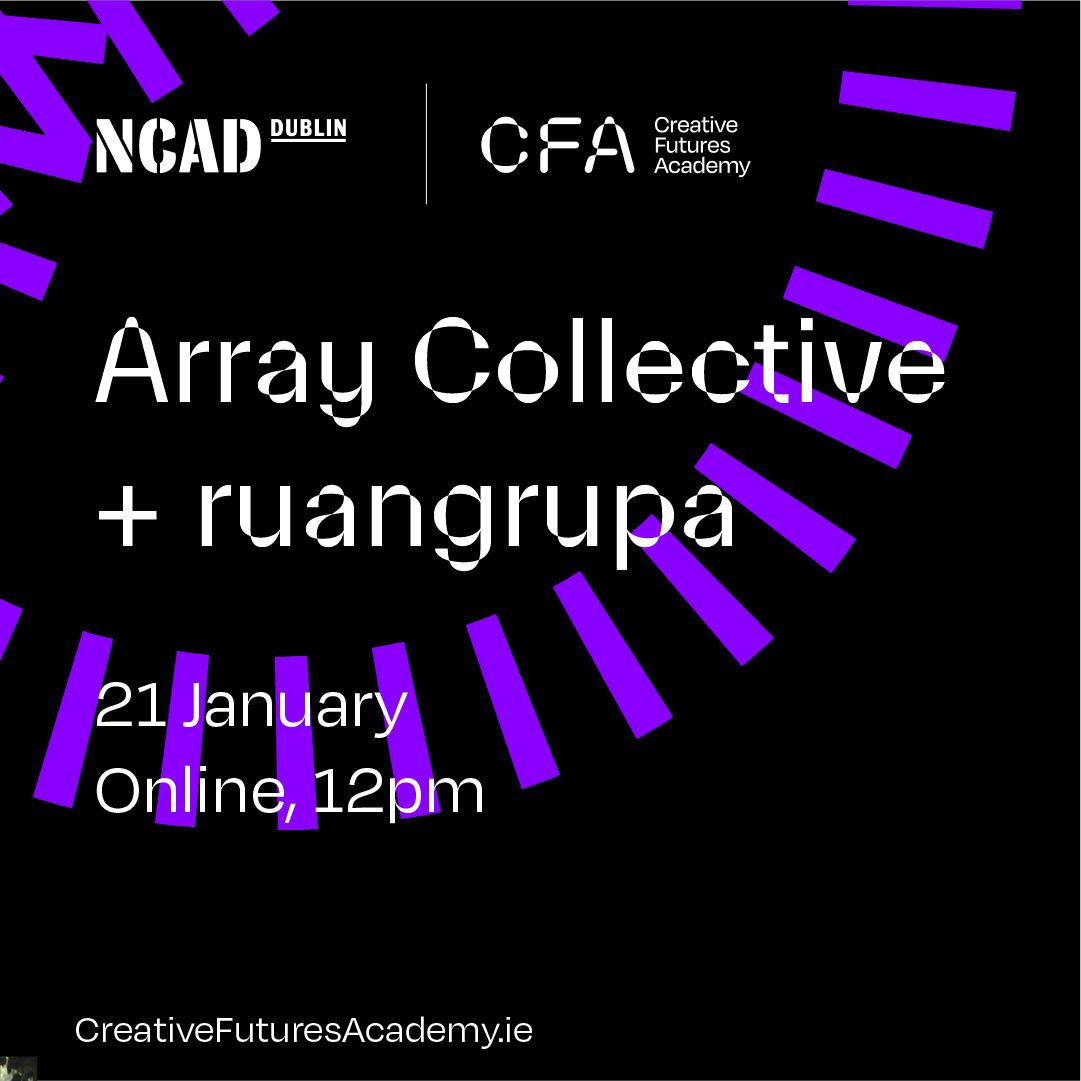 About the speakers
Array Collective are a group of individual artists rooted in Belfast, who join together to create collaborative actions in response to the sociopolitical issues affecting Northern Ireland. Array's studios and project space in the city centre acts as a base for the collective, however the participating artists are not limited to studio holders.
Array Collective questions traditional identities in the North of Ireland using humour and DIY approaches. They playfully merge performance, protest, ancient mythology, photography, installation, and video. Their work embraces joy and empathy in their art-activist practice and calls attention to our need for one another by joining wider demands for rights.
Array Collective is the first Northern Irish artist to win the prestigious Turner Prize. They were awarded the prize for their work The Druthaib's Ball in 2021. Visit Array Collective website here
Collective members: Sinead Bhreathnach-Cashell, Jane Butler, Emma Campbell, Alessia Cargnelli, Mitch Conlon, Clodagh Lavelle, Grace McMurray, Stephen Millar, Laura O'Connor, Thomas Wells
Gudskul: Collective and Contemporary Art Ecosystem Studies is an educational platform formed by three Jakarta-based collectives: ruangrupa, Serrum and Grafis Huru Hara. Since the early 2000s, they have been respectively doing collective practice in the contemporary art scene. In 2015, they joined forces to form a common ecosystem, Gudang Sarinah Ekosistem. Learning from this working experience, in 2018 Gudskul outlines a knowledge-sharing platform for everyone interested in the practice of similar approaches.
ruangrupa is a Jakarta-based group founded by artists and curators in 2000. The collective's artistic practice expanded from organising art events and workshops to coalescing ever-larger networks of affiliations and collaborations across the Indonesian archipelago and beyond. In parallel to running a gallery space, art lab and free school in South Jakarta they manage a research archive, a radio station, the journal Karbon and a publishing wing.
They practise an egalitarian philosophy centred around the Indonesian term of lumbung. Lumbung, which is directly translatable to "rice barn," refers to a collective pot or accumulation system where crops produced by a community are stored as a future shared common resource. The concept became more widely known when as collective, they co-directed documenta fifteen, taking place 2022 in Kassel, Germany. They attempted a radically different way of organising and sharing Documenta's financial and institutional resources among a huge number of artists and associates. They were notably the first Asian group and the first art collective to curate the large-scale international exhibition. ruangrupa members Gesyada Siregar and Farid Rakun will attend the event. Visit ruangrupa website here