30+ NCAD staff and alumni nominated in the IDI 2020 Design Awards
We are delighted to announce that NCAD staff have picked up an unprecedented 14 nominations - as well as 16 nominations for NCAD alumni - in the IDI 2020 design awards.
'This is a glowing endorsement of the quality of our design education and research, and the professional standing of our staff team. NCAD staff collected 10% of the nominations, not to mention the numerous nominations for our alumni!', Alex Milton, Head of the School of Design and Professor of Design at NCAD.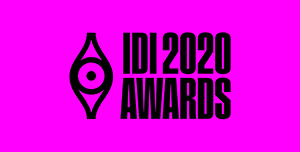 Nominated NCAD Staff Projects:
Caoimhe McMahon and Brian Gough in the Design Education & Research award for the new MA Service Design
Enda O'Dowd in Design Education & Research award for the MSc Medical Device Design collaboration with the RCSI
Jamie Murphy twice in Visual Communications: Printed Book Design for 1753 his book on homelessness and Darklight his collaboration with Dorothy Cross and John FitzGerald
Natalie B Coleman in the Fashion & Textiles: Clothing award for her Sisters Collection
Orla Langan in the Fashion & Textiles: Clothing award and the Sustainable Design award for her recent fashion collection
Bob Gray in the Design for Print award for the NCAD Prospectus 2019/20, the Visual Brand Identity Refresh award for the International Literature Festival Dublin and the Design for Print award for Drinks Ireland
Noelle Cooper and Bobby Tannam in the New Branding Schemes award for the Galway 2020 — European Capital of Culture. Noelle Cooper was also shortlisted in the Brand Identity Refresh award for Open House Dublin
Kate Brangan in the Illustration Commercial award for Troy: myth and reality
Alan Dunne in Visual Communications: Illustration Commercial for his Christmas Stamps 2019 for An Post
Find out more about NCAD staff and alumni at the IDI Awards 2020: http://www.idiawards.ie/idi-awards-2020-shortlist/
Find out more about studying at NCAD: https://www.ncad.ie/study-at-ncad