WORK HEAD
WORK HEAD is an exhibition and publication of work produced by six recent graduates of the National College of Art and Design, Dublin
Saturday, 9th June - Tuesday, 26th June 2012
WORK HEAD Jason Dunne/ David Eager Maher/ Sam Keogh/ Joseph Noonan Ganley/ Marcel Vidal/ Francis Wasser
Exhition opens Friday 8th June 2012, continues Saturday, 9th June - Tuesday, 26th June 2012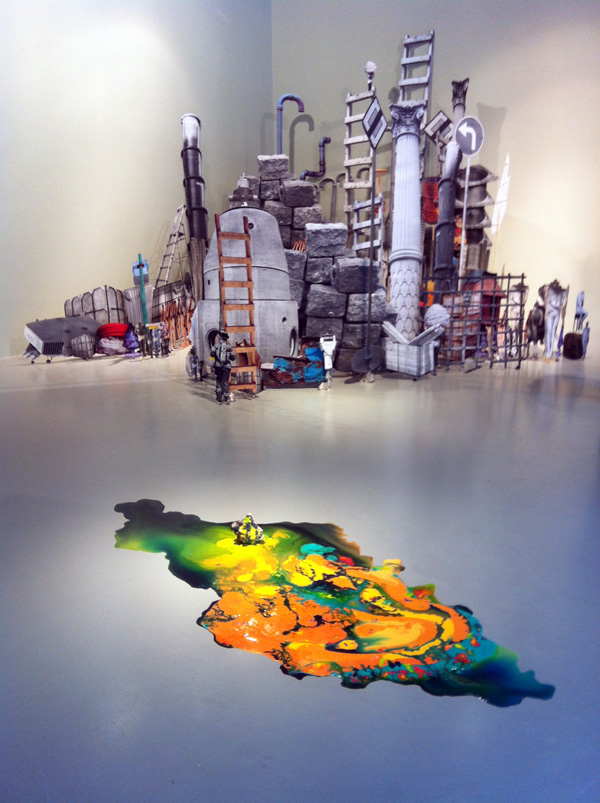 Photo: Dennis Mortell

WORK HEAD is an exhibition and publication of work produced by six recent graduates of the National College of Art and Design, Dublin. This event presents the imperatives and paradoxes of artworks produced by a group of peers. It holistically and stubbornly resists syntax or a proper mediating thematic. Each element embodies a persistent pestilence towards the idea of an exhibition. This manifests in the insistent appearance of any one work beside another, which is inevitably indifferent to it. A vicissitude of positions, strategies, methodologies and indeed ethics are fleshed out in this exhibition – but an economy is produced non-the-less, a base line: a group of peers whose work necessitates many heads.
The Death of the M Couch
Essay by Joseph Noonan-Ganley, featured in WORK HEAD pamphlet.
The electrical appliance company Miele has many showrooms (or galleries as they also name them) all over the world. They are an integral part of Miele's commericial enterprise. These buildings are specially designed and fitted out to showcase their products. They are often located outside of the city centre, on the periphery, in the previously un-inhabitated landscape of the outskirts. In a place where there is space to occupy, where space is constructed. This forces one usually to take a journey to reach the showroom. Each of these showrooms has a cookery school where the effectiveness of their appliances are demonstrated; an interactive space where one can learn about the details of how these products work. These activities are also detached from the pressure of purchasing the products as the showrooms do not directly sell anything. If you want to buy something you will be referred to your local retail outlet. In each of the showrooms there is a special piece of furniture which never gets distributed to the retail market though – it is a device of the Miele gallery, for the gallery itself. It is a seemingly functional couch which is designed in the specific shape of the M and the specific red of the defined Miele logo.
This object is constructed through a hybridisation between a definitive part of their logo; the M, (which in itself stands in for the whole logo or brand) and the most generic qualities of a couch; soft seating space with a back support and arm rests. It is one object manifest through the splicing of two primary objects. Each already has a habitual function and logic. It is a mutant born of these two functionalities which creates or proposes a third functionality or form.
As a couch this object has strangely large or improportinatly sized arm rests either side of the sitting area. These slope into the seated part from a large distance from where you can sit, making it uncomfortable or inconvenient to rest your arm upon them. This also means that the seated part can only fit one or two people on it comfortably because the two large slopes of the arm rests take up what would otherwise be utilised as seating area. This limit on the available sitting area is very strange considering that the couch as a whole takes up as much space as any other couch would. Other couches this size would fit twice the amount of people on. Most couches seem to utilise the amount of space they take up efficiently in accordance with the amount of people that can sit on them and their comfort when sitting. There usually are not any excessive parts of the couch which have no apparent sitting or structural use.
As it is manifest only in these showrooms the M couch is restricted to never getting the chance to act as a sign for the brand as a whole. It is never utilised as a branding mechanism outside the showroom. It is never allowed to act on its own, which is the usual agency of a logo; its ability to instantly and autonomously signify something. As a manifestation of the branding entourage it occupies space in a slightly unusual way, in that it is situated on the ground and is exceptionally large for an indoor sign. This means that it appears to be in the way and other things clutter ones view of it. It is never quite in proportion with the space. Within the composition of the building the M couch never reaches the heights of graphic effectiveness which most logos survive upon. Graphic effectiveness is usually gained by the relation of figure to ground which is starkly defined in signs and logos. The couch as a sign also has a strange excessive volume, an unnecessary dimension, a rather unaccountable expansion into the space. As a sign it has a strange relation to ones body, in that taken as having a primary visual functionality it is impossible to see the object in totality. The volume and three dimensions complicate ones instantaneous reading of the total sign.
Considered as a manifestation of the branding it is a logo of a logo, or a name within or of a name. It is the M from the Miele logo utilised to attempt to signify the logo or branding as a whole. It is built and situated to attempt to signify that the showroom is the place of Miele, but the M of the couch is subordinated to Miele as a branding mechanism in itself rather than being able to act as a dualisitic signifier of the brand inclusive of implications of specific types of goods, qualities or any other associations. The M in the couch relates and refers to the full logo and name of Miele, the volume of the object interrupts and disturbs the M's ability to surpass its objectness and gain the same agency as a proper manifestation of the Miele logo.
When the object functions as a sitting device its visuality and excessive form intrude on the experience of sitting and on the other hand when the object functions as a logo to be seen and to mark something, the size, composition and volume obscure its clarity. So neither originary function could be said to be able to act independently of the other. The object can then only act through a third hybrid space, irreducible to either one. The couch could be described as a kind of signifying sitting machine, whereby the logic of sitting is subordinated to the sign; ones body and the act of sitting become actors in the theatre of a defunct Miele sign. The logic of ones body as a thing that sits cannot be removed from viewing the object just as when sitting in it oneself as a thing which sees cannot be removed.
But what does its embodied signification signify? Where is this signification located or given ground, seeing as the showroom is made specifically to exhibit and showcase products rather than actualise any potential? It is in the imaginary use for the products that they become useful or functional in the showroom by providing the framework for fantasy. The M couch withholds its destination of affectivity for a meta-signification. Where its agency is not subordinated to the imaginer but to the showroom itself. A signification which short-circuits, one not wholly suited to the use of a couch or the omni-potence of a sign/logo.
This is not to grant the M couch with some kind of invention or perverse functionality but rather to see precisely in which way it fails. Its failure though is not as it may seem; it can be said to fail in that it is referential and it never attaims a meaning because it relies on Miele to affirm its identity. It fails because it is non-functional and non-productive. What the M couch attempts to narrate through its syntax is not verified or even compatable with the way the showroom operates. The showroom functions as a shadow, a ghost, an absent body desperately supplementing an infinite multiplicity of fantasies. The showroom therefore functions around a void. This void is supported through the architecture, design, products, posters and wall hangings of vintage documents from the companies history. All of which are fully subordinated to the logic of providing a flexible ground for the production of a visitors variable fantasy.
The logic of possibilities rather than definitives is fully endorsed by the removal of the sales of the products in the showroom; the showroom is for dreaming and imagining the ways in which one could incorporate these objects into their life, or put more appropriately it is for dreaming ways in which one themself could be different, whether or not this incorporates a product is superfluous to the change or possibility. The removal of money as a relation in the showroom goes hand in hand with the removal of reality. Money degrades the images of the products to a limited relation of access through exchange and turns a full human into meager customer and the brand into a mere corporate entity.
Artists biographies
Jason Dunne (1987, Ireland), recently graduated from Bergen National Academy of the Arts with an MFA in Fine Art. He graduated from the National College of Art and Design in 2009 with a BFA in Painting. Selected exhibitions include; A Ride Full of Traps, Bergen Kunsthall, Bergen, 2012; Potemkin Village, Hordaland Kunstsenter, Bergen, 2011; 17 M.O.H, Bergen Kjott, Bergen, 2011; Live at Eight, Bar Eight,
Galway, 2010; Invocation of my Demon Brother, I.F.I, Dublin, 2010; Extempora, Exchange Gallery, Dublin, 2010.
Forthcoming Exhibitions include NEU/NOW live visual arts festival, Porto, July 2012. Dunne is currently based between Dublin and Bergen.
David Eager Maher (1979, Ireland), graduated from the National College of Art and Design, Dublin, in 2009 with a BFA in Painting & MFA in painting 2011 also from NCAD. Selected exhibitions include: Scope Basel International Art Fair 2012; David Eager Maher, Amy Stephens & Gareth Jenkins, Cross Gallery, 2012;The Surreal in Irish Art 2011, F. E. Mc William Gallery Co. Down & The Highlanes Gallery, Drogheda; Scope Basel International Art Fair, 2011; David Eager Maher, Cristina Bunnello & Kieran Moore, Cross Gallery, 2011; I would have drawn this more accurately but they didn't allow me a knife to mend my pen (solo show) Cross Gallery 2010; TULCA 2010, People Place & Possibility; BIZARRE BAZAAR Palace Contemporary Projects Dublin, 2010.
Collections include: National University of Ireland; OPW; Dept of Justice, Dept of Foreign Affairs and private collections in Ireland; UK; Iceland; US; & Germany. Awards include: Artists Bursary, Wicklow County Council 2011. Shortlisted artist for the Golden Fleece Award 2012.
Sam Keogh (1985, Ireland) is currently pursuing an MFA at Goldsmiths College in London. He graduated from the National College of Art and Design, Dublin, in 2009 with a BFA in Painting. Selected exhibitions include: After the Future, eva International, Limerick, 2012; Gracelands, Co. Leitrim, 2011; Tool Use, Oonagh Young Gallery, Dublin, 2011; RepoMan, Kerlin Gallery, Dublin, 2011; Before Commandments, Shudder Gallery, Vancouver BC, 2011; BABEL (solo exhibition), Artlink Gallery, Co. Donegal, 2010; The Swimming Naked Prophecy, Mermaid Arts Centre, Wicklow, 2010; Aion Experiments, Project Arts Centre, Dublin, 2010.
Forthcoming exhibitons include Terrestris a specially commissioned solo exhibition at the Project Arts Centre, opening July 3rd 2012. Keogh is also co-founder of Radical Love, an on-going collaboration with Joseph Noonan Ganley exploring new discursive practices.
Joseph Noonan-Ganley is a Dublin and London based artist and writer. Selected presentations and projects include: 7th Berlin Biennale, curated by Artur Żmijewski, Berlin 2012; What Next? Professional Development Seminar, Dublin 2012; Radical Love II, Joseph Noonan-Ganley and Sam Keogh, Dublin, September 2011; Aerial Blue, Dorinish Island, Clew Bay, Co. Mayo, July 2011; In Other Words, Lewis Glucksman Gallery, Cork, 2011; REPO-MAN, Kerlin Gallery, Dublin, 2011; The State Of The Union, Occupy Space Limerick, 2011; Unit 35, Gorey, Co. Wexford, February 2011.
Recent writing and editing includes: Idioglossia, an Art Writing Glossary; London, July 2012; Some Notes on The Process of Naming; Inbetween Antonio Negri and Quentin Meillassoux, for All Roads Lead to Neustern, an exhibition by Gary Farrelly, Dublin, November 2011; Organs and Bodies, for A Still Breath of Adventure, Martina Mc Donald, Riverbank Arts Centre, Newbridge, Kildare, January 2011.
Marcel Vidal (1986, Ireland) is a Dublin based artist. Selected shows include: Pencil to the Plough, Cross Gallery, Dublin, 2011; Something tells me its all happening at the zoo, Kevin Kavanagh Gallery, Dublin, 2010; Imposing Nature, Monster Truck Gallery, Dublin, 2012. Awards Include: Wicklow County Artist Bursary 2012; Thomas Dammann Junior Memorial Trust Award 2012; Royal Hibernian Academy Studio Residency 2011, Dublin, Ireland; K&M Evans painting prize (awarded for entry to RHA annual, 2010); AXA Insurance Purchase Award, 2009; USF Verftet residency, Bergen, Norway, 2012 (supported by The Council of Bergen and the Stiftelsen Kulturhust USF). Forthcoming solo shows include NAG Space, Cross gallery, Dublin, September 2012.
Francis Wasser (born 1988) is a Dublin based artist currently pursuing an MFA at NCAD. He graduated from the National College of Art and Design, Dublin, in 2009 with a BFA in Painting. Selected shows include: Ached grew point, the drawing project, 2012; The Basement tapes, Greenpoint vacant space New York, 2011; One Trillion Dollars, Solas Nua, Washington DC, 2011; Disavow The Joinery, Dublin.
For more information please contact +353 (0) 1 6364390 or gallery@ncad.ie
Open Mon – Fri 1pm- 5pm, NCAD Gallery, 100 Thomas Street, Dublin 8, Ireland.
facebook.com/NCADGallery
twitter.com/NCAD_Gallery