The NCAD Gallery is delighted to present the newly commissioned project, Tongue The Sun, by artist Jonah King.
The NCAD Gallery is delighted to present the newly commissioned project, Tongue The Sun, by artist Jonah King.
An online exhibition experience of new work to focus on conversations on queer ecology.
Tuesday, 30th June -
Tongue The Sun | Jonah King
NCAD Gallery

LIVE EVENT
:
Friday 17 July, 2020, 5PM GMT / 12PM EST
A reading from the essay,
Unfathomable Intimacies
by
Jonah King
, broadcast live on the NCAD Gallery
YouTube
channel - SUBSCRIBE
LINK
.
The NCAD Gallery is delighted to present, Tongue The Sun by artist Jonah King, a newly commissioned project launching this Friday, 17th July, 2020, at 5pm. The exhibition will open with a reading from the essay, Unfathomable Intimacies written by Jonah King, live streamed on the NCAD Gallery YouTube channel.

Jonah King's Tongue The Sun project seeks to contextualise the materiality of our body's ecosystem. Using the web as on online exhibition platform, it comprises three core outcomes that includes; an interactive digital sculpture, essay reading, and a series of live streamed events with the artist Jonah King and invited participants.

Tongue The Sun is contextualised by this present unprecedented moment in which we are currently living, when our biology, in all its fragility, has taken priority over global trade, party-politics, and identity divisions that characterise our time. The artist's focus is on a reinterpreting of how evolutionary forces undermine stability in modern life. Through their project, we are invited to consider looking at the world through a lens that disrupts heteronormative categorisations. In this instance, the artist refers to 'queer ecology' theory perspectives in regard to organisms, species, and individuals' value and identity classifications.
Please link to the exhibition website platform
http://tonguethesun.xyz
where the longevity of the artwork will live online indefinitely.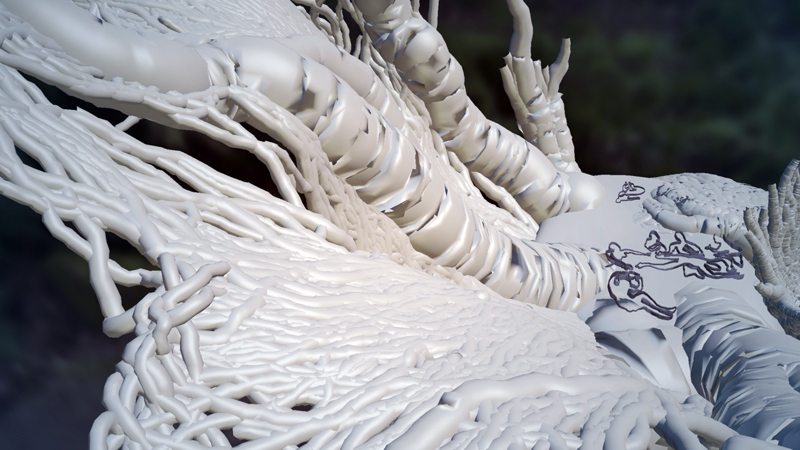 Image sill of
Honey Fungus
, interactive digital sculpture accessed on
http://tonguethesun.xyz
, courtesy of the artist Jonah King, Tongue The Sun exhibition NCAD Gallery, 2020.
Artist Information
Jonah King
(b. 1985) is an Irish artist, filmmaker and writer exploring technology, intimacy and collectivity through multimedia projects, films, sculptures, and auto-theory essays. King has exhibited at The New York Jewish Museum, Fotografiska Stockholm and Irish Museum of Modern Art; received official selections at the Oberhausen Film Festival and London International Motion Pictures Awards. Recent solo exhibitions include Wonsook Kim University Galleries(Ilinois), Clima(Milan), Weekend(Seoul), and Meyohas(New York). In 2019, King co-produced their first theatre production at the Dublin Fringe Festival. King is currently working toward a solo exhibition at the NCAD Gallery, Dublin in 2020.
Jonah received a BFA Media from NCAD (Dublin), an MFA from Columbia University, and attended the Skowhegan School. King is a recipient of the Owen Walsh Award, Andrew Fisher Fellowship and is a Rema Hort Mann Nominee. Their work is represented in the Irish State Collection. Artist
website
.
* The Tongue The Sun expanded online project is programmed as part of, and is a precursor to, the originally planned physical exhibition, Tongue The Sun at the NCAD Gallery, National College of Art and Design, Dublin curated by programme curator Anne Kelly. A physical gallery iteration of Tongue The Sun is in planning for a future date to include new sculptural works.

Tongue the Sun project is commissioned by the NCAD Gallery & In Public Programme and is kindly supported by the Arts Council of Ireland.



NCAD Gallery, 100 Thomas Street, Dublin, D08 K521, Ireland.
Contact: Anne Kelly, NCAD Gallery & In Public Programme Curator
gallery@staff.ncad.ie
.
instagram.com/ncad_gallery
facebook.com/NCADGallery
twitter.com/NCAD_Gallery