Spectacular Replica: An NCAD MFA Fine Art 2020 Graduates Exhibition
NCAD Gallery closed & ONLINE exhibition of work from graduates of the NCAD Master of Fine Art class of 2020.
Thursday, 21st January - Thursday, 28th January 2021
Valerie Bresnihan
Sarah Edmondson
Andrej Getman
Barry Gibbons
Niamh McGuinne
Ciarán O'Keeffe
Gary Reilly
Lena Willryd

EVENT: 21 - 28 January, 5PM, NCAD Gallery INSTAGRAM
Live art performance,
Dance Alone
by exhibiting artist Ciarán O'Keeffe broadcast live on Instagram
@ncad_gallery and @mfancad_.
EVENT: THURSDAY 28th Jan, 2021, 1PM - LINK
Matt Packer, Director of Ireland's Biennial, EVA International in conversation with Spectacular Replica: NCAD MFA Fine Art 2020 Graduates Exhibition artists, on the NCAD Dublin Youtube Channel, and below.
A video walkthrough of the exhibition artists' work can be viewed further below on this page.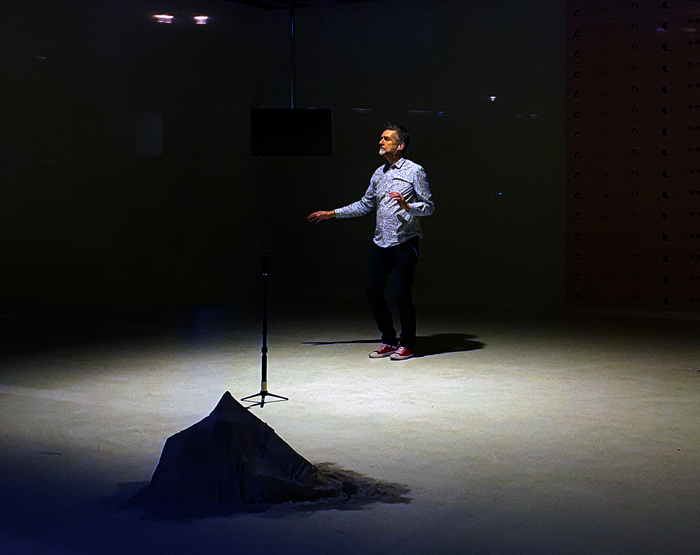 Image: Ciarán O'Keeffe, Dance Alone, 2021, exterior shot of the NCAD Gallery, Spectacular Replica MFA Fine Art 2020 Graduates Exhibition, 2021.
We are delighted welcome you all to our current online exhibition Spectacular Replica: An NCAD MFA Fine Art 2020 Graduates Exhibition, 21 – 28 January, 2021. The National College of Art and Design, Dublin and the NCAD Gallery are very happy to be able to host and to give the class of 2020 graduates this opportunity to exhibit their work. This is an opportunity for us to support the graduate class of 2020 in realising the culmination of their work and study they would have ordinarily presented in June of last year, 2020.
The title of this exhibition,
Spectacular Replica
makes reference to the realities of mediating the work of our arts and cultural practitioners through a screen based lens, as we are currently unable to physically witness their work or our own experiential response in close proximity.
For Spectacular Replica we have devised a number of ways to access the content of the exhibition online. This evening,
Thursday, 21 January, 2021, at 5pm we will launch the exhibition with a live art performance, Dance Alone by exhibiting artist Ciarán O'Keeffe broadcast live on Instagram @ncad_gallery and @mfancad_.
We are also fortunate to take advantage of the architecture of the NCAD Gallery window that faces onto Thomas Street, Dublin 8, where part of the exhibition can be viewed,
Artist Ciarán O'Keeffe will perform
Dance Alone
again in the gallery space to our passing street audience on Monday 25th to Thursday 28th January at 5pm (The performance will not take place on Friday evenings).
SAFETY NOTICE:
If you are planning to come down to the Gallery to watch the performance outside at these times, please be reminded to not gather in groups and keep to a social distance to stay safe.
We close the physical presence of this exhibition with an
online conversation between the exhibiting artists and Matt Packer Director of Ireland 's Biennial, EVA International on Thursday 28th January 2021, at 1pm on the College and Gallery YouTube channels
. A video walkthrough of the exhibition can be viewed below.

Curated by Anne Kelly, NCAD Gallery Curator
MFA Fine Art Course Leader Sarah Durcan, Lecturer
Artist: Valerie Bresnihan
The Department of Earthly Hope
Radiographic digital print on photographic paper
Triptych, 240h x 90w each

Artist Statement
Having grown up in the countryside I have always felt a kinship with plants (or nature). As a child I drew flowers non-stop. As a consequence of all this, today I use art as a pathfinder and see gardening as an art form.
In this NCAD Gallery exhibition I attempt to convey a glimpse of the following themes: collective despair versus a new sense of earthly hope; headless technological supremacy versus authentic scientific respect; and finally, soil contamination by human action versus 'bio'-sculpture. These are the polar opposites at the heart of my work.
This brings me to negative effects of the Anthropocene that have begun my visual conversation via the display of three large black and white prints. I had the privilege of being involved in a short x-ray experiment with UCD where I grew some accumulation plants (more below), fed them with some of the more common toxins present in contaminated soil. They were then x-rayed. Photoshop completed the final scene revealing an eerie looking wood. This suggests the self-destruction by human action on this earth. I followed Nick Veasey, in particular. I also kept a diary, visual and textual, of the growing process of these accumulation plants.

Artist: Barry Gibbons
Animating Myles Manley's 'Shiteshow', 2021
Ink on paper
340 x 300w metres

Video Animation for Myles Manley's 'Shiteshow', 2021
Video loop
Duration: 00:03:01 minutes

Barry Gibbons' Animating Myles Manley's 'Shiteshow' features two elements drawing on work featured in the Graduate Exhibition 2019/2020: first is the animated music video for the song 'Shiteshow', the latest release from the innovative musician Myles Manley's 2020 album 'Cometh the Softies'. The second element is a wall installation that assembles 160 frames of hand-drawn animation, extracted from the music video and arranged in sequence on the back wall of the gallery space. This work iterates the fundamental nature and importance of 'the hand' in the process of drawing for animation, putting digital movement back into digital culture. Eschewing more efficient but standardising technologies, the inaccuracies and fallibility of hand-drawn methods are embraced, exemplifying a distinctive flicker and pulse that underlies this aesthetic. Drawing inspiration from Max Fleischer's 1915 innovation of the 'Rotoscope', the use of lo-fi/basic materials such as printer paper and brush pens to create work, frame by frame, poses questions about duration, time, materiality and the act/practice/relevance of drawing and tactile expression in 2021.
Artist Statement
The focus of my practice is on line, shape, gesture, and movement through drawing and looped animation, but it also extends to wider questions of still and moving images, linear and cyclical narratives, time and space. A central concern is the relation between the handmade analogue drawing and digital production, with a view to challenging linear conceptions of progress, according to which new technologies render previous forms (such as drawing by hand) obsolete.

Artist: Sarah Edmondson
Lunar Dwelling, 2019
Archival pigment print on Hahnemühle fine art fibre-based lustre paper, foil frame
64h x 50w cm

Erased Moon, 2021
Video projection on a fake lunar landscape, plaster and fabric
Duration: 00:08:23, video loop, colour, silent

A Coss Section, after James Nasmyth, 2019
Image transfer and acrylic on panel,
10h x 15w cm

A Lunar Forest, after James Nasmyth, 2019
Image transfer and acrylic on panel,
13h x 18w cm
In my practice, I use video and photography to critique the way information and knowledge are transferred, controlled, [mis]interpreted, and manipulated. I have recently become obsessed with space exploration and what can be learned about life on Earth by examining space law and our current missions to return to the moon. In science fiction, the moon is frequently used as a futuristic realm where unacceptable social behaviours and norms are addressed. My work thus explores the influence images and cinema have on our collective and personal imaginations and memories. "The moon is a distant object, gazed upon by more humans than any other solid object in the universe" (Morton, The Moon, 2019), yet its surface has only been walked upon by 12 white American men. My intention is, therefore, to merge the cosmic with the domestic, questioning the lens through which we have come to understand and perceive our moon, combining science fact with a little bit of fiction.
Artist: Andrej Getman
Procrastinated Future, 2020
Oil on canvas
150 x 150 cm
'And if those walls could talk, would they scream of neglect, red tape, bureaucracy, inept government ministers, families in hotel rooms and children eating their dinner off cardboard trays on the street?'
For
Procrastinated Future,
the artist is inspired by an apartment block that stands on his doorstep in Rialto, Dublin, sandwiched between Dublin's C19th red brick houses and the new construction of the National Children's Hospital at the St. James's Hospital site. Originally built ten years ago, to serve, employ and regenerate a local community, it has sat empty for a number of years. Neglected and forgotten, this empty apartment block represents political negligence to Getman. 'By not fulfilling its purpose, the building becomes a ghostly brick monument, an unmovable object; an immoral blot on the local urban landscape, an inner city mirage.'
Artist statement
I am a Dublin based artist of Lithuanian heritage, influenced by my immediate environment in the inner city Dublin landscape. During the first lockdown in 2020, the proximity restrictions to others impacted my work as the only room available to me to paint in was my small windowless bathroom. This influenced the scale of my paintings, and I was compelled to use bright and strong colours to compensate. Since that time, I moved into a studio with natural light, allowing me to up-scale my paintings and imbue them with natural tones and colours.
www.getmangallery.com
Instagram
@getmanart
Artist: Niamh McGuinne
AN IMAGINABLE REMEDY FOR AN INTANGIBLE MALADY
- To download the Artist's Booklet please click the 'Download File' button underneath the Spectacular Replica: An NCAD MFA Fine Art 2020 Graduates Exhibition title on this page: https://www.ncad.ie/about/gallery
Shed Skin
, 2020
Steel, film, brush
210h x 85w x 85d cm
Press Pause
, 2020
Steel
180h x 80w x 80d cm
Hold Still
Steel, wool, swing, privacy film
206h x 70w x 75d cm
The embodiment of psychological experience and the nature of somatic response is the underlying theme in my work. It addresses issues concerning how the body absorbs, holds and disguises illness. Comprising three human-scale single occupancy shelters, this work aims to introduce a pro-active expectation of a cure for some complaint we may not even be aware of harbouring. They provide an opportunity in which to shed anxiety, detach from divisive discourse and reboot energy levels. That they can be interpreted as sanctuary or prison is a point of contention and within this ambiguity lies a tension between what is anticipated and what is experienced. 'Hold Still' is designed to facilitate an energy transfer, not to treat an illness but to act as a catalyst. 'Press Pause' may be experienced as a Faraday cage – a form of protection from electro-magnetic signals – while the adapted cow-brush in 'Shed Skin' references the importance of physical contact for human and animal wellbeing. Positioned as a triumvirate, The Shell/ters represent stations in a secular pilgrimage or ritual, the purpose of which is at the discretion of each individual participant's narrative.
Artist: Ciarán O'Keeffe
Dance Alone, 2021
Live art performance: Instagram Live 5pm @ncad_gallery and @mfancad_, Thursday 21 January, and Monday 25 - Thursday 28, January, 2021.
& can be view outside the NCAD Gallery window, Thomas St., D08 K521, 5pm.
Duration: 00:30:00 minutes

Despite his inability to stay in rhythm or simply keep time, and despite the failure of countless dance classes, dance has persistently fascinated Ciarán O'Keeffe. He has never felt comfortable when dancing in public. Yet he has continuously battled against the odds, and the embarrassment. Why? - Because, for him, observing others move so easily with such grace and contentment has always seemed so particularly beautiful. Often, alone at night, he will turn off the lights in his kitchen and dance alone. If, for no other reason than, to simply brush against such beauty for a few fleeting moments. For the duration of the exhibition, he will dance on his own each evening in the large window area of the deserted NCAD Gallery.
Artist: Gary Reilly
Is there any music here or is there only silence?, 2021
Text and image film research project documentation.
Wall and vitrine display.

A film project that explores, through a documentary method, and within the context of the National Forensic Mental Hospital, the potential depths in the idea of freedom, trauma and pop songs while questioning the links between the production, performance, and consumption of music to fundamental questions of power and order in society.
Gary Reilly Artist Statement
My research based multi-media practice looks at the historical and political resonance of sites and materials, culminating in moving image and installation works. Central to this process is long-term investigative research, while I also seek out proximity and intimacy with people and places. This intimacy forms a practice that utilises a documentary approach seeking to provide an evidence of the real that is complicated by subjectivity. 'Is there any music here or is there only silence?' explores, through a documentary method and within the context of the National Forensic Mental Hospital, the potential depths in the idea of freedom, trauma and pop songs. It also investigates the links between the production, performance, and consumption of music, and fundamental questions of power and order in society. Combining a documentary approach with a staged 'mise-en- scène', the work depicts a music therapy session alongside authentic sound recordings taken from music therapy sessions held within the National Forensic Mental Hospital.

Artist: Lena Willryd
Lena Willryd
...for going out was in fact going in, 2021
Laminated acetate on window glass
200 x 200 cm approximately

Lena Willryd
I only went out for a walk.., 2020
Acrylic on canvas
​​​​​​160 x 160 cm

Artist Statement
"I only went out for a walk, but decided to stay until sundown, for going out was in fact going in" (John Muir)
The underlying spiritual core I sense in nature is my source of inspiration. Through a diverse range of media, colour, light and transparency my work explores ways of transmuting this intangible essence into a contemplative, emotional experience. Both works in this exhibition centres on the quote above by John Muir. They are variations of the same composition, which is an intuitive amalgamation of memories of colours and shapes from a specific forest area near my birth place in Sweden. By using the same arrangement in diverse materials it challenges the viewer's emotional transformation of perception, and is an invitation to reflection and meditation.
The square that frames my work is significant in this (spiritual) aspect, as it is the most important shape in sacred geometry, the form from which all other shapes emanate, and which (according to Theosophy) contains the entire universe. The colours in these works (though unconsciously chosen) relate to the current pandemic. Orange represents transformation and change, while green and pink have philosophical attributes such as resilience and adaptability. In colour therapy and holistic approaches they are considered to have healing qualities for the heart and lungs, the areas most affected by Covid19.


NCAD Gallery, 100 Thomas Street, Dublin, D08 K521, Ireland.
Contact: Anne Kelly, NCAD Gallery & In Public Programme Curator
gallery@staff.ncad.ie
.
instagram.com/ncad_gallery
facebook.com/NCADGallery
twitter.com/NCAD_Gallery
___________________________________________
The MFA Fine Art programme supports a range of practice-based enquiry within the field of contemporary art, and is informed by current frameworks for image-production, objects, materiality, the post-digital, moving-image, performative, participatory and emergent modes of art practice. The programme structure is two years for full-time students. The MFA Fine Art encourages applications from artists and graduates who want to develop advanced art projects responsive to contemporary contexts. MFA Fine Art students develop individual research pathways, connecting their projects to the professional field of the visual arts and wider audiences and situations. The spine of this programme is centred upon an experiential art practice engagement with structured modules that explore research methods and contemporary practices. The advanced study required at masters level is informed by contemporary practice based coordinates delivered by leading practitioners in the field. The core components of the course are the studios and technical facilities, project spaces, written elements and critical seminars where students present work and reflect on their approach to materials and the theoretical and historical frameworks informing their practices. The MFA Fine Art hosts an annual studio residency for an established contemporary artist who also contributes to the programme – the artist for 2019-20 was Alan Phelan. The students have also developed exhibition opportunities in partnership with other organisations, most recently with Rua Red, Tallaght, a curated screening and public discussion at The Darkroom, and study trips to the Liverpool Biennial and the Venice Biennale.

MFA Fine Art 2020 Graduates
Valerie Bresnihan
Aidan Sharkey
Andrej Getman
Barry Gibbons
Charlotte Reynolds
Ciarán O'Keeffe
Gary Reilly
Lena Willryd
Luke Monaghan
Niamh McGuinne
Sarah Edmondson
Download File