Sheila Rennick
Hot Body/Ugly Face Syndrome
Saturday, 12th June - Tuesday, 4th May 2010
The National College of Art and Design Gallery is pleased to present 'Hot Body/Ugly Face syndrome', an exhibition of paintings and drawings by a recent graduate of the college, Sheila Rennick. Rennick was selected from an open call for submissions to exhibit in the gallery during the 2010 annual Degree Exhibitions which continue throughout the college from 11th June until 19th June. The graduate exhibition series runs in parallel to the Degree Exhibitions and is intended showcase the work of artists who have completed their studies at NCAD within the last three years.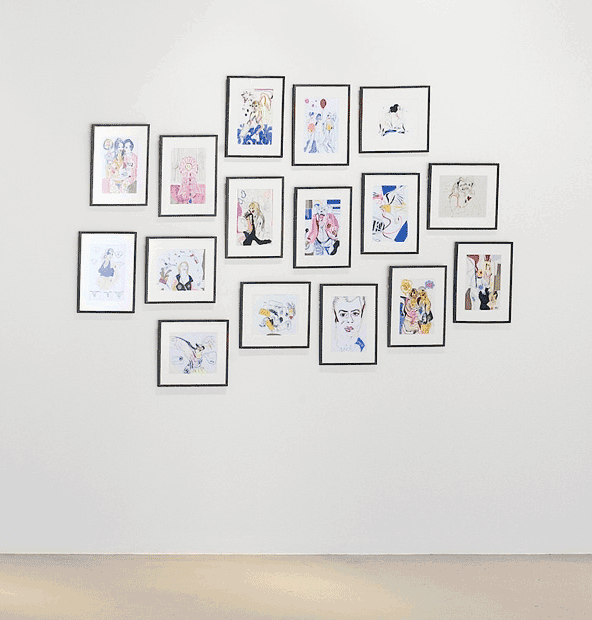 'Hot Body/Ugly Face syndrome' 2010, Sheila Rennick, NCAD Gallery installation view. Photography: Davy Moor.
Sheila Rennick's paintings are as dense with layers of narrative and bright, thick oil paint. Using imagery taken from everyday media outlets, newspapers, magazines and most recently, social networking sites like Facebook and Bebo, Rennick creates a cast of characters, human, animal and in between hybrids, who are at once familiar and grotesque. She distorts and re- presents these found images, sometimes poking fun at, sometimes inviting pathos towards her subjects. Her mischievous dreamlike scenarios always contain some echo of truth to life, which is what makes them compelling. Her work is imbedded in popular culture, teen culture, booze and fag culture, and other every day banalities, all rendered in the sweetest shades of impasto paint. Recently, Rennick has begun a series of drawings, which she will present for the first time at the NCAD gallery. These are pared back, more immediate line drawings offer quick observations, coloured in pinks, neons, blues and yellows using children's markers and office highlighters.
"She relishes that curdled quality, the way sweet colours turn sour through sheer excess and, comparably, the way dreams turn sour when they are realised, chiefly because they are completely mad." Aidan Dunne, The Irish Times.
Sheila Rennick graduated from NCAD with a degree in Fine Art painting in 2004 and was co-recipient of the CAP foundation award. She went on to complete an MA in painting in St. Martins College, London in 2006. She graduated from the National College of Art and Design Higher Diploma in Education in 2008 and now works as an art teacher as well as continuing to pursue her painting practice. She was one of thirty artists selected from across the UK for the notable Jerwood contemporary painting exhibition which was held in London in February 2007.She has a number of solo and group exhibitions under her belt. Her most recent solo show was at the Ashford Gallery, Royal Hibernian Academy, Dublin.
For more information please contact +353 (0) 1 6364390 or gallery@staff.ncad.ie
Open Mon – Fri 1pm- 5pm, NCAD Gallery, 100 Thomas Street, Dublin 8, Ireland.
facebook.com/NCADGallery
twitter.com/NCAD_Gallery