SHAPE THE FUTURE
An exhibition of new work by twenty of Ireland's most exciting and creative designer makers who have been awarded Future Makers prizes.
Friday, 3rd March - Monday, 20th March 2017
SHAPE THE FUTURE
3 MARCH 2017 – 20 MARCH 2017
Cillian Ó'Súilleabháin | Gail Mahon | Jackie Maurer | Jaki Coffey | Jennifer Slattery | Karen Donnellan | Kate Murtagh | Sheridan | Kate O'Kelly | Lisa Ryder | Lorna Boyle Natalie B Coleman | Owen Quinlan | Pierce Healy | Print Block | Sam Hamilton Síofra Caherty | Snug | Superfolk | Suzanne Rogers | Úna Burke
Shape The Future opening: Friday 3 March 2017, 6pm – 8pm. All welcome.
Exhibition continues: Monday 6 - 20 March 2017. Opening times: Mon - Fri, 1pm - 5pm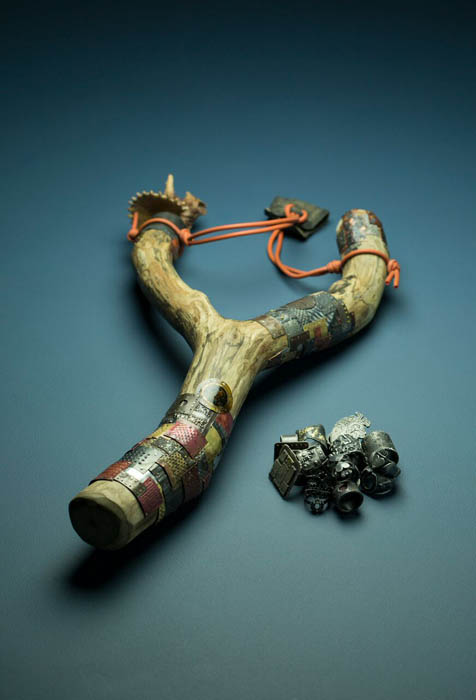 Image: Pierce Healy, Jewellery Delivery System (patent pending).
Elm, Silver, Aluminium, Brass, Copper, Tin, Iron, Rubber, Plastic, Leather.
The NCAD Gallery is pleased to present, Shape the Future, a National Craft Gallery touring exhibition of new work by twenty of Ireland's most exciting and creative designer makers who have been awarded Design & Craft Council of Ireland Future Makers prizes and development funding in the last seven years. Working across Fashion, Jewellery, Accessories, Textiles, Furniture, Product, Glass, Ceramics and Leather; each of the twenty maker designers are creating new work in response to the exhibition thematic.

The exhibition premise askes how craft and design shape our cultural identity and how culture has influenced the work of the participating makers. The exhibition explores links between making today and what it might mean to be a maker in the future; as well as the value of providence in designing and hand making on our island then selling to a global market. The makers have each pushed limits of design ideation, material manipulation and construction techniques to present extraordinary contemporary artefacts.
Shape the Future is curated by Angela O'Kelly. Angela O'Kelly is a jewellery maker, lecturer and curator. She is Head of Design for Body and Environment (Fashion, Textile Surface Design, Jewellery & Metalwork) at the National College of Art and Design, Dublin.
This exhibition is organised as part of the marking of the centenary of the 1916 rising under the Cultural Expression strand. Shape the Future is a touring exhibition, first shown at the National Craft Gallery, Kilkenny. The Design & Crafts Council of Ireland's 'Future Makers Awards and Supports' provide support for the next generation of makers to learn, experience, investigate, develop, create and shape the future of Irish craft and design.
Contact: Anne Kelly Programme Curator NCAD Gallery gallery@staff.ncad.ie
NCAD Gallery, National College of Art and Design, 100 Thomas Street, Dublin, D08 K521, Ireland.
facebook.com/NCADGallery | twitter.com/NCAD_Gallery | instagram.com/ncad_gallery