NCAD Gallery presents designer & multimedia artist Russell Mills exhibition 'Blueprint For A Storm'.
NCAD Gallery presents designer & multimedia artist Russell Mills exhibition 'Blueprint For A Storm'.
The NCAD Gallery presents a solo exhibition of designer and multimedia artist Russell Mills.
Wednesday, 6th April - Friday, 29th April 2016
The NCAD Gallery is pleased to present, Blueprint For A Storm a solo exhibition of works by Russell Mills. Painter, designer, musician, stage designer and creator of complex multimedia installations.
Blueprint For A storm is opened by Luke Clancy, award winning radio producer, journalist and writer. Creator of 'Soundstories' (RTE Radio 1, with Kevin Brew) and the independent radio production company, Soundsdoable, which works extensively in Irish and international radio. He currently produces and presents, Culture File, for RTE Lyric FM.
NCAD Gallery Blueprint For A Storm opens 6pm - 8pm Wednesday 6th April 2016.
Exhibition continues Thursday 7th – Friday 29th April 2016.
NCAD Gallery opening hours 1-5pm, Mon- Fri.
Mills is perhaps best known for his distinctly personal and richly textured album covers for Brian Eno, Nine Inch Nails, David Sylvian, Michael Nyman and Peter Gabriel, among many others, and influential book covers for the likes of Samuel Beckett, Milan Kundera, Ian McEwan and Jayne Anne Phillips. He has also produced work for Amnesty International, the British Council, the Royal Shakespeare Company, Friends of the Earth and Oporto Expo 2000.
Inspired and informed by ideas of contingency, indeterminacy, control and surrender, his interdisciplinary approach has led him to create films, stage visuals and lighting for some of the most innovative contemporary performers of recent decades, including Harold Budd, Siobhan Davies, Sidsel Endressen, Brian Eno, Jan Garbarek, Jon Hassell, the Hilliard Ensemble, The Necks, Nils Petter Molvaer, Arvo Part, Terry Riley, John Surman, David Sylvian and Wire. He has also produced generative lighting and film for the Festival of Visual Music in Lanzarote, the Brighton Festival and the Punkt Festival in Norway.
In addition to his visual works he has also produced sound-works for film, radio and performance, and under the name Undark has released two critically acclaimed albums 'Strange Familiar' and 'Pearl and Umbra' that explore the collage principle: a third album is a work-in-process. Live work has included performances with Wire, Dome, Nils Petter Molvaer and Bill Laswell.
The exhibition Blueprint For A Storm at the NCAD Gallery brings together a selection of Mills work including: a compilation of multimedia installations and interventions, extracts from selected film works and stage visuals and lighting, his painting, music compositions and design.

Blueprint For A Storm will coincide with the Offset conference for design and creative industries scheduled on the 8th,9th and 10th of April 2016 in Dublin. Russell Mills is scheduled to speak at the Offset Conference, Bord Gais Energy Theatre on Saturday 9th April 2016, at 1pm and is a panelist alongside David Bowie designer Jonathan Barnbrook and U2 designers Steve Averill & Saugn McGrath on Sunday 10th April at 3pm. Offset tickets are available to purchase here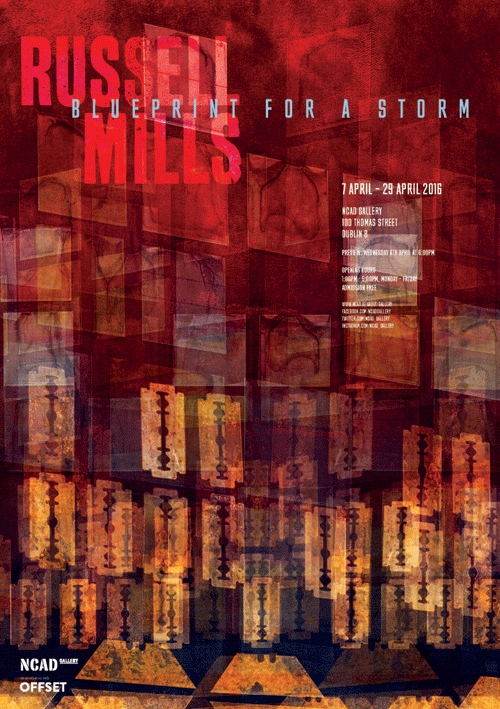 Russell Mills has exhibited in numerous solo and group exhibitions globally and since the early 90s, with collaborators Mike Fearon (guitarist, multi-instrumentalist and sound engineer), has created site-specific multimedia installations in the UK, Ireland, Japan, Portugal, Spain and the USA.
His work is held in numerous private collections around the world and in public collections including the British Council, the British Museum, the Tate Gallery and the Victoria & Albert Museum. He has lectured in colleges and universities in the UK, Ireland, France and USA and is Honorary Visiting Professor at Glasgow School of Art. From the late 1980s until 2013 he was Visiting Lecturer at the Royal College of Art. Mills lives and works in Ambleside, Cumbria.
Cargo In The Blood | The Reverse Is Also True, is a deluxe limited edition multiple focusing on the art works made for Nine Inch Nails' Hesitation Marks album is now available to purchase. Produced in a limited edition of 2000, Cargo In The Blood includes a five colour 320 page fully illustrated hardback book showing all the works made for the commission with interpretative texts and essays charting the ideas behind and processes used in each work. Each also contains an original mixed media work framed in Corten steel and a uniquely coded etched Corten Steel plate. Every copy is encased in a folding suede portfolio measuring 15" x 13" x 2". Each cover features debossed and foil stamped typography and has been hand cauterized. The book has been printed with metallic silver and 4 colour printing UV inks. Cargo In The Blood is available to order now. Priced at €300 it is available to purchase at the NCAD Gallery during the exhibition dates of 6th - 29th April 2016 or can be ordered through www.nin.com and www.cargointheblood.com
For further information on the work of Russell Mills please view http://russellmills.com
For further information on the Offset conference please view the link here
Curator Anne Kelly NCAD Gallery 100 Thomas Street, Dublin, D08 K521, Ireland.
+353 (0)1 636 4390 | gallery@staff.ncad.ie
facebook.com/NCADGallery| twitter.com/NCAD_Gallery| instagram.com/ncad_gallery

The Blueprint For A Storm exhibition is organised in association with OFFSET.