NCAD Gallery Incubation Residency 2017 presents artist Sonia Shiel
The NCAD Gallery is pleased to announce invited artist Sonia Shiel as recipient of the inaugural NCAD Gallery Incubation Residency 2017.
Monday, 7th August - Tuesday, 5th September 2017
NCAD Gallery Incubation Residency 2017 artist Sonia Shiel
The NCAD Gallery Incubation Residency is a multidisciplinary residency opportunity designed to support visual arts practitioners' project realisation, from production stages to a public presentation outcome of new work facilitated by the NCAD Gallery Curator. The Gallery is used by the awardee both as incubation space to work in and as a space to present their work. The Residency welcomes practitioner makers, designers, technologists, artists and writers the opportunity of production time and space to research, develop and present new work to new audiences. In August 2017, artist Sonia Shiel begins her residency at the NCAD Gallery through September. The next Incubation Residency will take place during the summer months of 2018, when the selection process will be formalised through an open call opportunity advertised in January 2018.
Over the summer months of 2017, artist Sonia Shiel will utilise the NCAD Gallery as an incubation space for production toward presentation of new work in November 2017. Her time at the NCAD Gallery runs concurrently with her Arts and Humanities' Artist-in-Residence at UCD 2017 award. Please see below for artist information, and check back soon for further exhibition information and public presentation dates of artist work.



Image courtesy of the artist Sonia Shiel.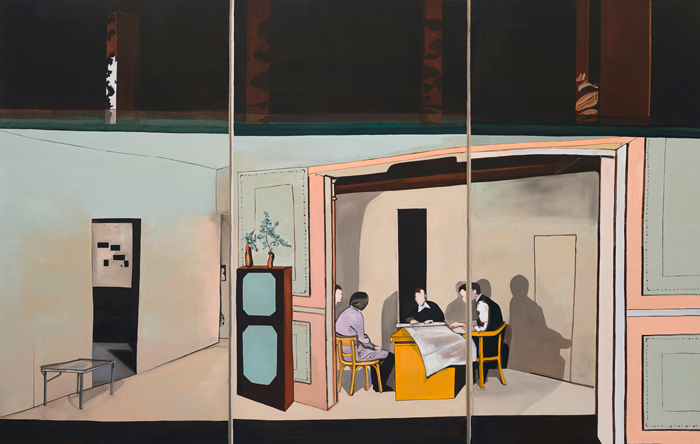 Image: Still Life with Plan, 2017. Image courtesy of the artist Sonia Shiel.
Artist Information
Sonia Shiel's work examines her protagonists' attempts to survive the odds of nature and the illusory world around them, through laws of their own making. Many of her works engage with each other symbiotically or con/sequentially within mixed-media installations, creating surreal narrative sequences. Often taking the form of scripted video, audio and live performances, Shiel's works synthesise object, image and sound in self-reflexive stories of construction, exploring how real things in the world can simultaneously declare themselves fabrications and yet compel a shared make-believe.
Sonia Shiel is currently the Arts and Humanities' Artist-in-Residence at UCD for 2017 and a recipient of the DLRCoCo and the Arts Council Visual Artist Awards for 2017. In 2014/2015, she completed the Art & Law Fellowship Program at Fordham Law School, the International Studio & Curatorial Program, in New York, and an artist's residency at the Irish Museum of Modern Art, Dublin, with Arts Council Project Award support. Recent readings and performances include Temple Bar Gallery and Studios and ArtBox. She has had recent exhibitions at Rua Red, The Crawford Gallery, The Irish Museum of Modern Art, The Lewis Glucksman Gallery and the ISCP, New York, among others. Shiel has been the recipient of the Tony O'Malley and Hennessy Craig Awards, having had solo exhibitions at the Butler Gallery and the RHA Gallery I and II, which included a major publication and a collection of essays. Her work features in many international public and private collections, including the Arts Council, The City of Frankfurt, and the OPW.

Sonia Shiel is represented by the Kevin Kavanagh Gallery, Dublin. Please find further artist information here.
Anne Kelly Curator, NCAD Gallery

Contact: Anne Kelly NCAD Gallery Programme Curator gallery@staff.ncad.ie
National College of Art & Design, 100 Thomas Street, Dublin, D08 K521, Ireland.
facebook.com/NCADGallery| twitter.com/NCAD_Gallery| instagram.com/ncad_gallery