National Heritage Week 2022: Traveller Craft Demonstrations at NIVAL
National Heritage Week 2022: Traveller Craft Demonstrations at NIVAL (National Irish Visual Arts Library, NCAD)
Thursday, 18th August - Thursday, 18th August 2022
National Heritage Week 2022: Traveller Craft Demonstrations at NIVAL (National Irish Visual Arts Library, NCAD)
18 August, 1pm - 4pm
NIVAL faciliated by NCAD Gallery
NCAD, 100 Thomas Street,
Dublin, D08 K521
Please RSVP to nivalinfo(at)staff.ncad.ie
The NCAD Gallery is delighted to facilitate NIVAL (National Irish Visual Arts Library, NCAD) in association with Pavee Point Traveller and Roma Centre in presenting an exciting day of Traveller crafts and heritage for Heritage Week 2022. The day will showcase our recent project to create an archive of photographs and oral histories with Traveller craftspeople and to highlight its importance within Irish cultural heritage.
Events on the day will include live storytelling and a craft demonstration from the renowned tinsmith Tom McDonnell. Visitors will also be able to try their hand at making traditional paper flowers and listen to a talk by the project team, including Travellers Geraldine McDonnell and Francesca Hutchinson, and NIVAL staff member Katie Blackwood.
Please join us in NCAD on 18 August to share and appreciate this beautifully-made craftwork and the rich customs of the Travelling community. Please RSVP to nivalinfo(at)staff.ncad.ie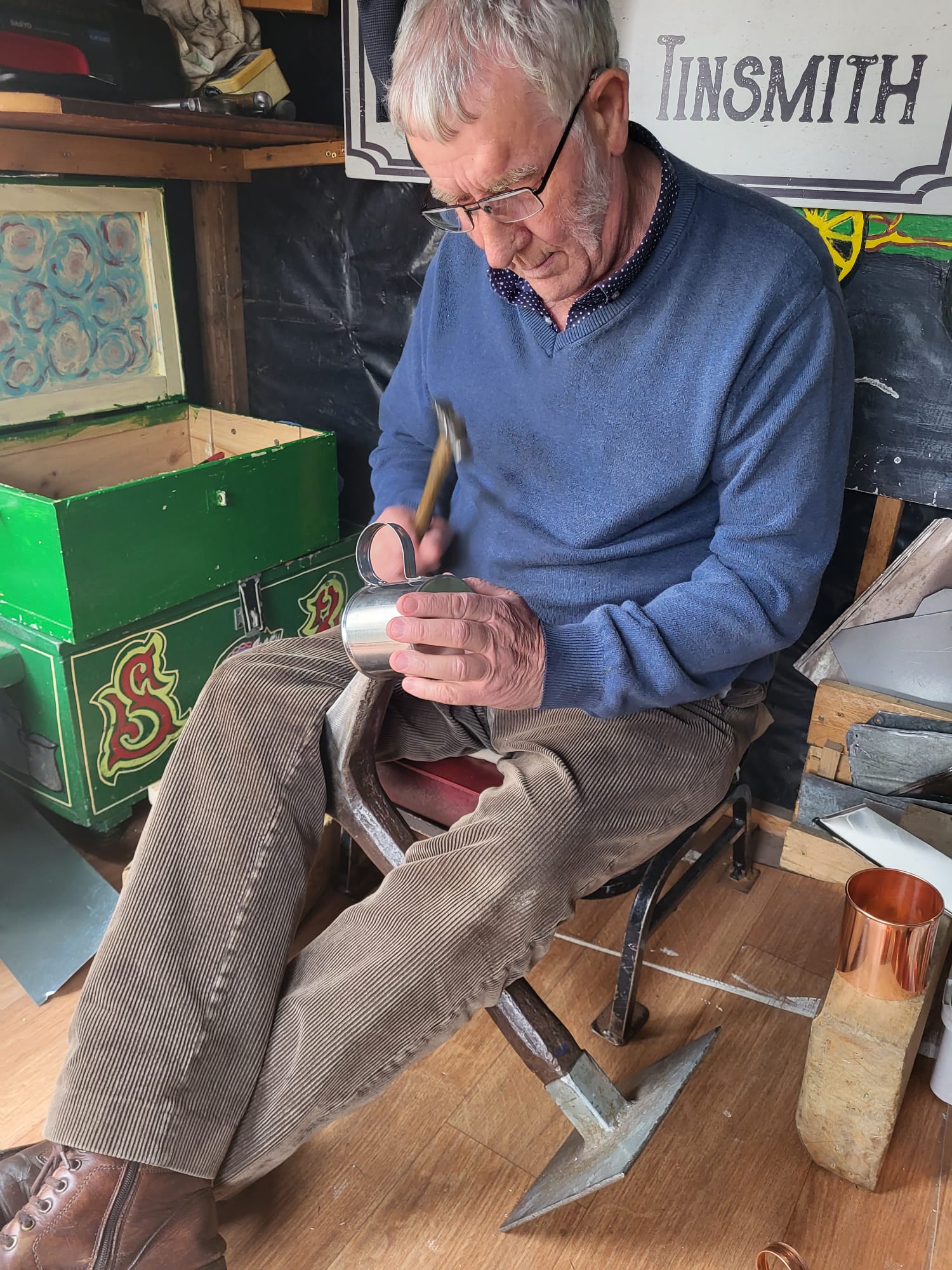 Image: Tom McDonnell, the Traveller tinsmith demonstrating his craft. Photograph courtesy of Geraldine McDonnell.
Supported by the Heritage Council under the Community Heritage Grant Scheme 2022.