Asylum Archive exhibition event of presentations from invited panelists:
Dr Ronit Lentin | Activist Joe Moore | Artist Vukašin Nedeljković | Prof Aislinn O'Donnell
Tuesday, 6th December -
NCAD Gallery ASYLUM ARCHIVE Exhibition Event of presentations by an invited Panel of Speakers followed by Questions & Response Open to the Floor.
Tuesday 6th December 2016, 6pm, Harry Clarke Lecture Theatre, National College of Art and Design, Dublin D08 K521. No booking necessary. All welcome.
Please listen to a recording of the event here 06/12/2016.
In response to the
Asylum Archive
exhibition at the NCAD Gallery a public event is organised to take the format of ten minute presentations by invited speakers followed by response & questions open to the floor. This event includes presentations from
Dr.
Ronit Lentin
, Associate Professor in Sociology at the Department of Sociology, Trinity College Dublin (TCD);
Joe Moore
, anti-deportation activist;
Vukašin Nedeljković
, artist and researcher, Dublin Institute of Technology (DIT); Prof.
Aislinn O'Donnell
, Professor of Education, Maynooth University. Each speaker has been invited to make a ten minute presentation in response to the Asylum Archive exhibition.
Asylum Archive
is an exhibition of accumulated documents, artefacts, oral histories and photography created by Dublin based visual artist and researcher Vukašin Nedeljković. Asylum Archive engages directly with the everyday realities of asylum seekers, drawing on Nedeljković's personal experience of being an asylum seeker and living in direct provision centres in Ireland between the years of 2007-2009.
The Asylum Archive exhibition continues until 25th January 2017 (extended). NCAD Gallery is open daily Mon-Fri, 1pm - 5pm.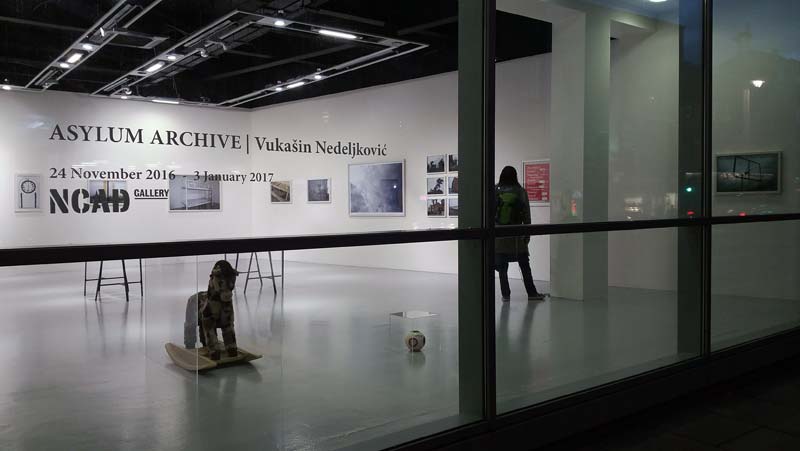 Image: NCAD Gallery exterior exhibition view of Asylum Archive created by Vukašin Nedeljković.
Presenter Biographies

Dr Ronit Lentin is a retired associate professor of Sociology, Trinity College Dublin (TCD). She has published extensively on racism and migration in Ireland, gender and genocide, Israel and Palestine. Her books include: Racism and Anti-racism in Ireland; After Optimism? Ireland, Racism and Globalisation; Race and State; Thinking Palestine; Migrant Activism and Integration from Below in Ireland. She is currently working on a book on Palestine and race.

Joe Moore is an activist and member of Anti Deportation Ireland (ADI).

Vukašin Nedeljković
is a visual artist and PhD student at the Centre for Transcultural Research and Media Practice at Dublin Institute of Technology. He initiated the multidisciplinary project, Asylum Archive, to collaborate with asylum seekers, artists, academics, civil society activists and immigration lawyers, amongst others, with a view to creating an interactive documentary cross-platform online resource, critically foregrounding accounts of exile, displacement, trauma and memory. View
www.asylumarchive.com