Anticipation : Actualisation, live performance & panel discussion organised by in:Action
Anticipation : Actualisation, live performance & panel discussion organised by in:Action
Anticipation : Actualisation, live performance & panel discussion organised by in:Action
Wednesday, 21st March - Wednesday, 21st March 2018
Wednesday 21 March, 2018
Performance: NCAD Gallery 5 – 6 pm
Panel Discussion: Harry Clark Lecture Theatre 6 – 7 pm
Anticipation: Actualisation is a three part presentation of live performance, panel discussion and written response, organised by in:Action (Dr. EL Putnam & Sara Muthi) for the NCAD Gallery and in collaboration with a wide range of artists, scholars and writers specialising in performance practice. This event is an attempt to explore the complex relationship between the performing body and selected materials, to posit a critique of the body's dominance in performance art discourse.
Performers: Paula Fitzsimons, Leann Herlihy , Ciara McKeon, Rachael Rankin
Panelists: Dr. Hilary Murray , Dr. Sarah Pierce, Nigel Rolfe
Writers: Jack Beglin, Tara Carroll, Jesse Hopkins, Dr. Francis Halsall
The event is designed as an experiment without a predetermined conclusion though there are three designated outcomes; a one hour live performance, a panel discussion following the live performance and three written responses to be published on in:Action (www.inaction.ie) one month after the NCAD Gallery event. Please find participant information below.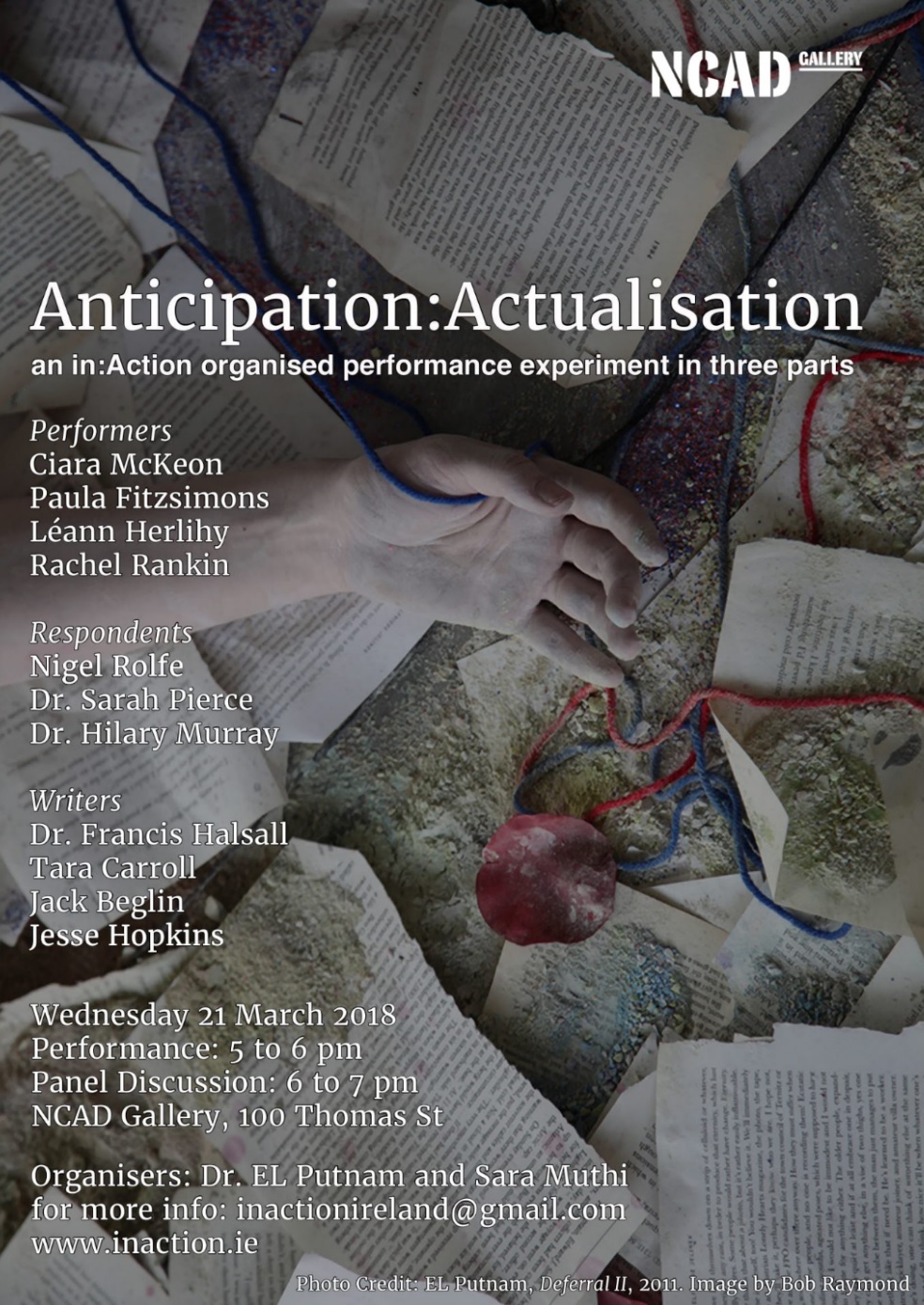 In:Action — Irish Live Art Review contains reflections and responses to live art created by Irish and Irish-based artists. Posts are gathered from invited guest writers as well as an ongoing open call. in:Action was developed by Níamh Murphy and EL Putnam, along with Sara Muthi as current editor and contributer. It acts as a site to cultivate discourse and a public platform for practitioners, curators, writers, and aficionados to share ideas about performance art in Ireland.
Dr. EL Putnam is an artist, scholar, and writer that lectures in Art Theory and History at Dublin Institute of Technology. Her performances explore the gestural interplay of the body with digital media. In addition to be the founder of in:Action, recent and upcoming publications include a survey of Irish sound art in Áine Phillips book, Performance Art in Ireland: A History (Intellect Press and Live Art Development Agency, 2015); a paper in the journal Performance Research that investigates national citizenship, performance art, and motherhood in Ireland (2017); and an examination of ageing and the female body through performance art in Ageing Women in Literature and Visual Culture: Reflections, Refractions, Reimaginings (Palgrave Macmillan, 2017).
Sara Muthi is a Dublin based writer & curator. Working primarily within concepts of performance art & its ontological aspects, she studied Fine Art Painting & Visual Culture at the National College of Art & Design. She is currently doing her MA in Art in the Contemporary World at NCAD. In addition to being managing editor for in:Action she had previously assisted in the curation of The Anti-Room (Artbox Gallery, 2015) while recent independent work include an accompanying essay for Homo Ludens (Man At Play) (2018) exhibition for Black Church Print Studios and curating The Public Diary (2018) for First Fortnight Festival 2018.
Participant Links & Information
Performers Paula Fitzsimons http://paulafitzsimons.com, Leann Herlihy www.leannherlihy.com, Ciara McKeon, Rachael Rankin http://bbeyond.live/rachel-rankin-2
Panellists Nigel Rolfe, Dr. Sarah Pierce http://themetropolitancomplex.com, Dr. Hilary Murray https://artboxprojects.wordpress.com
Writers Jack Beglin https://jbeglin.com, Tara Carroll https://fourdspace.com, Jesse Hopkins, Dr. Francis Halsall http://alittletagend.blogspot.ie
Documentation Misha Beglin, Alba Fernandez www.albafernandezdop.com
NCAD Gallery T + 353 (0)1 636 4390 E gallery@staff.ncad.ie
Follow us on instagram.com/ncad_gallery
Like us on facebook.com/NCADGallery
Follow us on twitter.com/NCAD_Gallery