Dr. Patsey Bodkin
Ed.D
Lecturer in Education
School of Education
Phone: 01 636 4308
Email: bodkinp@staff. ncad.ie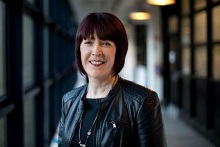 Lecturer in Education
Coordinator of Joint Hons. BA in Education and Design or Fine Art
Coordinator of CPD Programme for Art and Primary teachers
Coordinator of Youth Art Programme (YAP)
Biography
Dr. Patsey Bodkin is a lecturer in Art Education in the School of Education in the National College of Art and Design (NCAD) in Dublin, Ireland where she has been a faculty member since 2007. Prior to joining the School of Education she worked as a secondary school Art teacher for 20 years, teaching Art, Craft and Design and the History and Appreciation of Art. She completed her Ed.D. at Dublin City University, her M.Ed. at University College Dublin and her undergraduate studies at the NCAD. She holds postgraduate qualifications in Education Studies and the History of European Painting.
Her specialisations are in the areas of Initial Teacher Education and the Continuing Professional Development (CPD) of second level Art teachers and Primary teachers. She is the coordinator of the Joint Honours Degree in Education and Design or Fine Art in the NCAD. Dr. Bodkin is lead pedagogical tutor for the Joint Honours Degree students. She developed the "Professional Practice for an Art Teacher" now called "Professional Preparation for the Classroom" module. Her other duties include the delivery of modules in Pedagogy, Literacy and Numeracy through Art; Learning and Professional Practice, Education Studies, Art History Content and Teaching Methodologies and Visual Art for the Classroom. She is a member of the School of Education School Placement team and mentors, supervises and assesses student teachers at both undergraduate and postgraduate levels. She also supervises Masters and PhD. in Education students. Dr. Bodkin established a Youth Art Programme in the NCAD in 2013 and is currently developing a summer camp in Visual Art for Primary and Post-Primary pupils.
Dr. Bodkin's primary research interest is the Continuing Professional Development of second level Art teachers.
Publications, Exhibitions and other outcomes

Framework for the Continuing Professional Development of Art Teachers in Ireland -Paper presented at The Future of Education International Conference, Florence, Italy (30June/ 1July, 2016).
Moderator at The Future of Education International Conference, Florence, Italy (30June/ 1July, 2016).
Key note speaker at Rural Environment, Education, Personality (REEP-2014) Conference, Jelgava, Latvia (February , 2014).
Member of REEP Scientific Committee -2014 to date.
External Collaborations

Chairperson of the CPD working group for the Institute of Teacher Education, Dublin which has representatives from the Schools of Education in Marino Institute of Education (MIE), the National College of Art and Design (NCAD), Trinity College Dublin (TCD) and University College Dublin (UCD).
Asia Art Archive, Hong Kong- CPD
Digital Hub- CPD
International Academy of Art and Design, China- Initial Teacher Education and CPD
National Print Museum- Youth Art Programme, NCAD.
Rediscovery Centre, Ballymun- Youth Art Programme, NCAD.


Research Statement

My research interest is in the area of Continuing Professional Development. My primary research is in the area of CPD for Art teachers. I have developed a CPD framework and a national CPD programme for Art teachers and a CPD programme in Visual Art for Dublin region Primary teachers in the NCAD. My current research interests are the CPD participant dissemination of the CPD experience to pupils and how an archive can be used as a site for learning through CPD.

Current and recent research

2016 to date: The Asia Art Archive: Utilizing a website on contemporary Asia art for the continuing professional development of art teachers.

Awards & Grants

NCAD Small Grant Research Bursary 2015-16.
Residency/Internship

Educator in Residence at the Asia Art Archive, Hong Kong- January 2016– Conducting research into how an online archive can be used for the Continuing Professional Development of Irish and Hong Kong Art educators (Primary to 3rd Level).

Research Students

PME Students x 2
PhD student x1