Kilian O'Callaghan
BEd
Quality & Academic Support Officer
Academic Affairs
Phone: 01 636 4355
Email: ocallaghank@ncad.ie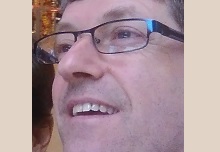 Kilian works in the Academic Affairs team, looking after the quality assurance aspects of the College and providing academic support wherever it's needed. Of particular focus are student evaluations and surveys, and programme development, and ensuring the College works within the compliance structure of a recognised college of UCD.

Working in education management since 2000, Kilian has worked in curriculum development at polytechnics in New Zealand before joining New Zealand Qualifications Authority, a semi-state organisation approving programmes and accrediting organisations to deliver them. Kilian was appointed to Course Approvals Manager in 2006, responsible for authorising approval and accreditation of programmes across the private training establishment sector (over 900 private colleges), and working closely with similar managers for polytechnic and university programmes.

In 2008, Kilian returned to Ireland and began work with the Institute of Banking (also a recognised college of UCD), in charge of quality assurance, before joining NCAD in January 2017.

Kilian is a former ballet dancer, having performed internationally for over 15 years.
He trained at Joan Denise Moriarty's school in Cork while growing up, and was permitted to train with Irish National Ballet from the age of 14.
In 1980, Kilian was accepted into the Royal Ballet School, one of only about five male dancers from Ireland ever to be admitted there. In 1982, he joined The Scottish Ballet in Glasgow, performing around the UK (including to Belfast, Shetland and Orkney Islands), Istanbul, Cyprus, Alhambra Palace Spain, Portugal, Hong Kong, Charleston South Carolina USA, and Perth Western Australia. In 1986, he opted for the sun and moved to Perth, but after 18 months, he kept moving and joined Royal New Zealand Ballet in 1988. As a Principal Dancer with RNZB, Kilian toured widely to all corners of New Zealand ajnd Australia, as well as to Germany, Austria, Switzerland, the Netherlands, Luxembourg, UK, Yugoslavia (now Slovenia), as well as three tours to USA. Kilian's leading roles included Albrecht in Giselle, James in La Sylphide, Bluebird in Sleeping Beauty, Franz in Coppelia, the Prince in Nutcracker and Cinderella, Mozart in Wolfgang Amadeus, Hamlet in Hamlet, and Tybalt in Romeo & Juliet, probably his most popular and acclaimed role. He also danced in Four Temperaments by George Balanchine, Troy Game (Robert North), works by Gray Veredon, and the role of Oscar Wilde in a biographical ballet by Garth Welch.
Kilian continues to work in ballet, teaching and choreographing, mainly for Irish National Youth Ballet. With the success of Kilian's production of The Nutcracker 2015-17, INYB have just completed a successful season of a new full-length production of Cinderella at the Pavilion Theatre Dun Laoghaire. In May 2019, the Company will peform his ballet Moving On, first produced for the Company in 2015.