John Paul Dowling
MA, BA, PGCHE
Head of Department
Communication Design
Phone: 01 636 4280
Email: dowlingjp@staff.ncad.ie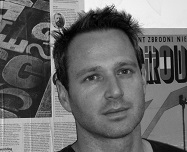 John Paul Dowling holds an MA in Interactive Media from the University of Limerick and a BA(Hons) Graphic Design from Limerick School of Art & Design, Ireland.

His work in typographic research, education and as a practitioner has been recognised in various capacities by AtypI, ISTD, SOTA, European Design Awards and Beazley Designs of the Year. He has spoken at many design conferences and institutions, most notably TypeCon 2011 / 2014, Face Forward 2015, ICTVC 2016, AtypI 2016, OFFSET 2017 and ARLIS 2018.

Previously he has worked as a Senior Lecturer in Graphic Design at the UWE Bristol. He is also the Education Director, Board Member and Fellow of the International Society of Typographic Designers.

John Paul has exhibited widely, notable mentions would be the Design Museum's Beazley Designs of the Year 2018 as part of ME&EU; TypeSet 2016; Ink-dot, Bristol, 2011/2009; The European Design Awards 2008 and E+VA International 2006/2003. His book design has received favourable reviews in The Irish Times Book Review and a number of leading industry websites. He was an inaugural participant in 'Al-Mutanabbi Street Starts Here' a book project that responded to a car bomb which was detonated on Al-Mutanabbi Street in Baghdad, the bomb ripped through the thousand-year-old book market and killing several dozen people, injuring hundreds, and decimating a traditional center for literacy and debate in Iraq's capital city. His books titled 'Al-Mutanabbi — Burning Daylight' for 'An Inventory of Al-Mutanabbi Street' a collaboration of some 200+ international book artists still travel the world to this day, with the original copies residing at the Iraq National Library in Baghdad.
In 2017 he was awarded Fellowship of the Royal Society of Arts (FRSA) in recognition of his significant contributions to social change through design education.
Research and Published Work:
ARLIS 2018, Architecture Association London
This paper focused on a collaborative project — Archive(ist) — between 2nd Year students from the Department of Communication Design, NCAD Dublin and NIVAL (National Irish Visual Arts Library). This project aimed to instil the importance of repositories of knowledge and use them as a conduit to teach typography and book design. Students were tasked with publishing an exhibition in the form of the book. As a designer, gathering, organising and designing content is key to one's creative practice. In this project, students were tasked to explore the role of the curator within the context of the professional graphic designer. The brief promoted engagement with a social/cultural environment outside of the design studio and utilised investigative research methods to access primary and secondary content. Students were expected to study their chosen subjects thoroughly and with a critical awareness that demonstrated an understanding of the subject, audience and cultural capital.
A short film show-chasing student work from 2016 can be viewed here: https://www.youtube.com/watch?v=Rdz95NCfjRM
OFFSET 2018, Dublin
Panel member at Beck's Be Kreativ, Routes into Industry: Shaping the Future
The Future 2017, Dublin
Interviewed Dr. Nelly Ben Hayoun and Stefan Sagmeister.
[B302] - The Global Gathering 2017
Keynote
AtypI conference, Warsaw 2016 13–17 September
Design, Culture & Reality The educational module (or lack of) for teaching design (Graphic) often leads to a speculative approach that seeks to represent the realities of working in industry. Hypothetical situations are introduced to mimic 'real-life' briefs, but there is nothing 'real' about this approach. Students are in a situation where they cannot test their work; there is no audience, no client, and no user. Therefore, learning is limited to opinion and taste. Increasingly students are drawn to work that does not align itself to commerciality in the traditional sense, but work that impacts on cultural, social and societal levels. Work that improves people's lives, if only marginal, has more moral capital. Typography is both fundamental and universal to mass knowledge consumption, there is no class divide, no economic margin, no racial partition, no division based on faith or creed. It is through typography that we access the written word. And it is through typography that we can give our students a voice. This paper seeks to challenge and inform, in the hope that by raising questions rather than giving answers, we as educators can address how and why we teach design, along with the moral obligations that come with it.
ICTVC Greece 2016 5–9 July, 6th International Conference on Typography & Visual Communication
Teach Content, Not Type! —Active learning in typographic education Too often typographic education focuses on the pedagogy of a rule based adversarial system. Students often know the 'rules' but do not understand how and when to apply them. True learning is active learning, when content is generated and narrative structure is controlled, it allows for a deeper understanding of the typographic gesture. Authorship drives typographic interpretation and expression.
Typoday India 2016 25–27 February, Srishti Institute of Art, Design and Technology, Bangalore
Supporting Typographic Education Internationally Education is a constant in ISTD. From our beginnings as the British Typographers Guild in 1928, education has been a fundamental part of our activity. ISTD engages with universities and institutions across the globe to raise the profile of typography in design education. Our main education activity is the annual Assessment Scheme that, since 1975, has offered students the opportunity to gain ISTD membership. Now running in the UK, Ireland, the Middle East, South Africa and Australasia, it attracts submissions worldwide. Our goal in the student assessments is to give both tutors and students the opportunity to explore and develop typography as an inherent part of the design process and thus bring the typographic gesture to the forefront of their design education. This paper focused on the 40-year history of the annual ISTD Student Assessment Scheme.
Face Forward Dublin 2015 11–12 December, Dublin Institute of Technology.
Teach Content, Not Type! —Active learning in typographic education
ATypI conference, São Paulo 2015 14–17 October
Teach Content, Not Type! —Active learning in typographic education (accepted, declined to present)
TypeCon 2015: Capitolized 30 July–3 August, Hyatt Regency Hotel, Washington D.C.
If at first you don't succeed… : Affecting a Change in the Referral Process of Design Education looked at how adjusting the graphic design course curriculum in respect of the referral process can foster a learning environment that embraces the notions of 'trial & error' and learning from mistakes both for students and staff.
TypeCon 2011: Surge 7–10 July, Royal Sonesta Hotel, New Orleans.
Pencil to Pixel focused on Level 1 students from UWE and their work using the online font building tool FontStruct. The paper highlighted how a lo-fi approach to type design ensured maximum results when translated to a digital platform.
Innovation Academy : Great Graphics You Can Afford 4th February 2011, BBC Bristol.
The briefing featured panellists from the BBC's Graphics & VFX Advisor Nicola Kingham, Luke
Wilmot from Shadow Industries as well as myself.
SweetTalk 38. In: Creative to Creative Lecture series 13 May 2010
Bristol design blog typenowhere.com joined forces with CandyCollective to bring SweetTalk to Watershed. SweetTalk is a creative-to-creative live event, bringing together local creative talent with international luminaries in a relaxed, social environment. The talks promote discourse and knowledge transfer between the creative industries, academics and students. To date there had been 37 editions of SweetTalk in Ireland, UK, Denmark & the USA. This is the first time the event took place in Bristol. Speakers included Ian Anderson of The Designers Republic, with local creatives Maria Mochnacz, Andy Council & Gabriel Solomons.
European Design Awards 2008 Corbis Creatives Behind the Lens 18 May 2008
Work submitted for the conference was shortlisted by a jury as one of the top 30 submissions across Europe. The work was displayed in the "Creatives Behind the Lens" exhibition at the European Design Conference, Stockholm.

Professional Memberships/Associations
Fellow/Board Member: ISTD: International Society of Typographic Designers
Fellow: HEA: The Higher Education Academy, UK
Fellow: Royal Society of Arts
Member: AtypI: Association Typographique Internationale
Member: D&AD: Global Association for Creative Advertising & Design Awards
Member: IDI: Institute of Designers Ireland
Jury Board Member: Faculty of Design and Arts of the Free University of Bozen Bolzano, Italy
Past Member: DRG / Design Research Group, University of the West of England



2017/18 Me & EU, Beazley Designs of the Year 2017, Design Museum, London
2017 Me & EU, Torino Graphic Days, Italy
2017 Sound and Vision Exhibition, Image Now Gallery, Dublin
2016 TypeSet Exhibtion, ImageNow Gallery as part of OFFSET Dublin 2016
2014 FOFI Miniature Print Exhibition, @Bristol, Bristol, UK
2013 'Al-Mutanabbi — Burning Daylight' for 'An Inventory Of Al-Mutanabbi Street', Worldwide
2011 Ink-dot, Resolution. Colston Hall, Bristol, UK
2009 Ink-dot, Spare Time. Howies, Queens Road, Bristol, UK
2008 European Design Awards, Corbis Creatives Behind the Lens. Sodra Teatern, Stockholm.
2006 E+VA International, Limerick City Art Gallery, Limerick Ireland
2005 Dazed & Confused Gallery, London
2004 Exhibited photographic work from short film Id, Belltable Arts Centre, Limerick, Ireland
2003 E+VA International, Colbert Station, Limerick, Ireland