Jamie Murphy
MA, BA (Hons)
Technical Assistant
Communication Design
Phone: 01 6364286
Email: murphyj@staff.ncad.ie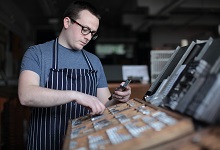 Jamie's research interests lie in hand-composed typography and letterpress printed design.

Jamie graduated with a joint honours degree in The History of Art & Design and Visual Communication (NCAD, 2006). He then spent several years working on his own and for the design studios of others before completing his MA in Design (NCAD, 2012). Following this he moved to the UK where he worked with Justin Knopp at the newly established letterpress workshop, Typoretum. Returning to Ireland he worked as an understudy to master printer Seán Sills in Distillers Press at the National College of Art & Design. He served as Designer in Residence there from 2013 until being appointed Technical Assistant in 2015. His focus at Distillers Press is on typographic education and experimentation.
Jamie's professional practice is mostly centred around The Salvage Press (thesalvagepress.com), a small fine press imprint under which he produces books of Irish interest. Jamie's letterpress work has been exhibited in Beijing, Berkeley, Bristol, Dublin, Eindhoven, Galway, Leipzig, London, New York, Seoul and São Paulo. His work resides in many of the most distinguished private, public and institutional collections across the globe.
Comprehensive Public Collections:
Dublin City Library
Harvard University, Massachusetts
National Irish Visual Arts Library, Dublin
National Library of Ireland, Dublin
Trinity College, Dublin
Yale University, Connecticut
Selected Public Collections:
Áras an Uchtarán, Dublin
Arizona State University, Temple
Auburn University, Alabama
Bank Of Ireland, Dublin
Boston College
Boston University
Buffalo University, New York
Codex Foundation, California
Crawford Gallery of Art, Cork
Edward Worth Library, Dublin
Florida State University, Tallahassee
Grolier Club, New York
Harry Ransom Centre, Austin
Health Service Executive, Dublin
Indiana University, Bloomington
Keough-Naughton Institute, Dublin
London Centre for Book Arts
Marsh's Library, Dublin
National Print Museum, Dublin
National Gallery of Ireland, Dublin
National University of Ireland, Dublin
National University of Ireland, Galway
Office of An Taoiseach, Dublin
Princeton University, New Jersey
San Francisco Centre for the Book
Stanford University, California
Texas A&M University, College Station
The Bodleian Library, Oxford
The British Library, London
The Typographic Hub, Birmingham
University College, Dublin
University College, Cork
University of California, Los Angeles
University of California, Santa Barbara
University of East Anglia, Norwich
University of Manchester
University of North Carolina
University of Notre Dame
University of Otago, Dunedin
Wits Art Museum, Johannesburg
Crafting a Creative Career
Offset Design Festival, 2017
Making Imagination Dead Imagine
Socialise, Dublin, 2016
Some Printed Things
Oxford Guild of Printers, Oxford, 2015
Dab Hands & Space Cadets; Letterpress Design in Ireland
Faultlines; Bridging Knowledge Space, CIT Carlow, 2015
End Grain Impressions: Letterpress Printed Display Type in the Twenty-First Century
Face Forward Typography Conference, DIT, Dublin, 2015
Lead, Antimony & Tin: Typographic Design at The Salvage Press
Rare Books Seminar, Chester Beatty Library, Dublin, 2014
Making The Works of Master Poldy
Cork County Library, Cork, 2014
Ocean Bound: Stories about Printing at Sea
Typography Ireland Seminar, DIT, Dublin, 2014
Making a Contemporary Letterpress Printed Artist Book
Resurrecting the Book Conference, New Birmingham Library, 2013
Albert, Ernest & the Titanic: Making a Fine Press Book
Letterpress Symposium, National Print Museum, Dublin, 2012
Salvaging a Printer's Story: Making Albert, Ernest & the Titanic
Copperhouse Gallery, Dublin, 2012
Designing & Printing a Fine Press Book
Wandesford Quay Gallery, Cork, 2012
Albert, Ernest & the Titanic
National Print Museum, Dublin, 2012
Making An Artists' Book Through Letterpress Printing
National Print Museum, Dublin, 2006

Fine Press Book Association (Member)
Institute of Designers in Ireland (Member)
International Society of Typographic Designers (Member)
National College of Art & Design (Associate)
National Print Museum (Curatorial Committee Member)
Oxford Guild of Printers (Member)
Print Historical Society (Member)
The Baskerville Society (Member)
Type Club (Founding Member)
Typography Ireland (Member)

The Type Directors Club (New York, 2018)
The Fine Press Book Association (Oxford, 2015, 2018)
The British Book Design & Production Awards (London, 2017)
The Institute of Designers In Ireland (Dublin, 2014, 2017)
100 Archive of Irish Graphic Design (Dublin, 2012, 2013, 2014, 2015, 2016, 2017)
The Irish Print Awards (Dublin, 2013)
The Royal Dublin Society Print Award (Dublin, 2012)
The National University of Ireland Art & Design Prize (Dublin, 2012)