Denis Kehoe
Lecturer in Visual Culture/Access Scheme Tutor/English Language Tutor
School of Visual Culture
Email: kehoed@staff.ncad.ie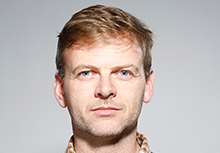 Denis Kehoe was born in Dublin in 1978. He is a novelist and lecturer in Visual Culture at the National College of Art & Design, where he also works as a tutor on the Access Scheme and as an English language instructor. In recent years he has been exploring the world of performance as Esther Raquel Minsky/Oscar Esterson, in conjunction with the writing of his fourth novel.
Catalogue essay for Sculpture in Context exhibition, The National Botanic Gardens of Ireland (August 2022)
'Through the Tower Gate' - text for Mirror Lamp Press, Issue 4: Fetish (December 2021)
'In the Queer Old Times: Prostitution, Las Polacas and Performativity' - Conference paper delivered at III Seminario Internacional de Investigación en Arte y Cultura Visual, Cartografías en acción: cruzando visualidades, 16 – 18 de octubre 2019, Instituto Escuela Nacional de BELLAS ARTES, Universidad de la República Uruguay, Av. 18 de Julio, 1772, Montevideo, Uruguay (October 2019)
Contextual essay for Beyond the Sandy Suburbs, Pallas Projects/Studios; Artist Initiated Projects, Ella Bertilsson & Ulla Juske (September 2018)
Traces of the Flood - site-specific, illustrated, serialised novel - www.tracesoftheflood.blogspot.com (July 2012 - February 2013)
Walking on Dry Land - novel published by Serpent's Tail, London (February 2011)
Nights Beneath the Nation - novel published by Serpent's Tail, London (September 2008)
Research interests include Representations of Women in the Modern/Postmodern City, Cinema History, Queer Psychogeography, Queer Performance, Queer Irish Cinema, Gender & Sexuality in Ireland, Irish Republican Women, Gender & Sexuality in Yiddish and Polish Literature and Cinema, Gender & Sexuality in South American Literature and Cinema and Irish clothing & material culture.
Current and recent research
Currently working on a PhD proposal - Transhistorical Tales of Transgressive Temptresses: An Exploration of the Figure of the 'Polish-Jewish Prostitute' in Literature and Cinema between Poland and South America
Researching and writing a fourth novel.
The Strands of Time – Wandering conversations along Donabate Strand as Esther Raquel Minsky/Oscar Esterson with a different individual each month as part of the ongoing project From Balbriggan to Bray (January 2022 – present)
Esther – film created with Sinéad Keogh and a variety of photographers/collaborators as part of the Dark Entries series of documentaries for Soul Noir: Festival of the Dark Arts (August 2022)
Exhibition of photographs made with Egidio Pandolfo and Maíra Coelho at I Am What I Am: A Celebration of Queer Art, Ballina Arts Centre, Mayo (June – July 2021)
At Sea - exhibition of photographs created in collaboration with Aisling Ryan and many others, Mish.Mash café, Dublin (October – December 2020)
To All the Shops I've Loved Before – A celebration of clothing and clothes shops with Michelle Russell, Aisling-Ór Ní Aodha, Deirdre Macken of Lucy's Lounge and Marie & Charlie of Betty Bojangles, NCAD Library, Dublin (February 2020)
Notes Upon a Case of Esther and Oscar – exhibition of work created with six photographers, along with the multilingual monologue performance Esther Speakers performed as Oscar Esterson/Esther Raquel Minsky, Outhouse LGBT Community Resource Centre, Dublin (December 2019/January 2020)
Time Travelling Trans Texts – Readings of a selection of gender non-conforming texts as Esther Raquel Minsky with Michelle Russell as Iorarua Riabhach – NCAD Library, Dublin (March 2019)
Guest Lecturer at University of Art and Design, Cluj-Napoca, Transylvania, Romania (November 2018)
Performance with JOYCESTAGERS - Cyclops episode from Ulysses - Walsh's pub, Dublin (June 2018)
Performance as Esther Raquel Minsky as part of Angela McDonagh's Room - Arbor Hill, Stoneybatter (June, 2018)
Guest lecturer at Bezalel Academy of Arts and Design, Jerusalem, Israel (June 2018)

Guest lecturer at Academy of Fine Arts in Warsaw (May 2018)
Traces of Esther - exhibition of photographs by Andre Henrique, Betty Bojangles, Dublin (December 2017)

The Faces of Esther - exhibition of photographs by Aniz Duran, Lucy's Lounge, Dublin (September 2017)

Panellist at discussion 'Queer Representations in Irish Writing' as part of the International Literature Festival Dublin (May 2017)
Guest lecturer at Bezalel Academy of Arts and Design, Jerusalem, Israel (November 2016)
Guest speaker on Inverse LGBT creative writing course, Dublin (April 2015)
Small Grant Research Funding from the National College of Art & Design to continue proposed PhD research and the study of Yiddish at the Bibliotheque Medem, Paris (June 2018)

Travel and Training Award from The Arts Council to travel to Brazil and continue working on a fourth novel (April 2016)
Small Grant Research Funding from the National College of Art & Design to develop a PhD proposal/fourth novel/associated art projects/continue studying Yiddish and Polish in Warsaw in July 2016 (February 2016)
Travel and Training Award from the Arts Council to travel to Poland to study Yiddish and Polish and research a fourth novel (July 2014)
Travel and Training Award from the Arts Council to travel to Poland to study Yiddish and Polish and research a fourth novel (July 2013)
Travel and Training Award from the Arts Council to travel to Poland to study Yiddish and Polish and research a fourth novel (June 2012)
Literature Bursary from Dublin City Council to work on Traces of the Flood (July 2011)
Literature Bursary from the Arts Council to complete Walking on Dry Land and begin working on Traces of the Flood (June 2010)