David Timmons
BA Fine Art. MA Des
Assistant Lecturer
First Year
Phone: +353 (0)1 646 1122
Email: timmonsd@staff.ncad.ie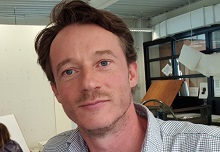 Narrative / lens based media
I studied painting in the National College of Art and Design, graduating in 1998 and painting and exhibiting for the next few years. Work from this period in in the permanent collections and the Arts Council of Ireland and IMMA.
In 2002 I graduated from The Royal College of Art and Design, London. I started working as a Fashion photographer and during this period I also began shooting moving Image, working on commercials, short films and a feature film.
For the last few years I've been spending most of my time writing for screen, a feature film 'Jericho' was developed by the Irish Film board and Fastnet Films. I recently finished writing 'Feelings' a comedy feature film about an Artist, and currently I'm working on a comedy series about an environmental terror group.