Bob Gray
BDes Visual Communications
Lecturer
First Year Art & Design
Phone: +353 (0)1 636 4226
Email: grayb@staff.ncad.ie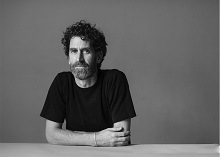 Art/Design/Research/Strategy/Process/Communication/Branding
Bob is the director of the Dublin design studio Red&Grey. Having graduated from NCAD in 1998, Bob went on to work for Design Factory in Dublin and G2K in Amsterdam before returning to establish Red&Grey in 2003. Red&Grey is a concept-driven design studio based in Portobello, Dublin. They engage in both national and international projects of varying scale and capacity. Clients include The Vatican, G7 Italia, Wild Atlantic Way, Oxford University and Dublin City Arts Office.
Bob has won numerous design awards both nationally and internationally and along with his studio and creative partners was the recipient of an 'Outstanding Contribution to Irish Design Award' for his work on 'PIVOT Dublin', Dublin's bid to become World Design Capital in 2014.
Bob is also a partner in the international design strategy company Adaptive Cultures, is a founding member of Uncoated, an idea driven creative collaboration based in Dublin and Belfast and a lecturer in the National College of Art & Design, Dublin. Bob also regularly lectures in ECV Paris/Aix en Provence and on the DIT International Master in Business course.
With a background of design and education both in Ireland and Holland, Bob understands the value of a design ecology and the importance in creating innovative programs that contribute functionally, economically and culturally to society.
Bob's design process is created by connecting his Irish strengths: conversation/storytelling/humour/empathy/resilience and his skills as a designer: research/collaboration/prototyping/imagination/observation.
Learning how to research is one of the fundamental and critical skills of any practitioner. Research is about being curious and wanting to know more, where the excitement to find and develop your new ideas begins. Bob's research approach has evolved to a system that arranges solutions around the categories of Macro Comprehensive (scale, holistic, global), Mezzo Empathetic (middle, human, personal), and Micro Incisive (detail, precision, clear).