Home »
Creative Futures Academy
Creative Futures Academy
Time Travel: Re-materialising the Past in Place, an immersive module offered by The National College of Art and Design, (NCAD), Creative Futures Academy (CFA) and The Irish Museum of Modern Art (IMMA).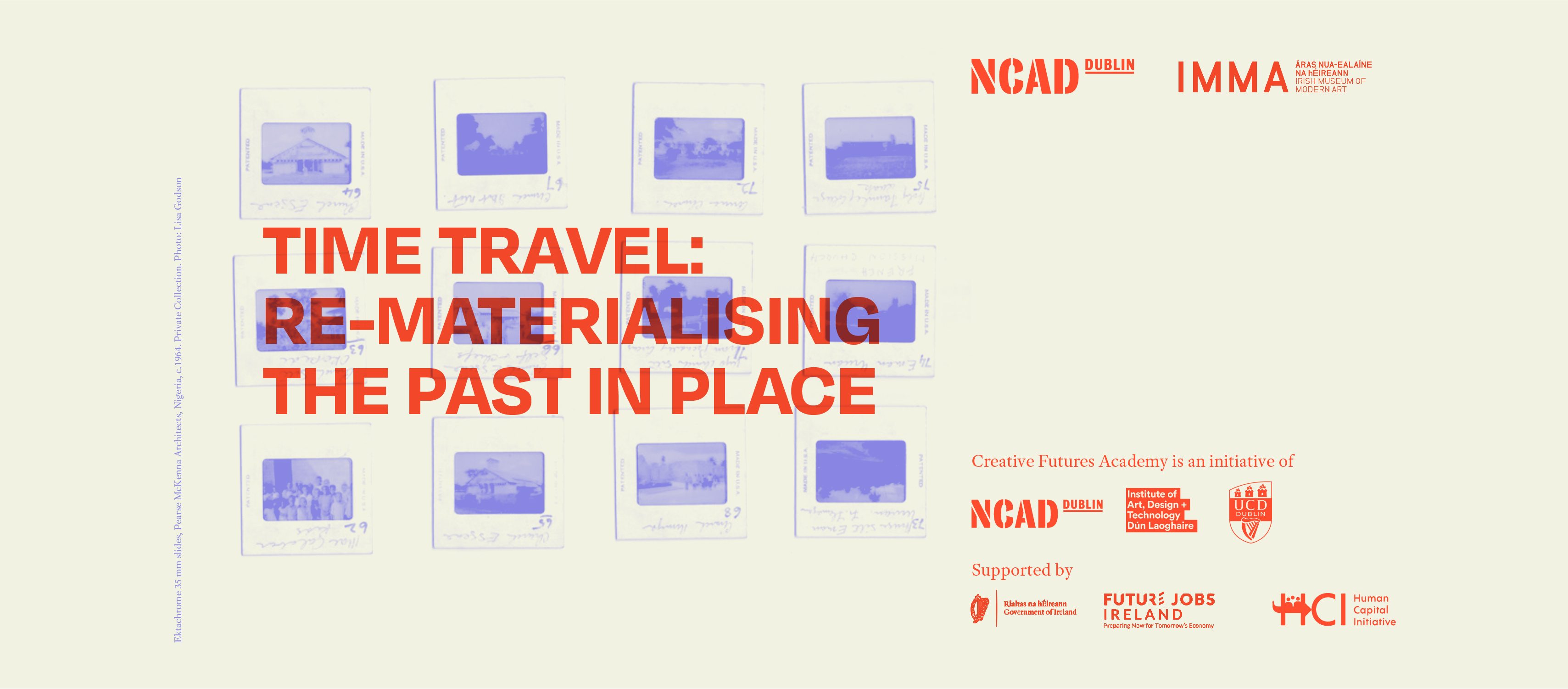 OPEN CALL for Participants
Time Travel: Re-materialising the Past in Place, an immersive module offered by:
The National College of Art and Design, (NCAD), Creative Futures Academy (CFA) and The Irish Museum of Modern Art (IMMA).
6th – 10th September 2021, Dublin.

Time Travel: Re-materialising the Past in Place
This immersive module is a unique advanced study opportunity that traverses the fields of visual art and material culture. Convenors Sarah Pierce and Lisa Godson (National College of Art and Design, Dublin) will draw on their current research to convey the entangled role that material documents play across different regions and times, both as a way to renegotiate a past and as a blueprint for future action: Godson on her research into the nature of archival material transmitted between different geographies and temporalities as artefacts, instructions and representations, and Pierce on the remnants and marginal uses of archival documents to visualise slippages between historical sources, artefacts and artworks.
This immersive module takes place over one week in Dublin. It is convened between the National College of Art and Design and the Irish Museum of Modern Art and features Bik Van der Pol, Emily Jacir and The Otolith Group: international guest artists and researchers whose methodologies overlap with the module's interests in archive-based practices.
The intensive will involve seminars and creative field work engaged with researching, analysing and encountering the past through specific material forms. On completion, students will have a critical understanding of different forms of material archives and how different engagements with the past inform contemporary practice. During the weeks leading up to the module, participants will begin independent research and following the week-long intensive they will continue to work remotely on an output that will be presented and distributed at the Dublin Art Book Fair (November 2021).
An exciting public programme of evening talks will be available online.
The intensive workshops and collaborations are open to a small number of 15 participants who have responded to and been selected through this open call. The module is accredited at Level 9 for 5+5 credits for students currently enrolled in an academic programme.

Ektachrome 35 mm slides, Pearse McKenna Architects, Nigeria, c.1964. Private Collection.
Photo credit: Lisa Godson.

Call for participants
CFA and IMMA are seeking applications for this immersive and intensive module which will take place in Dublin from 6th – 10th September 2021. This week-long intensive will be of particular interest to practising artists, designers, researchers from any field and anyone with a special interest in how archival and past material informs current practice.
This module is an immersive experience: participants must be available for the full duration of the programme and they need to be located in Dublin during Stage 2, from 6th-10th September 2021. They will be asked to undertake reading in advance of the event; to participate fully in discussions and group work over the course of the programme and to work remotely on their own output in the weeks following the event, leading to a group presentation at the Dublin Art Book Fair in November 2021.
Time Travel: Re-materialising the Past in Place is offered free to selected participants.
This programme is offered as part of the Creative Futures Academy. Creative Futures Academy is an initiative of NCAD, IADT and UCD funded by the Higher Education Authority's Human Capital Initiative.
Timetable of events
Stage 1: 15-30 August 2021 Independent work
Stage 2: 6-10 September 2021 CFA NCAD / IMMA Immersive, onsite in Dublin
Stage 3: 15 September - 15 November 2021 Group project finalised and presented at the Dublin Art Book Fair
All activities will adhere to Government guidance in respect of COVID and appropriate protocols will be in place.
Application information
Applicants are invited to submit an application via Google Forms, to include a 250-word personal statement outlining their current research, practice and motivation, with the option to submit samples of their work. We are seeking people whose research does not fit neatly into traditional methodologies: we are interested in emergent fields of study and interdisciplinary research as creative practice. We are especially interested in applications from those working on intersectionality, decolonising research, activism, counter-hegemonic histories, experimental historiographies and under-represented communities. We welcome applications from any field or discipline.
This module will take place in Dublin, across the campuses of the National College of Art and Design and the Irish Museum of Modern Art, and applicants must be able to attend in person.
Applications will be accepted from Wednesday 07th July - Monday 26th July 2021.
Participants will be informed of their place on Friday 30th July 2021.
For questions about this open call, please contact Róisín Muldoon muldoonr@staff.ncad.ie
BIOS
Sarah Pierce
Sarah Pierce is an artist based in Dublin and Lecturer in the School of Visual Culture at NCAD, where she is co-leader of the MA/MFA Art in the Contemporary World. Since 2003, Sarah Pierce has used the term The Metropolitan Complex to describe her project, characterised by forms of gathering, both historical examples and those she initiates. The processes of research and presentation that she undertakes demonstrate a broad understanding of cultural work and a continual renegotiation of the terms for making art, the potential for dissent, and self-determination. Pierce holds a PhD from Goldsmiths College at London University and an MFA from Cornell University in Ithaca, NY, and is a past participant of the Whitney Museum ISP in New York.
Lisa Godson
Lisa Godson is a historian of design, architecture and material culture and Programme Leader of the MA in Design History and Material Culture at NCAD. An aspect of her research involves collaborations with creative practitioners - her concept and research on Irish modernist architecture in Africa was the basis of the award-winning feature-length documentary Build Something Modern (Still Films: 2011) and she was research collaborator for Sarah Browne and Jesse Jones on the major Arts Council of Ireland/Artangel project In the Shadow of the State. Her books include Uniform: Clothing and Discipline in the Modern World (2019); Modern Religious Architecture in Germany, Ireland and Beyond (2019); Making 1916: Visual and Material Culture of the Easter Rising (2015); The Secret Lives of Objects (2016). She is curator of the 2021 Dublin Art Books Fair.
Bik Van der Pol
Liesbeth Bik and Jos Van der Pol have worked collaboratively as Bik Van der Pol since 1995. They live and work in Rotterdam, Netherlands. Through their practice, Bik Van der Pol aim to articulate and understand how art can produce a public sphere and space for speculation and imagination. This includes forms of meditation through which publicness is not only defined, but also created. Their work follows from research on how to activate situations to create a platform for various kinds of communicative activities.
Bik Van der Pol's mode of working consists of setting up the conditions for encounter, where they develop a process of working that allows for continuous reconfigurations of places, histories and publics.
Their practice is site-specific and collaborative, with dialogue as a mode of transfer; a 'passing-through', understood in its etymological meaning of 'a speech across or between two or more people, out of which may emerge new understandings.' In fact, they consider the element of 'passing through' as vital. It is temporal, and implies action and the development of new forms of discourse. Their practice is both instigator and result of this method.
Emily Jacir
Emily Jacir is an artist whose work - which spans a range of strategies including film, photography, sculpture, interventions, archiving, performance, video, writing and sound - investigates histories of colonisation, exchange, questions of translation, transformation, resistance and movement. She is the recipient of numerous prestigious awards, including a Golden Lion at the 52nd Venice Biennale (2007); a Prince Claus Award from the Prince Claus Fund in The Hague (2007); the Hugo Boss Prize at the Guggenheim Museum (2008); the Alpert Award (2001) from the Herb Alpert Foundation; and the Andrew W, Mellon Foundation Rome Prize Fellowship at the American Academy in Rome (2015).
The Otolith Group
The Otolith Group was founded in 2002. Its work is research-based and spans the moving image, audio performance, installation and curation. It incorporates film-making and post-lens-based essayistic aesthetics that explore the temporal anomalies, anthropic inversions and synthetic alienation of the posthuman, the inhuman, the non-human, and the complexity of the environmental conditions of life we all face.
Approaching curation as an artistic practice of building intergenerational and cross-cultural platforms, the collective has been influential in critically introducing particular works of artists such as Chris Marker, Harun Farocki, Anand Patwardhan, Etel Adnan, Black Audio Film Collective, Sue Clayton, Mani Kaul, Peter Watkins, and Chimurenga in the UK, US, Europe and Lebanon.