Home »
Jason Costello - MSc Medical Device Design
Jason Costello - MSc Medical Device Design
'There are plenty of areas in healthcare in particular which could benefit from a creative outlook, and I think now is a great opportunity to tackle them.'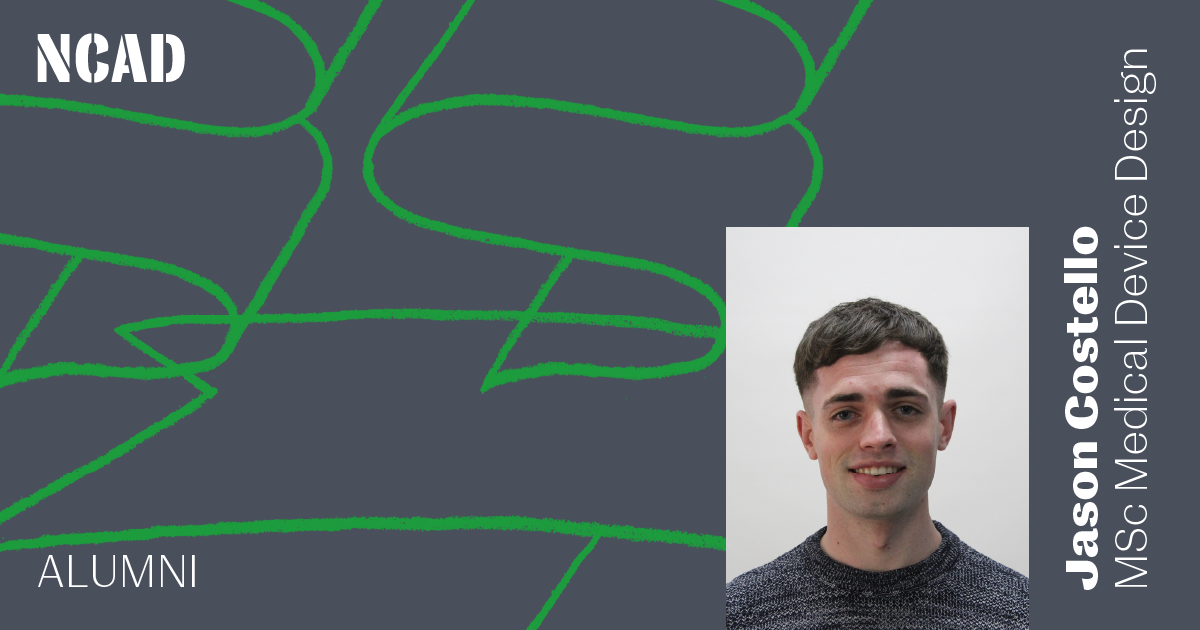 Name: Jason Costello
Current Career: Medical Device Designer
Graduation Year: 2020
Discipline(s): Medical Device Design
Location: Galway
What career path did you want to follow as a child?
When I was younger I always liked playing with Lego and making model airplanes, as well as seeing my father fixing things around the house or building something quickly to solve a problem, so I had thought I would love to be an engineer.
While at secondary school I veered more towards biology and chemistry and ended up studying science (Physiology and Biochemistry) at NUIG.
Looking for something more hands-on led me to studying the Masters in Medical Device Design. In my current job as a product designer, I work on multiple user need-led projects, where I can combine my scientific and creative backgrounds in the design space.
Why did you decide to study at National College of Art & Design?
NCAD has a range of high-quality alumni in the medical device design space, based in both large companies and smaller start-ups. That clearly showed the quality of teaching and learning there.
As well as that, before applying, I went to visit the college and was impressed by the professional level of workshop facilities, along with the highly collaborative environment in the studios. The small class sizes made it easy to collaborate and get feedback from classmates too.
How did you develop your career towards your current job / practice?
Coming from a science background and moving into design meant I needed to do plenty of reading outside of the course. There are loads of good resources on modelmaking, graphic design and computer-aided design (CAD), both online and in the NCAD library.
I've been lucky enough to have been exposed to a number of very innovative people in the medical device industry since graduating and have tried to pick up as much as possible from them. During the time between the Masters and starting my job, I also found that trying to set mini design projects around the house was great for learning and refining new skills.
What is the one experience during your time at NCAD that has informed you most in your career / work to date?
I think seeing my first live surgery – a full hip replacement – made assignments throughout the year feel much more real. That experience emphasised to me the huge importance of good design in medical devices, and it helped me in always keeping the patient/user in mind when developing concepts.
If you were chatting with current NCAD students today what is the one piece of advice you would offer?
Ask plenty of questions, even to people outside of your course or field. Lecturers and students at NCAD are highly knowledgeable and often a concept or solution could be brought from consumer product design or even textiles and reapplied to the medical device industry, and vice-versa.
Given the global turmoil and change accelerated by the COVID-19 pandemic, what in your opinion are the opportunities for those in creative industries?
I think the pandemic has given those in the creative industries a great opportunity to demonstrate the value of their industries. Many designers got involved in making face shields or helped solve problems caused by a lack of ventilators in hospitals. There are plenty of areas in healthcare in particular which could benefit from a creative outlook, and I think now is a great opportunity to tackle them.