Home »
Alumni Stories - Roisin O Donnell
Alumni Stories - Roisin O Donnell
'Learn to be in a state of constant creation. Whether it be sketching ideas in a notebook on the way to college or talking to peers about a project you're working on, let your creativity flow into your everyday routine.'
Name: Roisín O'Donnell
Current Career: Painter, Illustrative Graphic Designer
Graduation Year: 2018, 2020
Discipline: Painting and Graphic Design
Location: Donegal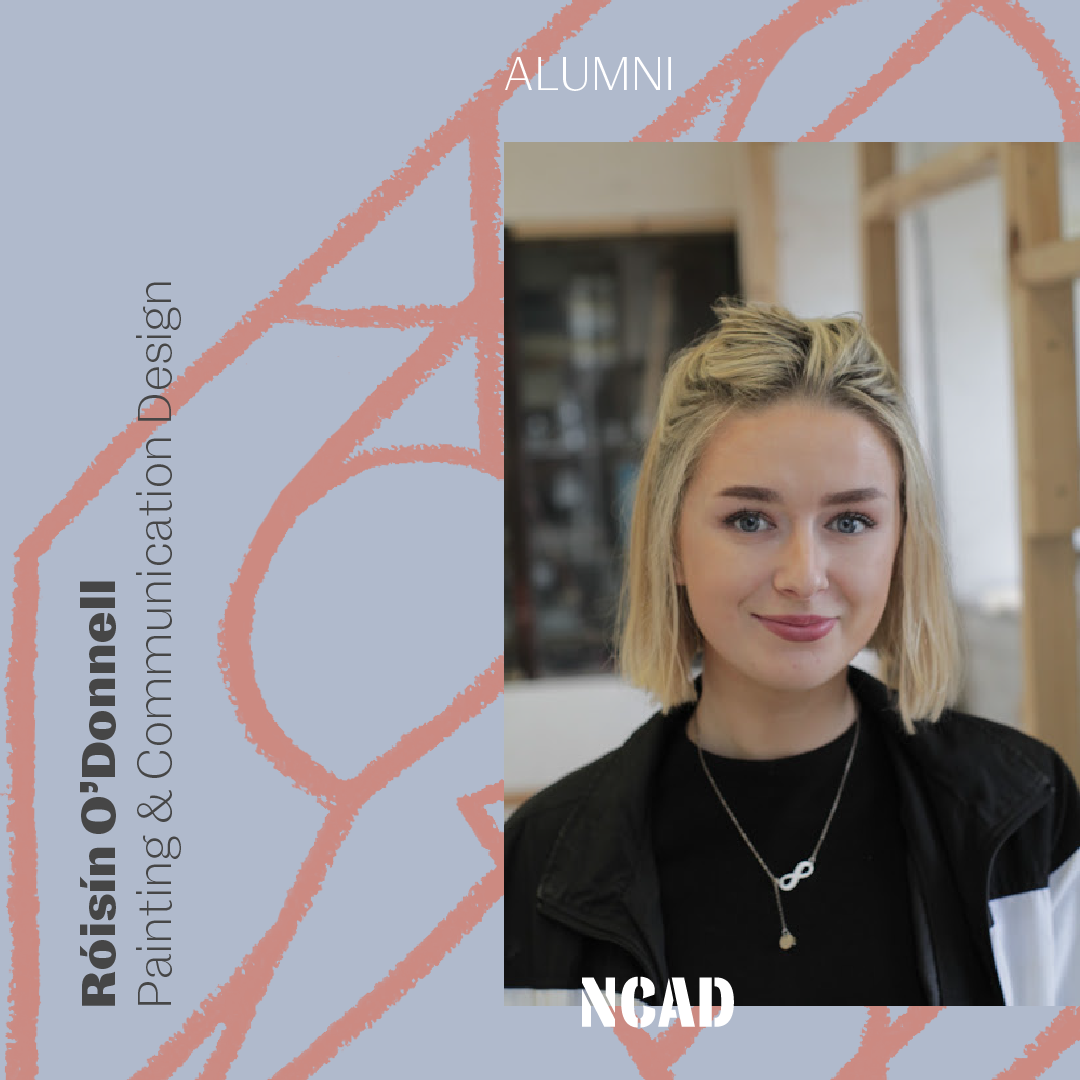 What career path did you want to follow as a child?
Growing up, I was never far from a pencil and piece of paper, although a job in art hadn't occurred to me as a career choice until I reached my teens. I was in my element in life drawing classes in secondary school and from then on, I knew a job in the creative industry was right for me.
Why did you decide to study at National College of Art & Design?
My art teacher once referred to NCAD as the 'Crème de la Crème'. Naturally as a young, eager creative, I wanted to strive for the best. Nobody in our school had been accepted into NCAD before, so that gave me more incentive to polish off my art portfolio and apply.
How did you develop your career towards your current practice?
I recall the difficulty of having to choose a disciplinary area of either Fine Art or Design in First Year at NCAD. I was torn between Painting and Communication Design. I was persuaded to choose Paint and it was definitely the best decision I have ever made. During Final Year, my interest in Design increased so I continued my studies, completing an additional degree in Graphic Design. Now, when working on projects, I often merge both practices, which I believe makes my work unique.
What is the one experience during your time at NCAD that has informed you most in your work to date?
I believe I owe a lot to my paint tutor, Paul Nugent, who gave me confidence in my work. He taught me how to think conceptually both about the work I created and the work I was inspired by. From him, I learned to keep my work true to me as an artist.
If you were chatting with current NCAD students today what is the one piece of advice you would offer?
Learn to be in a state of constant creation. Whether it be sketching ideas in a notebook on the way to college or talking to peers about a project you're working on, let your creativity flow into your everyday routine. Take snapshots in your mind of things you see that inspire you. I found that by doing this, before you know it you have an abundance of work created and you had so much fun doing it.
Given the global turmoil and change accelerated by the COVID-19 pandemic, what in your opinion are the opportunities for those in creative industries?
The pandemic is a great opportunity to solely focus on creating new personal projects, or learning and exploring new skills. We have the opportunity to convey the message of change we wish to see in the world through our work. The positive creative changes we make now - particularly if they concern ways to better our future - will lead to more opportunities to follow beyond this pandemic.
Portfolio Links:
https://www.behance.net/gallery/112308297/Portfolio2021
Follow NCAD
NCAD Twitter @NCAD_Dublin
NCAD Instagram @ncad_dublin
NCAD Facebook @NCAD.Dublin
Contact NCAD