Home »
Alumni Stories - Orlaith Ross
Alumni Stories - Orlaith Ross
'Students at NCAD are constantly challenged and are often encouraged to find multiple solutions that find connections between seemingly disparate phenomena. This is a key skill when innovating for the future.'
Name: Orlaith Ross
Current Career: Community Manager, The Dock at Accenture
Graduation Year: 2009
Discipline: BA Art and Design Education
Location: Dublin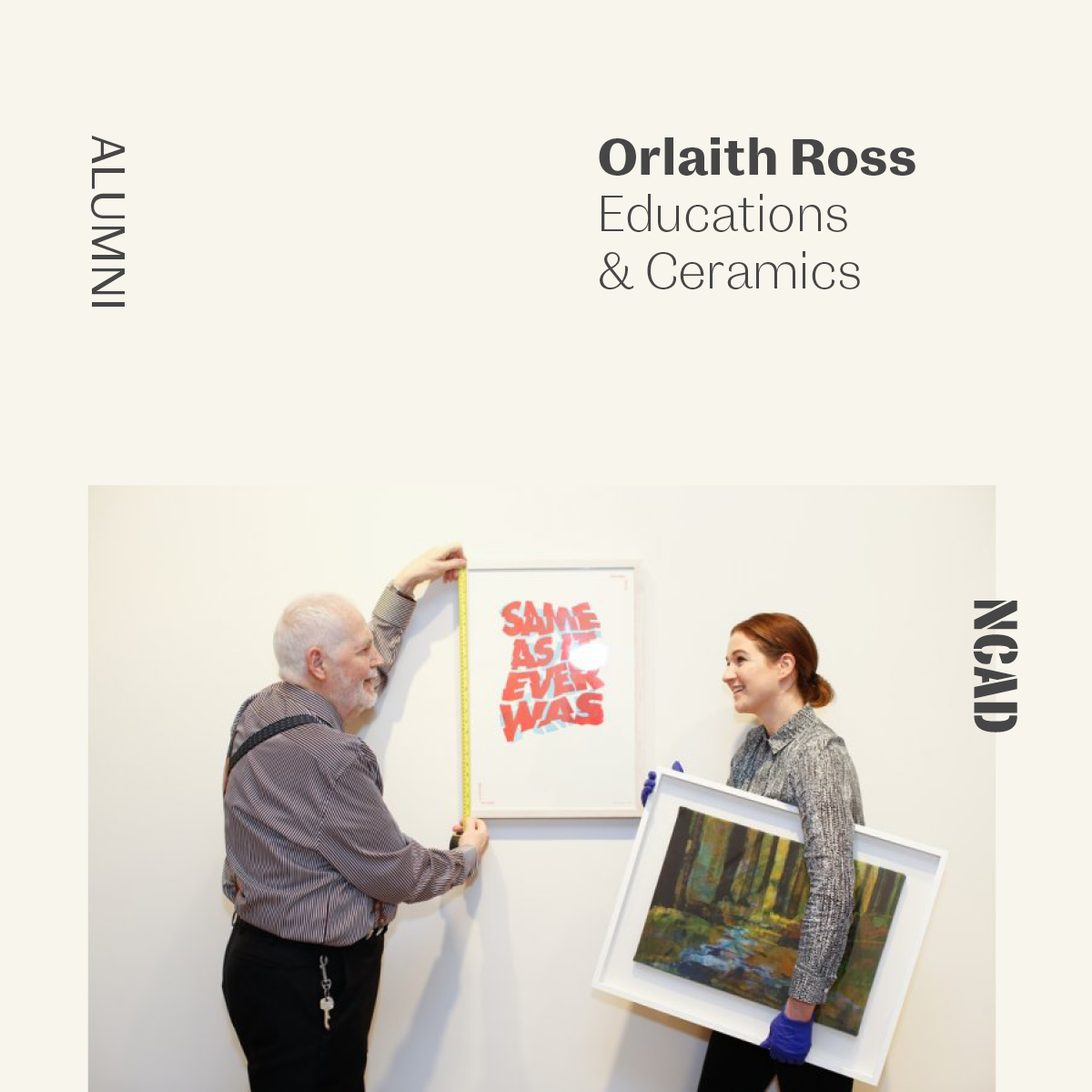 What career path did you want to follow as a child?
Having always had a creative streak, I looked to design, architecture and education when thinking about a career path when I was younger. Despite some concern about career security when choosing a college course, I always believed that stability would come with hard work and a passion for the chosen discipline.
Why did you decide to study at National College of Art & Design?
NCAD was always going to be my first choice when applying to college with my portfolio. This was due to the size of the campus, its location and its reputation. The college went through several challenges and changes during my time but its core dedication to students and their creative freedom remains.
How did you develop your career towards your current job?
My career to date has been a journey informed by my time spent in NCAD. NCAD is a unique campus where collaboration and cross-pollination of ideas is key to success. My course encouraged me to build bridges between people and groups, creating common ground and understanding. This is now the foundation of the work that I do at The Dock, where over 15 different teams collaborate to develop new technologies to solve some of the world's biggest problems.
What is the one experience – during your time at NCAD – that has informed you most in your career to date?
Working in the Students Union for a year was hugely informative as it showed both the challenges and the values of the college, and provided me with lots of opportunities to fail, which I was able to learn from.
If you were chatting with current NCAD students today, what is the one piece of advice you would offer?
Go to all your lectures. Understanding the past can greatly improve your understanding of the future. Furthermore, it illustrates the value of communication skills and teaches students how to turn their thoughts into words, a skill that can not be underestimated.
Given the global turmoil and change, accelerated by the COVID-19 pandemic, what – in your opinion – are the opportunities for those in creative industries?
Students at NCAD are constantly challenged and are often encouraged to find multiple solutions that find connections between seemingly disparate phenomena. This is a key skill when innovating for the future. Regardless of the industry, NCAD graduates will be able to apply these skills. I would encourage them to look at careers outside the cultural and creative industry, as industries are more layered and creativity is required in all of them.
Portfolio Links:
https://in.accenture.com/thedock/
Follow NCAD
NCAD Twitter @NCAD_Dublin
NCAD Instagram @ncad_dublin
NCAD Facebook @NCAD.Dublin
Contact NCAD