Home »
Alumni Stories - Moses Rowen
Alumni Stories - Moses Rowen
'When I set up my own studio four years ago, I decided that competition would be my proving ground...I got to design electric vehicle chargers for Enel, autonomous robots for Porsche and exercise machines for NASA.' 
Name: Moses Rowen
Current Career: Innovation Designer
Graduation Year: 2013
Discipline: Industrial Design
Location: Dublin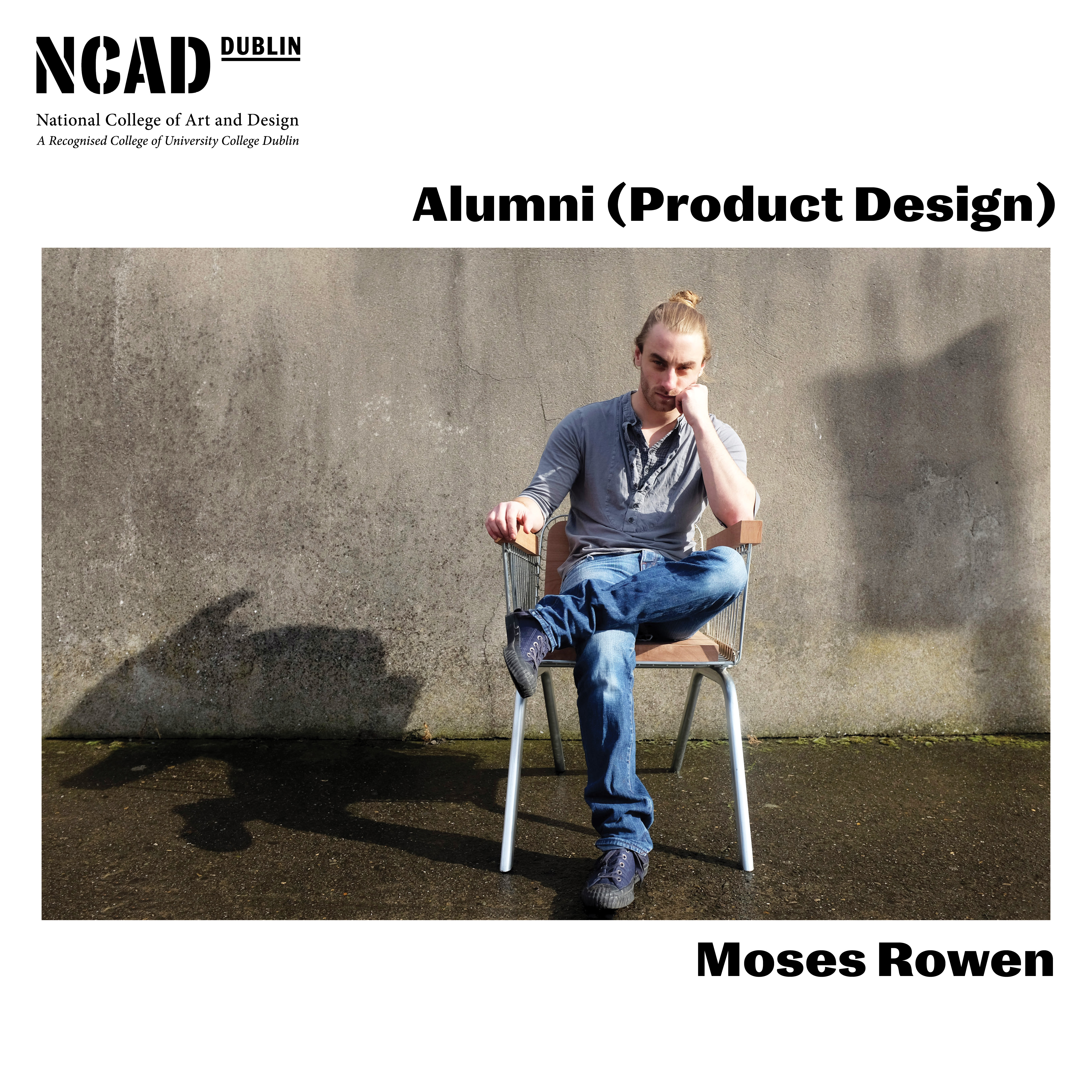 What career path did you want to follow as a child?
I don't remember thinking about careers as a child. I liked drawing and playing with Lego. I guess the closest idea to an actual career I had was being a car designer. I later found out that car designers just draw what the outside of what a car looks like. That was a real let down, I wanted to design the suspension and the chassis and the engine, everything!
Why did you decide to study at National College of Art & Design?
When I realised that there wasn't a course that taught you how to design things from scratch (I also wanted to design robots and flying machines), I had to make a decision. Learn the creative part, then the technical part or vice versa. I decided on the latter. I initially studied mechanical engineering at DIT and then industrial design at NCAD. I'm glad I did it in this order. The frustration I felt from the focused practicality of engineering was alleviated by the creative freedom I found in design.
How did you develop your career towards your current practice?
I was lucky enough to be offered a job straight out of NCAD. The job was in architecture - West 8 in Rotterdam. They threw me in the deep end! It was an incredible learning experience. I got to work on world-class projects. I designed a lot of furniture, but I also designed bridges in Russia, sculptures in Columbia, and towers in China. My biggest lesson from working at West 8 was that competition is the ultimate crucible for honing your skills.
When I set up my own studio four years ago, I decided that competition would be my proving ground. It was a tough gig! I got very good at being rejected. But I also got to work on amazing projects for clients I simply would never have had access to otherwise. Every new competition required a totally different skill set. I got to design electric vehicle chargers for Enel, autonomous robots for Porsche and exercise machines for NASA.
What is the one experience – during your time at NCAD – that has informed you most in your career / work to date?
Always ask for feedback. A big hurdle for me initially was accepting critique of my work. It took a long time to realise its value. If someone takes the time to think about your work and give you feedback on it, really think about it, especially if you don't like what they have to say. Don't be afraid to reach out and ask for feedback, especially from people with more experience whose work you respect.
If you were chatting with current NCAD students today, what is the one piece of advice you would offer?
You shouldn't get into design if you want a 9 to 5 with great dental and a pension. You have to have a passion for it and you have to be willing to put the graft in to get your skills to the point where you can do really great work. In the digital age you're no longer competing with other young designers in Dublin, Ireland or Europe. The work of every designer on the planet is available at anyone's fingertips and guess what, some of those designers are shit hot. Competition is a great way to improve your skill set.
Given the global turmoil and change, accelerated by the COVID-19 pandemic, what – in your opinion – are the opportunities for those in creative industries?
The current situation has proven that the way we live is no longer sustainable and it never really was. Our planet is a finite resource. I believe that designers will have a key role in developing new ways to live that are responsible. For these solutions to be taken seriously they also have to be enjoyable. Engineers, scientists and policy makers tend to be pretty outcome focused, designers must be process focused in order to ensure quality of life. Creative industries more broadly have always been great unifiers.

Portfolio Links: www.mosesrowen.com
Follow NCAD
NCAD Twitter @NCAD_Dublin
NCAD Instagram @ncad_dublin
NCAD Facebook @NCAD.Dublin
Contact NCAD