Home »
Alumni Stories - Mairead Wall
Alumni Stories - Mairead Wall
'People are becoming far more aware of wanting to support small, local businesses, so it's a great time to be getting your name out there online and on social media.'
Name: Mairéad Wall
Current Career: Textiles/Jewellery
Graduation Year: 2016
Discipline: Textile Design
Location: London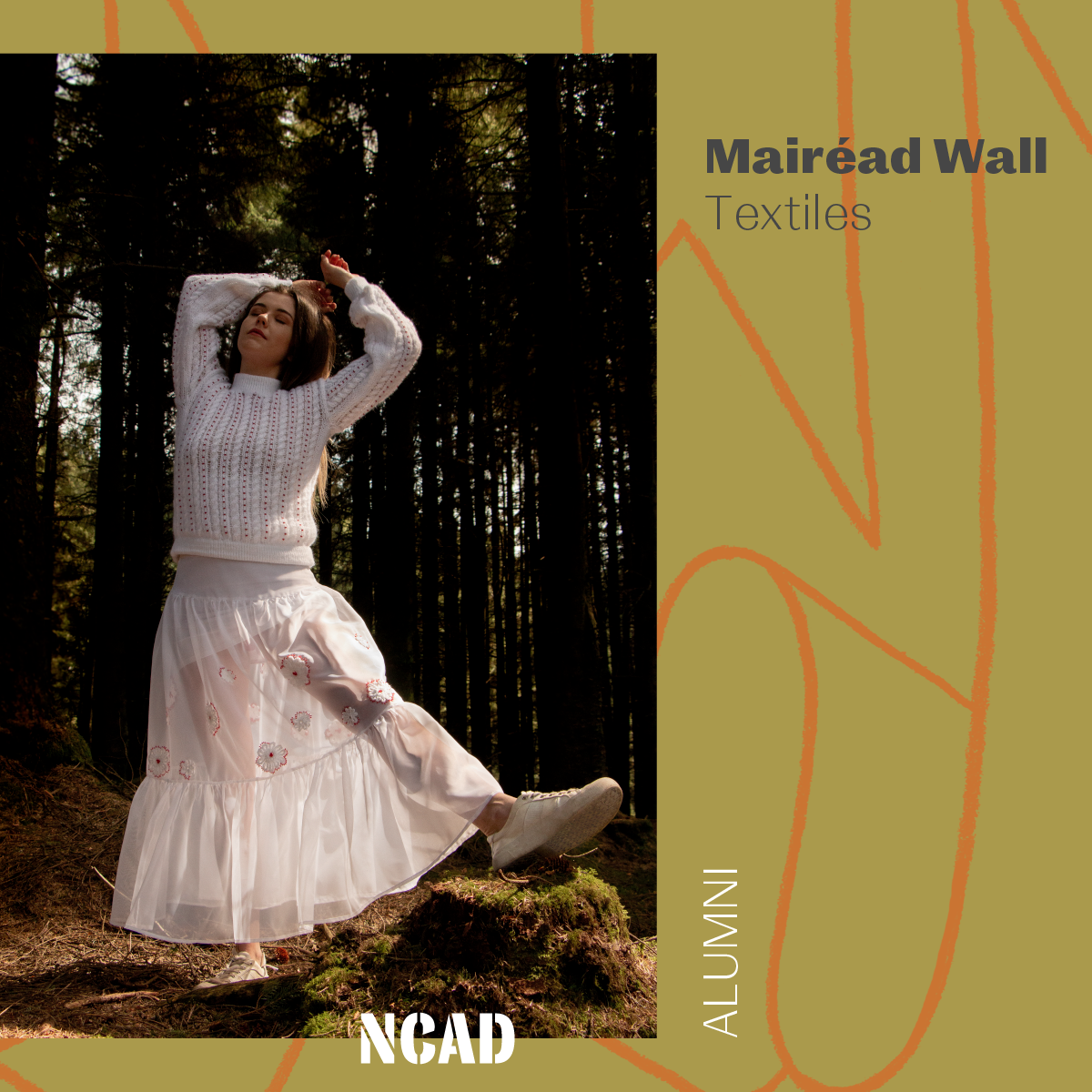 What career path did you want to follow as a child?
I wanted to be an artist from a young age but I didn't think it would be possible, as I wasn't particularly skilled at painting, drawing and other traditional means of art. However, my mam is a very talented dressmaker and I grew up with a strong appreciation for being able to make and create something from scratch. It wasn't until I had a fantastic teacher in secondary school who showed me how I could apply this love of handcrafts to a creative career, that I realised it was a possibility for me.
Why did you decide to study at National College of Art & Design?
NCAD has always had a fantastic reputation and it was a dream of mine to study there.
How did you develop your career towards your current practice?
After graduating I worked for myself for several years, completing commissions and selling products through some amazing Irish retailers (Om Diva Boutique, Atrium). I relocated to London in 2018 after realising that I wanted to learn from other designers and businesspeople and to gain some experience working as part of a larger team. Here, I have learned to apply the skills that I have developed in textile design - such as high attention to detail and the ability to work with my hands - to other industries. I am currently Head of Production for the London-based jewellery brand Lily & Roo, and I continue working with textiles whenever I can.
What is the one experience during your time at NCAD that has informed you most in your work to date?
The fashion show that TAA put on in our final year was a huge learning curve for me. At that time, it was the largest body of work I had completed and, for the first time, I had to take into consideration things like pricing, creating a lookbook and following a critical path. It was a brilliant experience.
If you were chatting with current NCAD students today what is the one piece of advice you would offer?
Take advantage of your time at college to experiment with as many different techniques and materials as possible. Go to all your meetings with your tutors, as you will miss having that guidance when you graduate! Enjoy having time to create for the sake of creating.
Given the global turmoil and change accelerated by the COVID-19 pandemic, what in your opinion are the opportunities for those in creative industries?
From a maker's perspective, there has been a huge surge in interest in buying Irish during the pandemic. People are becoming far more aware of wanting to support small, local businesses, so it's a great time to be getting your name out there online and on social media.
Portfolio Links:
Instagram: @maireadwall
Follow NCAD
NCAD Twitter @NCAD_Dublin
NCAD Instagram @ncad_dublin
NCAD Facebook @NCAD.Dublin
Contact NCAD