Home »
Alumni Stories - Leonora Ferguson
Alumni Stories - Leonora Ferguson
'And then Cara Delevingne chose my lizard headpiece to wear.'
Name: Leonora Ferguson
Current Career: Millinery
Graduation Year: 2005
Discipline: Textile Design Spec. Embroidery
Location: Dublin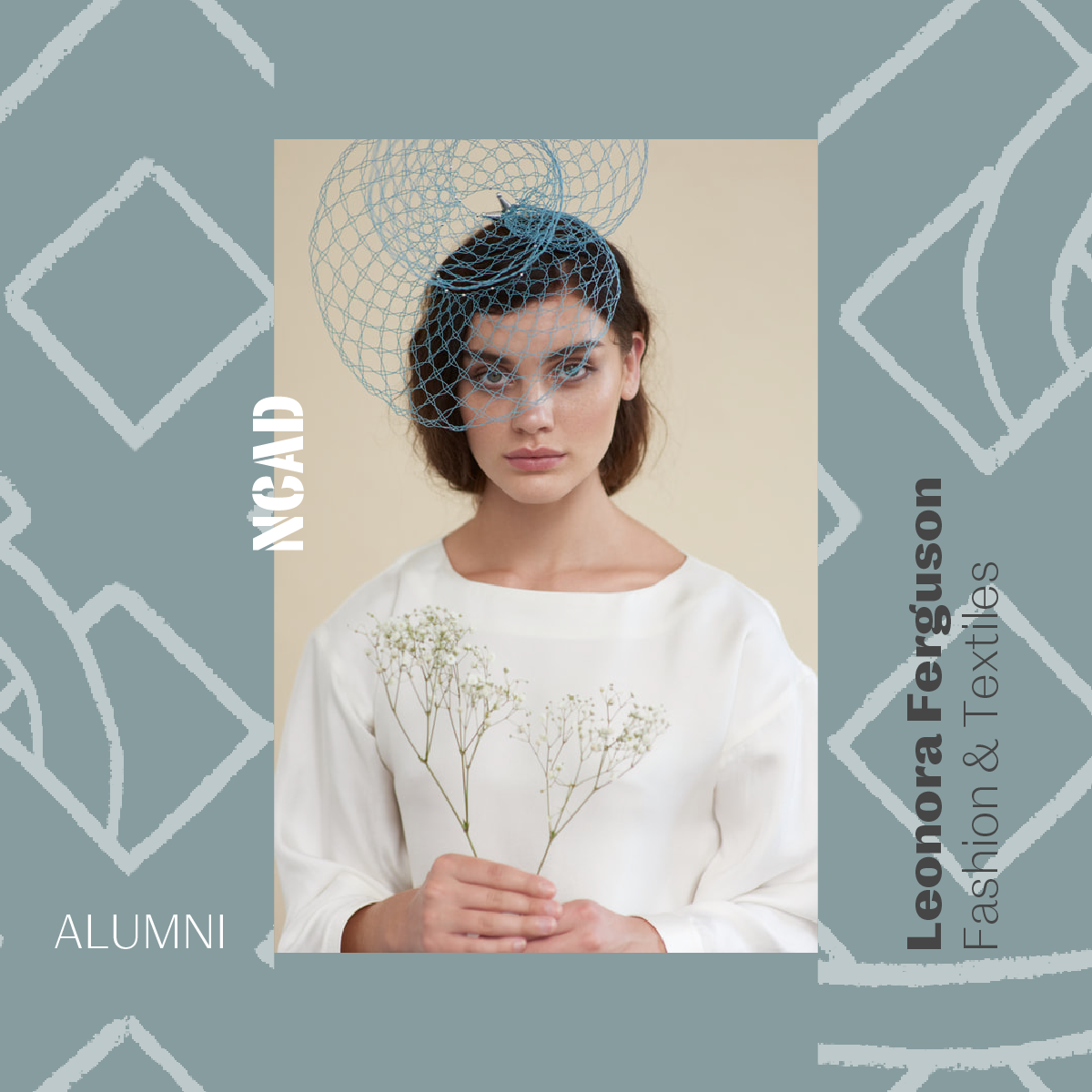 What career path did you want to follow as a child?
I was interested in a lot of different areas, I loved English Literature, History and the Sciences. Art was always a big part of my life though - my parents are artists and worked as art teachers in my high school. I was lucky enough to be taken to galleries from a young age and to be allowed the space to "make a mess" at home. I always knew I would end up doing something creative, but I found it hard to narrow it down to one particular area that I wanted to pursue.
Why did you decide to study at National College of Art & Design?
I knew NCAD had a great reputation, we had researched all the art colleges when my older sister was leaving school as she is also a creative. I wanted to live in Dublin, I loved the character of the place and coming from a small town, it felt big enough to be anonymous but small enough not to be intimidating.
My sister went into Textiles at NCAD ahead of me and, when I saw the work she and her peers were creating, I knew instantly it would suit me. I loved the manipulation of materials, the textures and the often-3D nature of the work. It was so exciting and different to anything I'd ever seen before.
I had seen my sister tutor Nigel Cheny's incredible work and I always wanted to train with him. I had been preoccupied with painting in school, with a bit of fashion thrown in, but I felt that in Textiles there was real innovation happening and technology was also opening up amazing new avenues of possibility.
How did you develop your career towards your current practice?
I took a while to find my feet after graduating, taking part in the odd exhibition and selling at markets while working in retail. I moved to London and took work experience in costume roles and at Merlin Magic Making (Madame Tussauds), where I managed to get some (very much needed!) paid work. I took a short course at Central St. Martins in Millinery where I learned to block felt and sinamay. I was featured in a student profile for the prospectus, so I got to do a hat block carving course for free. Combined with my design degree, that enabled me to start a small business, taking my work to endless markets where I could take bespoke orders. I had made friends and contacts in costume and got film work through that network in England and Belfast. I also worked on a film in Melbourne which was amazing.
I had ongoing freelance costume and millinery work from Madame Tussauds for years, and worked on films on and off as a costume breakdown artist, dyer and maker, while continuing to build my millinery brand. By chance I was invited to donate a couple of animal-themed masks for The Animal Ball, a charity fundraiser in London. Although I was busy at the time, it was a fun brief and a great chance to support the charity - and then Cara Delevingne chose my lizard headpiece to wear. They later asked me to make 22 lemur masks for the next Animal Ball, and one was exhibited in the V&A Museum!
All of this helped to raise my profile back in Ireland, where I was invited to interview for Create at Brown Thomas. I've sold my hats at Create over the past four years, and it's been an enormous boost. I am a member of the CIFD and the DCCoI, and have taken the Building Craft & Design Enterprise course through Dublin City LEO, which have all given me opportunities to showcase my work, network and collaborate.
What is the one experience during your time at NCAD that has informed you most in your work to date?
One of the first things I was told in Embroidery was that, whatever material you use - whether it's a scrap of organza or something out of the ordinary that you've managed to get your hands on - you should try to make it your own. I have taken that to heart throughout my career. I look at what I have to work with, its properties and the limits of what it can be made to do or what unexpected material it could be combined with, and I try to give it something that I haven't seen before, even if it's only in a very small way.
If you were chatting with current NCAD students today what is the one piece of advice you would offer?
Persevere and be prepared to take a job on the side while you make it happen, if needs be. I've worked in retail on and off over the years because rent needs to be paid and work isn't always consistent. I've taken on some very gruelling costume work, fabulous but unpaid work when I could, and commissions that I haven't been so keen to do, but often they have led to amazing opportunities or taught me a new skill.
In terms of college work, I would say I learned the hard way about time management, being prone to leaving everything to the last minute. Try to pace it so you get everything you want finished and have time to edit your work at the end of a project (but remember to record all of your research threads, mishaps and dead ends in your notebooks, no matter how irrelevant they may seem! You'll get credit for the work you've done, and fresh eyes on an abandoned mess can often inspire the most interesting ideas).
Given the global turmoil and change accelerated by the COVID-19 pandemic, what in your opinion are the opportunities for those in creative industries?
Those who I have seen thrive over the past year are those who have adapted. Lots of designers are making masks and, while it may not be a product they'll sell forever, they have reached a lot of new customers. Many people I know focussed on developing their online offering that had previously taken a back seat, and have seen sales soaring and their reach widening. For myself, I have taken the time to upskill through Springboard, learning digital 3D sculpting with ZBrush. It's something I would never have had the time to pursue and I can't wait to see where it takes me next.
Portfolio Links: