Home »
Alumni Stories - James Brady
Alumni Stories - James Brady
'Every bit of experience counts and the relationships you build are the most important thing for progression.'
Name: James Brady
Current Career: Head of Design & UX
Graduation Year: Bsc 2012 / MA 2018
Discipline: Industrial Design / Interaction Design
Location: Dublin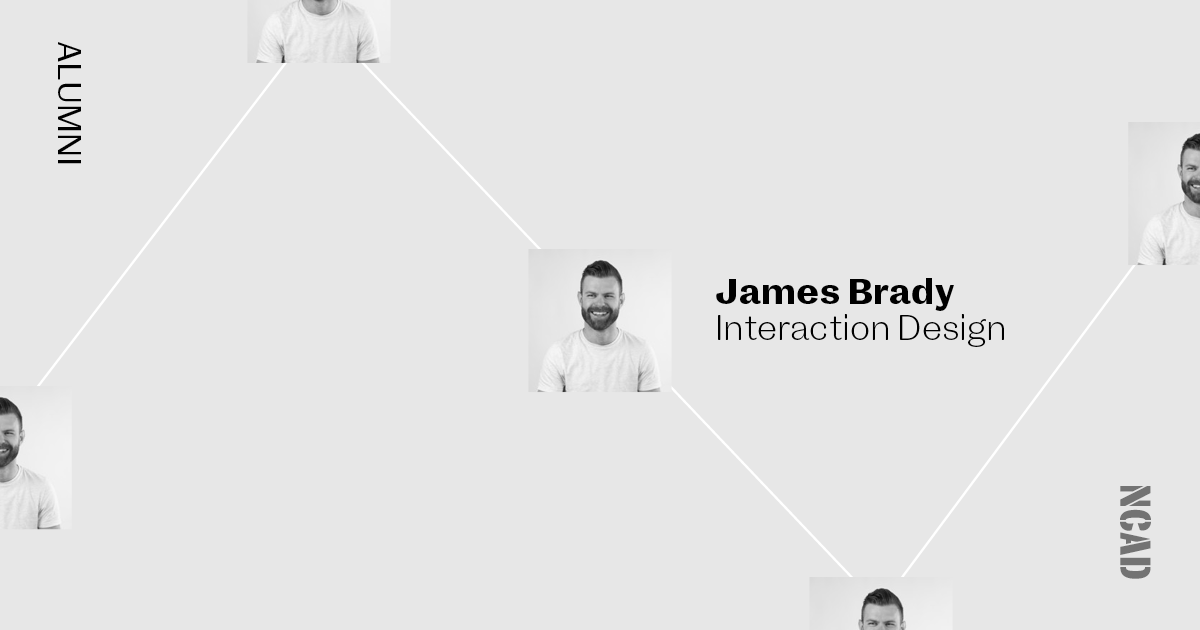 What career path did you want to follow as a child?
I wanted to be an art teacher
Why did you decide to study at National College of Art & Design?
I was always interested in making things, fixing things and hacking things to improve functionality. I went to see the NCAD graduate show the year before I finished the leaving certificate, and it really spoke to me as a college that aligned with what I was passionate about doing. After speaking to some of the graduates and hearing their experience, I was sold.
How did you develop your career towards your current practice?
After finishing my undergrad in industrial design, I worked in exhibition design and prop design for a year and a half before going travelling for three years. While abroad, I still did a few design projects with different people but was looking to gain different experiences. Through friends over there, I found myself gravitating towards something in the recruitment sector and when I returned home, I got a job as a recruitment agent and then got a job in sales in a large tech company, still in the recruitment sector.
My passion for design was always there, but I had always wanted to do a couple of years in sales, as the experience you gain on how to interact with people is amazing. Knowing that it was not the path I wanted to follow for my whole career, I went back and did my Masters in Interaction Design, which gave me the platform to get my current role in a start-up that sells recruitment technology.
What is the one experience – during your time at NCAD – that has informed you most in your work to date?
Through NCAD Origin8 there are design research job opportunities that come from clients some of whom have Enterprise Ireland innovation research voucher grants. NCAD Origin8 gives students opportunities to work for a portfolio of clients. It's a great way to gain real world work experience and to develop your skills in a wide variety of areas including project management. If you show an aptitude for your course, you can be presented with such opportunities. This is how I initially got introduced to my current employer and such opportunities can be difficult to come across in the real world.
If you were chatting with current NCAD students today, what is the one piece of advice you would offer?
Talk to everyone and say yes to things. Tell anyone who will listen about what you're doing at the moment, what you are working on, and what you are working towards. Someone will know someone that will give you an opportunity, whether it be big or small. Take them, because every bit of experience counts and the relationships you build are the most important thing for progression.
Given the global turmoil and change, accelerated by the COVID-19 pandemic, what – in your opinion – are the opportunities for those in creative industries?
It is tough but opportunities are out there. Depending on your discipline, creatives can be the most attuned to the current standard of working remotely. If you can show projects that you have done in your own time on your own accord, I feel like that is a big plus for employers, rather than a CV that shows 9-5 office experience for five years.
Follow NCAD
NCAD Twitter @NCAD_Dublin
NCAD Instagram @ncad_dublin
NCAD Facebook @NCAD.Dublin
Contact NCAD