Home »
Alumni Stories - Jacinta Edge
Alumni Stories - Jacinta Edge
'The teachers were genuinely interested in their students, and I felt like I had found myself. They really encouraged and nurtured me.'
Name: Jacinta Edge
Current Career: Proprietor of JEM Studio
Graduation Year: 1995
Discipline(s): Textile Design
Location: Athy, Co. Kildare, Ireland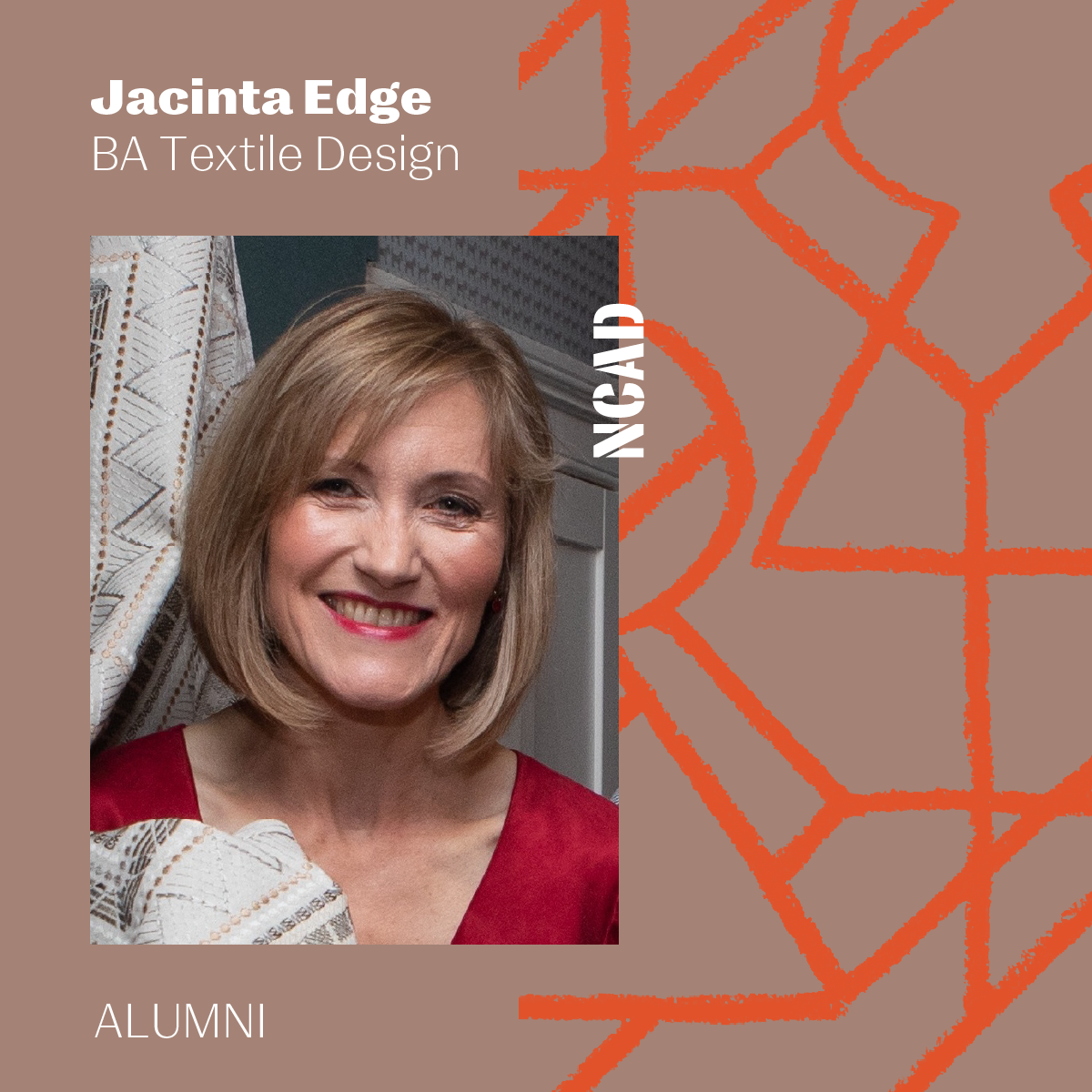 What career path did you want to follow as a child?
As a child I had two loves: art and nature. From as soon as I could walk, I was out in nature, gardening with my grandparents.
It was my maternal grandmother who instilled a love of arts and crafts in me. She showed me embroidery stitches, crochet, etc. She could make anything and there was never a question of buying something – you made it!
When it came to choosing a career, I did consider horticulture as there seemed to be more jobs in that in Ireland, but I knew I was a fair-weather gardener and thought a career in art and design would be better all year round! My career guidance counsellor told me that the only job in art was teaching, which, although it sounded like the safe option, wasn't exciting to me. I decided to take the road less travelled and I'm so glad I followed my passion. It turned out much more exciting – and I still have gardening as my hobby.
Why did you decide to study at National College of Art & Design?
After doing my Leaving Cert at the age of 16, I did a secretarial course and then a foundation course at The Grennan Mill, where I spent the best year of my life learning all sorts of crafts, including pottery, metalwork, batik and weaving – but it was the printed textiles class that really fired me up. It was at this point that I knew I had to continue with textiles.
I went to Galway RTC and then transferred to 2nd year at NCAD. Going to Dublin was daunting, but to be accepted at NCAD was an honour and I absolutely loved everything about NCAD. The teachers were genuinely interested in their students and they really encouraged and nurtured me. I felt like I had found myself.
How did you develop your career towards your current job / practice?
I gave very little thought to my career when I was in college. My concern was to learn as much as I could about textiles, my passion. I do remember my tutor, Anne, remarking that there were very few jobs in Ireland in textiles and Id' most likely have to go abroad. That did scare me as I lacked confidence, but I just thought, I'll have to learn as much as I can, so I can set up my own business in Ireland.
When I completed my degree, I was accepted onto the Crafts Council's business course for creatives. During this time I won a scholarship with Coca Cola, and my local Carlow Enterprise Board were great at supporting me when I started setting up my business.
I set up a textile printing business in my hometown, but soon after I was hit by a freak flood, which took my portfolio and progress with it. At that stage I was encouraged by one of my suppliers to become an agent for them. Once I got out on the road, I started meeting creative people and soon discovered that my design background and product knowledge gave me an edge, and that I had more to offer than just great products – I was able to understand what my clients were trying to achieve, and they knew that they could trust me.
What is the one experience during your time at NCAD that has informed you most in your career / work to date?
Being able to develop my passion and love for textiles has shone through when I deal within the industry. Most people come from a sales background, whereas I have design background and a great product knowledge.
I took part in some competitions run through NCAD and in conjunction with the industry, which allowed me to gain work experience, boosting my confidence. Also, while at NCAD, external assessors came from within the industry in our final year, which was a huge benefit and confidence-instilling.
If you were chatting with current NCAD students today what is the one piece of advice you would offer?
Don't waste a minute. Listen and learn – everything has a purpose. Use the facilities to the full, as you will never get another opportunity to have so much knowledge and resources at your disposal.
Given the global turmoil and change accelerated by the COVID-19 pandemic, what in your opinion are the opportunities for those in creative industries?
We need to think sustainable – what we make must be from sustainable goods and we must be more creative in how we use our natural resources. For example, wool is a wonderful fibre which is sustainable and which farmers can get paid for, but instead we are currently using oil-based fibres, which are bad for our environment and local economy.
We need to support local, even within a global context. I believe that clients are aware of this and will continue to look for more locally-produced goods.
Portfolio Links:
https://www.jemstudio.ie/about
https://www.linkedin.com/in/jacintaedge/
https://www.instagram.com/jacinta_edge_jem_studio/
https://www.facebook.com/JEM-Studio-194958167189403
Follow NCAD
NCAD Twitter @NCAD_Dublin
NCAD Instagram @ncad_dublin
NCAD Facebook @NCAD.Dublin
Contact NCAD