Home »
Alumni Stories - Cathy Burke
Alumni Stories - Cathy Burke
'I went straight into the ceramics department and it lived up to everything I hoped for. Inspirational setting, fabulous facilities, great technical staff and the incredibly supportive and encouraging tutors- always pushing investigation and enquiry.'
Name: Cathy Burke
Current Career: Ceramic Artist
Graduation Year: 2014
Discipline: Ceramics
Location: Wicklow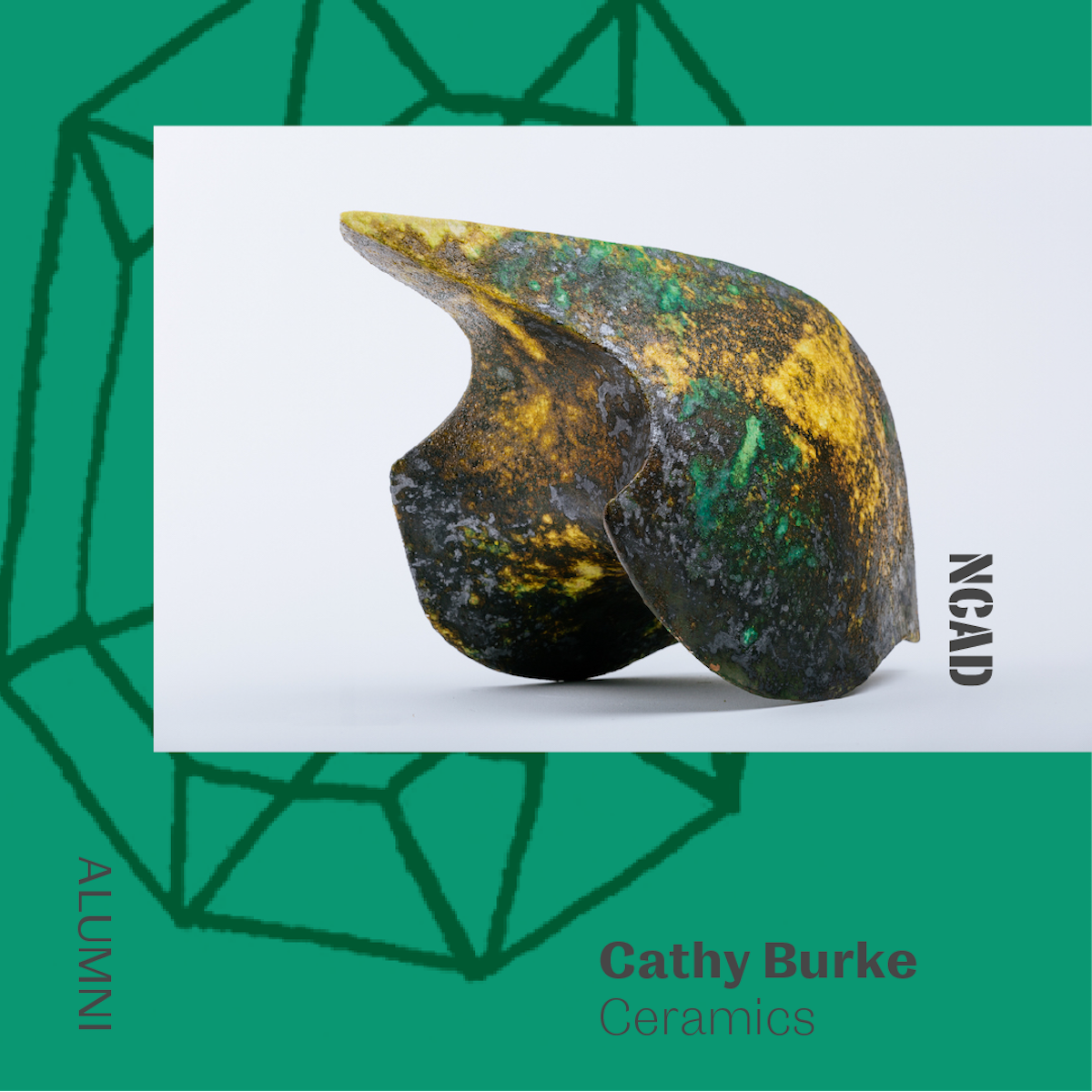 What career path did you want to follow as a child?
I always wanted to be creative. Drawing and making were a huge part of my childhood. I followed a route to ceramics via a period of working in horticulture. This foundation in plants and nature constantly informs my practice.
Why did you decide to study at National College of Art & Design?
At the time, NCAD had an incredible reputation for being the ultimate facility to study Fine and Applied Arts. I wanted to study Ceramics, and NCAD seemed to be the best place to do so. It was known for having superb facilities and excellent tuition in the ceramics and glass department. I knew that if I was to take my ambitions as a ceramicist seriously, then NCAD was the best place to start this path.
Through various courses completed over the years, I was admitted by direct entry to the second year of the four-year course. I went straight into the ceramics department and it lived up to everything I hoped for. Inspirational setting, fabulous facilities, great technical staff and the incredibly supportive and encouraging tutors- always pushing investigation and enquiry.
I loved my time in NCAD. It was a place buzzing with exciting optimism and creativity.
How did you develop your career towards your current practice?
I rely on past experiences to inform current practices. My grounding in horticulture is a constant source of inspiration, and I am always finding new ways to incorporate this in my work. I am dedicated and persistent in my making; and find that a steady regime of working is important to my process.
However, I am equally persistent in taking advantage of any opportunities that arise. I try to apply to any exhibitions, bursaries and grants. I am honoured to have been selected for exhibitions on an Irish, European and International stage and have been awarded various bursaries, awards and grant funding to support my practice. My work has been featured in a Dutch Ceramics publication and has been purchased by the Irish Embassies in Korea and Belgium. I also have been selected to be featured in the Homo Faber Guide by the Michelangelo Foundation. I am extremely fortunate to have achieved so much since graduation from NCAD.
What is the one experience during your time at NCAD that has informed you most in your work to date?
There was no one single experience - my entire time there was an adventure in creativity.
It was so wonderful to be immersed in a hub of creative inspiration, where I felt that there were no boundaries or limits to what could be achieved.
Peer review was always an important part of my time in NCAD. Posing and challenging my own and other students' ideas was fundamental to forming my opinions and approach to creative direction.
Alongside other NCAD Alumni, Jaki Coffey, Cecilia Moore and Kate O'Kelly, we formed the multi-disciplinary collective "slip.flux.flock." during our time as residents or masters students at NCAD. Our aims were to forge a creative bubble of dialogue, support and exhibition. We exhibited together in 2019 in the Oliver Cornet Gallery.
If you were chatting with current NCAD students today what is the one piece of advice you would offer?
Keep questioning, keep pushing and keep applying! It's important to keep going. Perseverance and determination are an important part of success.
Given the global turmoil and change accelerated by the COVID-19 pandemic, what in your opinion are the opportunities for those in creative industries?
During the lockdowns, so many creative industries - especially makers and galleries had to change tack in order to maintain a visible presence. Opportunities opened to virtually view exhibitions online, perform virtual demonstrations and numerous seminars and lectures went online. This opened so many ways of viewing and accessing works on a global level that were previously impossible to be part of without an actual physical presence.
Once the pandemic crisis is over, I think that while galleries will reopen, people will continue to want exhibitions, demonstrations and seminars to be visible on an online platform.
Portfolio Links:
https://www.cathyburkeartist.com/
https://www.instagram.com/cathyburkeartist/
https://www.facebook.com/cathy.burkeart
https://www.homofaberguide.com/en/discover/artisans-burke-cathy
Follow NCAD
NCAD Twitter @NCAD_Dublin
NCAD Instagram @ncad_dublin
NCAD Facebook @NCAD.Dublin
Contact NCAD