Home »
Alumni Stories - Aoife Dunne
Alumni Stories - Aoife Dunne
"Philip Napier, Head of Fine Art, gave a great talk on what the course entails and the role of an artist. One thing that he said really stuck with me during my four years studying at NCAD: "If you're lucky, maybe one of you will make it." He was right."
Name: Aoife Dunne
Current Career: Visual Artist
Graduation Year: 2016
Discipline: Fine Art Media
Location Dublin
We caught up with Aoife Dunne, NCAD graduate and visual artist, to chat about her career and current exhibition, the moving digital installation 'Transcending Time'.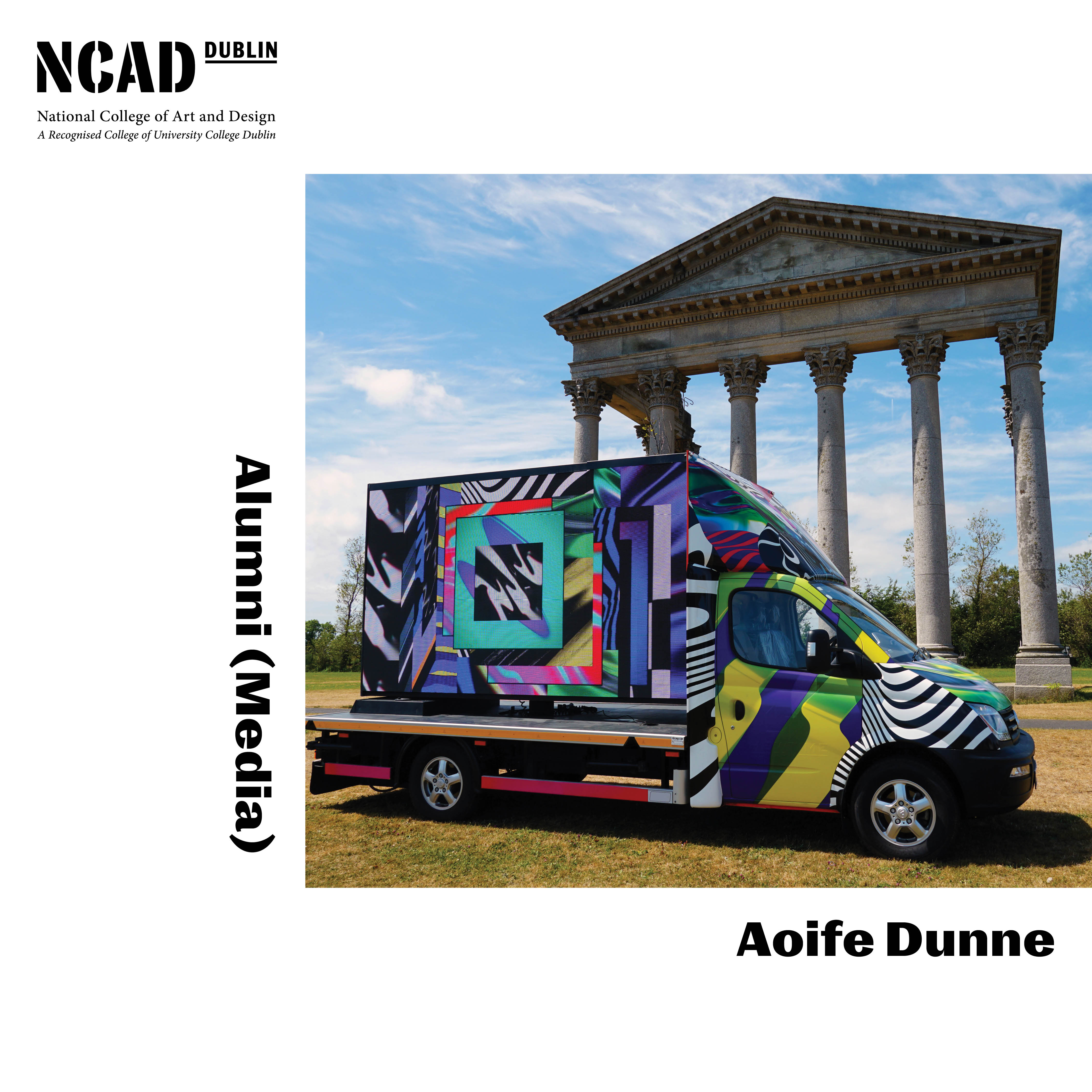 What career path did you want to follow as a child?
I trained as a dancer and performer as a child, which had a huge impact on my creative thought process, as well as educating me about the technicalities involved in making work from the perspective of both the performer and the observer. I started an online magazine when I was 12, which was my first real launch into entrepreneurship; and a web design business the same year. I won a scholarship to the Royal Irish Academy of Music and in 2008 made a short video which was shown at the Beijing Film Festival. I began my career in fashion in 2011, and soon began styling and art directing shoots. My experience in the fashion industry has been crucial to the development of my artistic practice, which is heavily focused on using costume as a vehicle to explore, express and define notions of identity. My practice is a fusion of all my experiences with sculpture, video, sound, performance and technology.
How did you develop your career towards your current job / practice?
The year I graduated from NCAD I was invited to exhibit my degree show work at the Royal Academy of Arts, London and the Museum of Contemporary Art, Denver, and went on to win at the RDS visual art awards at the end of 2016. This set me up to continue creating large-scale installations.
Tell us a bit about your current exhibition, 'Transcending Time'.
I have always been interested in the complex relationships that exist between the viewer, the artist and the context in which the work is made and exhibited. When lockdown began, I started reimagining what is possible given our current limitations. I wanted to do something different and bring art to people. This is a moving digital installation that will come to your house upon request. It was inspired by my latest solo show in Paris - an open-air digital installation consisting of LED screens which surround the exterior of the gallery; and was viewed at a distance. I wanted to recreate this excitement in Ireland, whilst remaining innovative in our current climate and obeying the social distancing restrictions. As my work is a combination of sculpture, technology, sound and performance, I came up with a concept that fits within my practice but also offers a more exciting alternative to the online space. The exhibition was commissioned by Fingal County Council Public Art Programme and is available to residents of the Fingal area (July 2020).
What is the one experience – during your time at NCAD – that has informed you most in your career / work to date?
In my core year, Philip Napier, Head of Fine Art, gave a great talk on what the course entails and the role of an artist. One thing that he said really stuck with me during my four years studying at NCAD: "If you're lucky, maybe one of you will make it." He was right. Pursuing art is an incredible challenge but incredibly rewarding, and this was exactly the kind of motivation I needed.
If you were chatting with current NCAD students today, what is the one piece of advice you would offer?
Say yes; and figure it out later.
Given the global turmoil and change, accelerated by the COVID-19 pandemic, what – in your opinion – are the opportunities for those in creative industries?
When I got news that all my upcoming shows for the year were cancelled, I quickly decided to create from possibility, not circumstance. One great power of the imagination is to enable us to see an alternative future, where reason sees none. We need art to reawaken our sense of wonder, to remind us of our freedom, and to highlight the things in our cultures that enable us to withstand the dreaded visage of death. Art is needed now.
Portfolio Links:
Video: https://vimeo.com/4237352
Imagery: https://we.tl/t-HjQTXS7cYG
Instagram: @efadone
Website: www.aoifedunne.com
*Please use hashtag #aoifedunne on any social media platforms
Follow NCAD
NCAD Twitter @NCAD_Dublin
NCAD Instagram @ncad_dublin
NCAD Facebook @NCAD.Dublin
Contact NCAD