Home »
Alumni Stories - Alanagh Clegg
Alumni Stories - Alanagh Clegg
'Treat your degree as the beginning of your practice. The time spent in NCAD is a time to dive into your personal creative path.'
Name: Alanagh Clegg
Current Career: Fashion Designer
Graduation Year: 2016
Discipline: BDes (Hons) Textiles
Location: Kildare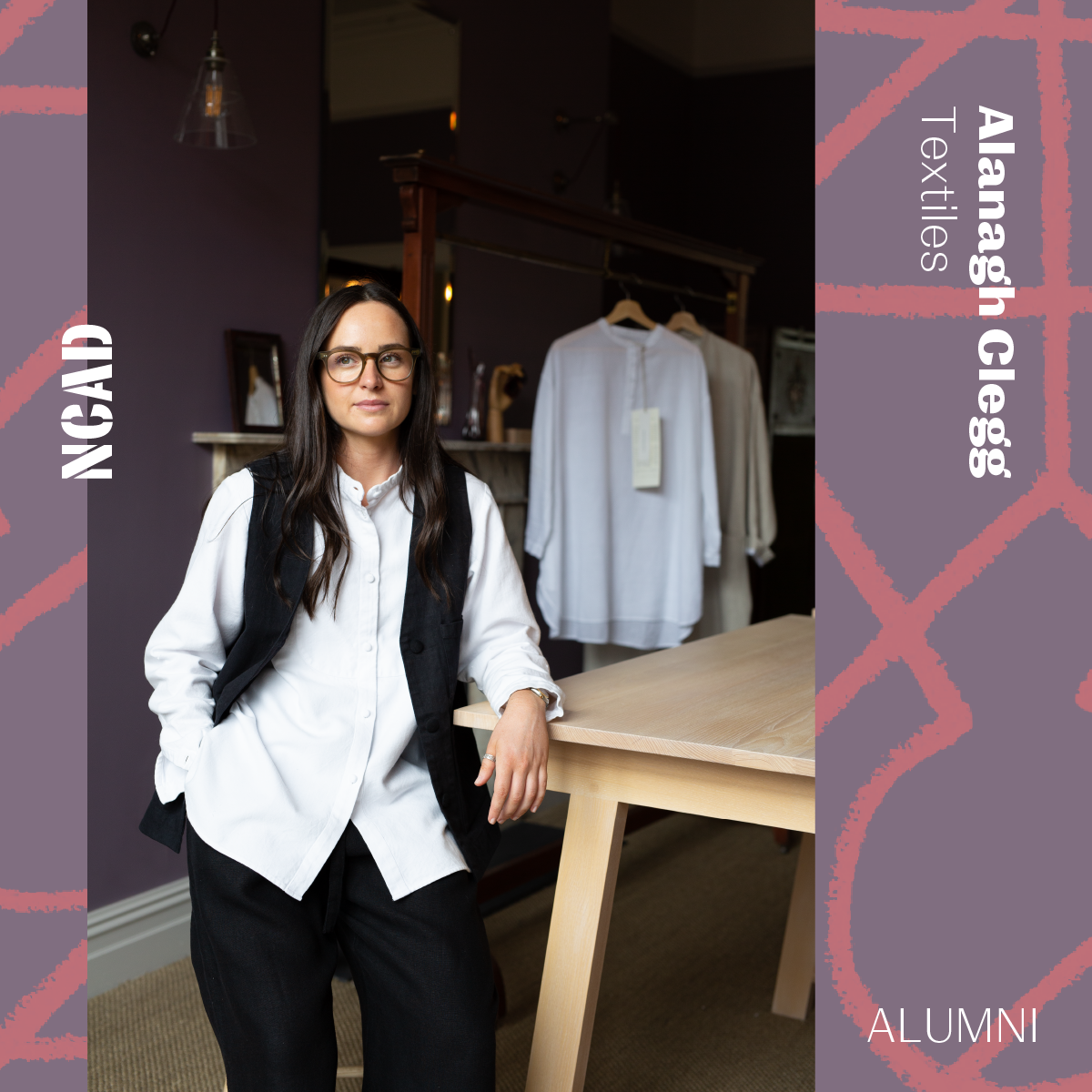 What career path did you want to follow as a child?
For a time, I wanted to be an architect, during school I really enjoyed both technical drawing class and construction studies. The task of solving problems through drawing and creating a new object was always very exciting for me. My favourite time in school was when I had a blank piece of paper, a pencil and a ruler to just create!
Why did you decide to study at National College of Art & Design?
After learning about NCAD at a young age, I always pictured myself going there. When applying I was unsure of what career path I wanted to pursue, but I knew that NCAD would present me with many options and time to find the right path for me to follow.
How did you develop your career towards your current practice?
In my final year, I developed my project around the idea of creating my own brand. Through the physical project and written thesis, I explored all the details that go into starting a collection, from sourcing and production through to branding. Through this process, Four Threads, my brand was created. Over the next few years, I have been slowly building on the idea and it has been an ever-evolving collection since then.
What is the one experience during your time at NCAD that has informed you most in your work to date?
Through writing my thesis, I researched the hand-crafted textile techniques of India. This exploration led me on a trip to many regions in rural India where I met with craftspeople and learned the history of their cultures. To this day, I work with these craftspeople including weavers, dyers, block printers and hand embroiderers, who all play integral roles in each collection and my overall business.
If you were chatting with current NCAD students today what is the one piece of advice you would offer?
Treat your degree as the beginning of your practice. The time spent at NCAD is a time to dive into your personal creative path. I would encourage students to begin challenging yourself now, asking what it is you want to achieve and, through every project you take on, craft it to suit your own path.
Given the global turmoil and change accelerated by the COVID-19 pandemic, what in your opinion are the opportunities for those in creative industries?
The fashion/clothing industry has been on the cusp of change for a long time now. The Covid-19 pandemic has accelerated a lot of change in the industry, mostly positive, in my opinion. The rate at which fashion brands are producing collections has become unsustainable over time. In 2020, with production worldwide coming to a halt, brands have been given the opportunity to rethink how they produce, while consumers have also been given an opportunity to pause and re-think how they shop and who they are supporting. There are so many problems within the fashion industry and I think this year has given us the time to step back and look at how we can change the ways in which we create in the future.
Portfolio Links:
Follow NCAD
NCAD Twitter @NCAD_Dublin
NCAD Instagram @ncad_dublin
NCAD Facebook @NCAD.Dublin
Contact NCAD