Home »
Alumni Stories - Aideen Bodkin
Alumni Stories - Aideen Bodkin
'Although I came to NCAD with talent, it was the role of many tutors to push me a little, allowing me to develop and express myself so that I could achieve my goals.'
Name: Aideen Bodkin
Current Career:
Fashion Design and Mentor with the Design Craft Council of Ireland.
Currently studying for a Graduate Diploma in Design Thinking for Sustainability in UCD.
Graduation Year: B.Des Fashion in 1988; MAVA 2015
Disciplines: Fashion Design and Visual Arts Education
Location: Dublin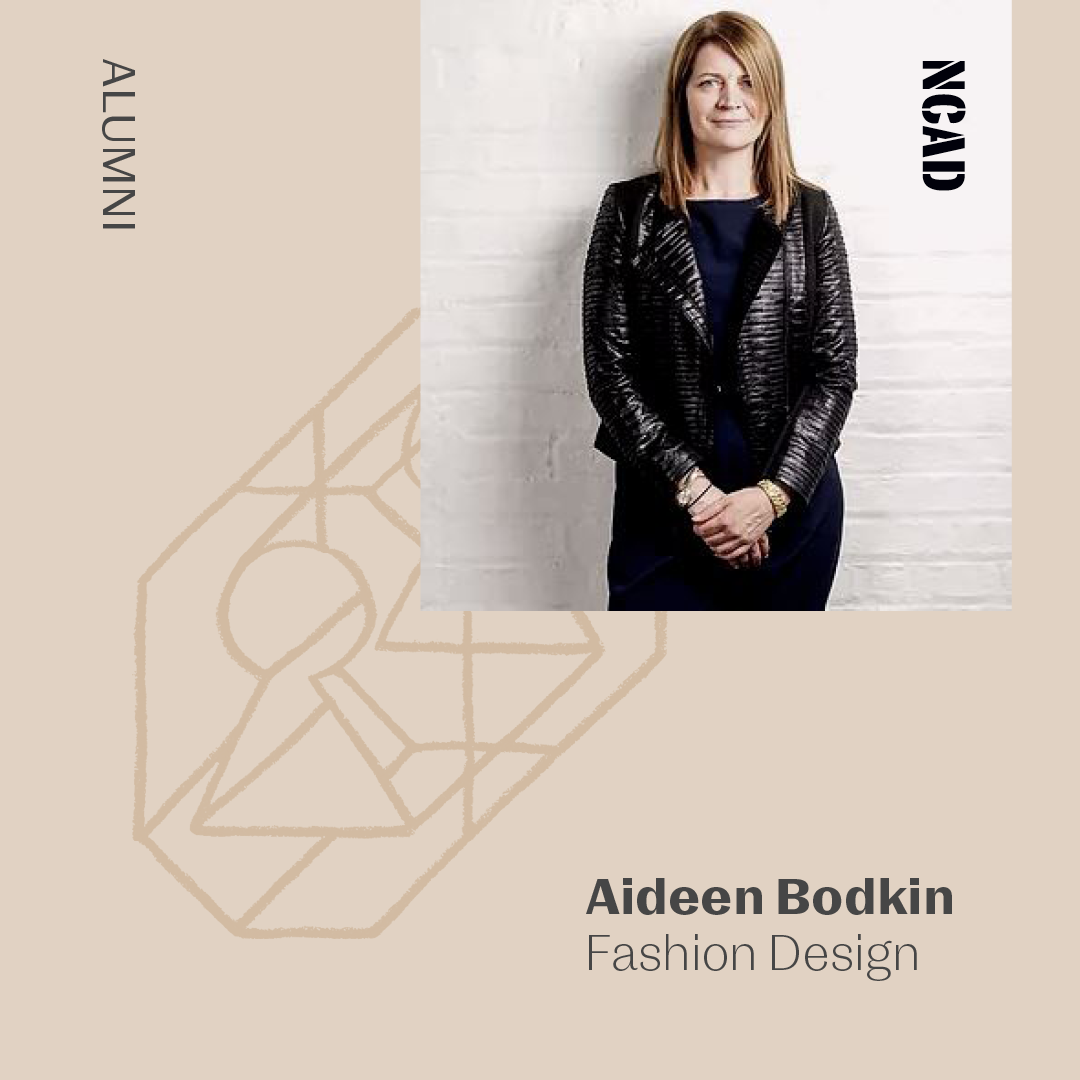 What career path did you want to follow as a child?
From a very young age I wanted to study fashion design and I did not have anything else as a back-up plan.
Why did you decide to study at National College of Art & Design?
I was an artistic child and loved drawing. There were other fashion design courses available, but I wanted to study in NCAD as it was considered the best for fashion design at that time. I decided to go back to NCAD twice since I graduated from fashion and undertook a Continuing Education in Art and Design (CEAD) course and Master of Arts in Visual Art education (MAVA). I love the creative energy of NCAD; and the lecturers were fantastic in all my courses.
How did you develop your career towards your current practice?
I worked as a fashion designer both full-time and part-time in Ireland for a good few years before I started my own label in 1998. When setting up my own brand, I was working part-time for other companies, which allowed me to earn a living until my label became successful.
I was fortunate to have great support from my family, especially my parents, who gave me great direction from the perspective of managing independent business over the years. I was resilient and hard-working, but most of all I loved my practice and never gave up during the many tough years the Irish economy went through.
What is the one experience during your time at NCAD that has informed you most in your work to date?
I had a fantastic tutor who has since passed away. His name was Eamon Scully and he was a trained tailor who had worked for the most successful Irish clothing companies. He taught me the importance of fit, quality and finish and his attention to detail stayed with me throughout my career. Although I came to NCAD with talent, it was the role of many tutors to push me a little, allowing me to develop and express myself so that I could achieve my goals.
If you were chatting with current NCAD students today what is the one piece of advice you would offer?
Don't stress too much and enjoy the freedom of being creative. Don't be too easily influenced by passing trends. Try to find your unique voice.
Given the global turmoil and change accelerated by the COVID-19 pandemic, what in your opinion are the opportunities for those in creative industries?
Design and creativity will always be sought after, especially in a world where technology has replaced workers. Opportunities are appearing in trying to design and create a better world, and to do it in such a way that the planet can be healed from the damage already done. Sustainability is hugely important and there are many opportunities in the emerging "Green Economy".
Portfolio Links: www.aideenbodkin.ie
Follow NCAD
NCAD Twitter @NCAD_Dublin
NCAD Instagram @ncad_dublin
NCAD Facebook @NCAD.Dublin
Contact NCAD