Home »
NCAD Annual Open Day 2023
NCAD Annual Open Day 2023
NCAD's Annual Open Day will take place on Tuesday 21 November 2023. We are delighted to be hosting our Open Day and looking forward to welcoming you to our Historic Campus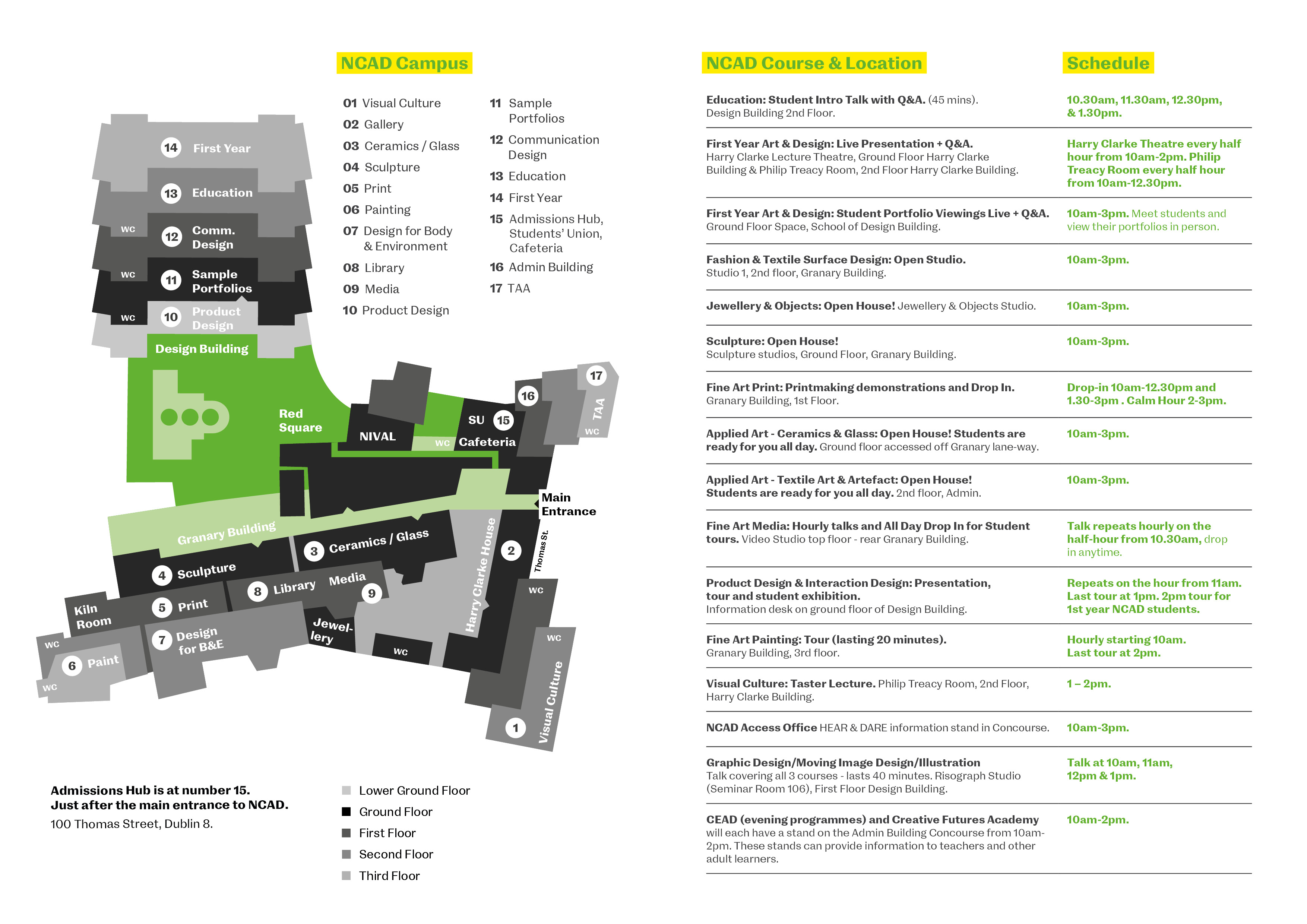 Schedule of Talks and Events
Department

Event

Times

Location

First Year Art & Design: Live Presentation + Q&A

Talks from Staff on First Year in NCAD

10.30am, 11.30am, 12.30pm,
& 1.30pm.

Harry Clarke Theatre every hour from 10am-1.30 pm. Philip Treacy Room every half hour from 10am-12.30pm.

First Year Art & Design: Student Portfolio Viewings Live + Q&A

Meet students and view their portfolios in person.

10am-3pm

Ground Floor Space, School of Design Building.

Graphic Design, Moving Image, Illustration

Talk covering all 3 courses - lasts 40 minutes.

Talk at 10am, 11am, 12pm & 1pm.

Risograph Studio
(Seminar Room 106), First Floor Design Building.

Fine Art Print Dept.

Printmaking demonstrations and Drop In anytime.

Drop-in 10am-12pm &
Calm Hour 2-3pm

Granary Building, 3rd Floor.

Fine Art Painting Dept.

Tour

Hourly starting 10am.
Last tour at 2pm.

Granary Building - 3rd floor

Visual Culture

Taster Lecture

1pm - 2pm

Philip Treacy Room.

Product Design & Interaction Design

Presentation, Tour, Student Exhibition

Repeats on the hour from 11am. Last tour at 1pm for non-NCAD students.
Last tour at 2pm for 1st year NCAD students.

Information desk on ground floor of Design Building.

Applied Art - Ceramics & Glass

Open House! Students are ready for you all day

10am-3pm.

Ground floor accessed off Granary lane-way.

Applied Art - Textile Art & Artefact

Open House! Students are ready for you all day

10am-3pm.

2nd floor, Admin.

Fashion & Textile Surface Design

Open Studio

10am-3pm.

Studio 1, 2nd floor, Granary Building.

Sculpture

Open Studio

10am-3pm.

Sculpture studios, Ground Floor, Granary Building.

Fine Art Media

Hourly talks and All Day Drop In for Student tours

Talk repeats hourly on the
half-hour from 10.30am, drop in anytime.

Video Studio top floor - rear Granary Building.

Jewellery & Objects

Drop-in demonstrations

10am-3pm.

Jewellery & Objects Studio.

Education

Student Intro Talk with Q&A

10.30am, 11.30am, 12.30pm & 1.30pm.

Design Building 2nd Floor.

NCAD Access Office

HEAR & DARE information

10am-3pm.

Information stand in Concourse

CEAD (evening programmes) and Creative Futures Academy

Information to teachers and other adult learners.

10am-2pm.

Information stands in the Concourse
What to expect?
Visit
The Open Day offers the chance to visit NCAD's campus. We have an Open House policy allowing you to take in the studios at your own pace to see what the current students are working on.
You'll have the opportunity to visit the multi-disciplinary First Year Studios to have a first-hand look at what Semester 1 in NCAD is all about.
You're also invited to visit the dedicated studios like Product Design workshops, Ceramics and Glass, Metalwork, Print Studios and more!
Calm Hour 2-3pm
We understand that many of our potential students are neurodivergent, have experienced mental health difficulties or may find crowds overwhelming. We will hold a Calm Hour from 2-3pm as part of our Open Day and will have staff and students available to help you during your visit.
Meet
Staff from First Year Studies and from across the College will be available on the day to tell you about the programmes they teach on and the different opportunities offered after their course.
We'll also have Student Ambassadors available on the day to help show you around but they're a chatty bunch and are happy to tell you about what they're studying too and their journey to NCAD.
Admissions Staff will be available all day to answer those all important application questions. Whether it's CAO, International Applications or Portfolio questions, we have got the answers.
Learn
We will have a number of talks scheduled throughout the day focusing on Portfolio Preparation and Submission and First Year in NCAD. Make sure to catch one of these.
A number of current First Years will also be giving live demo presentations of their own Portfolios.
This will be the same portfolio they submitted last year which gained them their place in NCAD. Not to be missed!
Key info for right now
There is no need to book a place for the Open Day. Just come along!

NCAD welcomes School students, teachers, guidance counsellors, parents & other family.

There will be a calm session from 14:00-15:00

The Open Day will take place from 10:00-15:00

Contact admissions by email if you have any questions between now and then.