Home »
NCAD Youth Art Programme (YAP)
NCAD Youth Art Programme (YAP)
Art History Seminars / Entrepreneurship Summer Camps
For information on Art History Seminars, click here.
NCAD Entrepreneurship Summer Camps for secondary students - July / August 2018
Explore Sustainability, Entrepreneurship, Creativity, Innovation, Design Thinking and Design Strategies; Product based business and /or Service based business
Based on the success of two pilot NCAD Entrepreneurship summer camps that ran in July 2017, the Higher Education Authority (HEA) has given NCAD funding to run four summer camps in July/August 2018 as follows: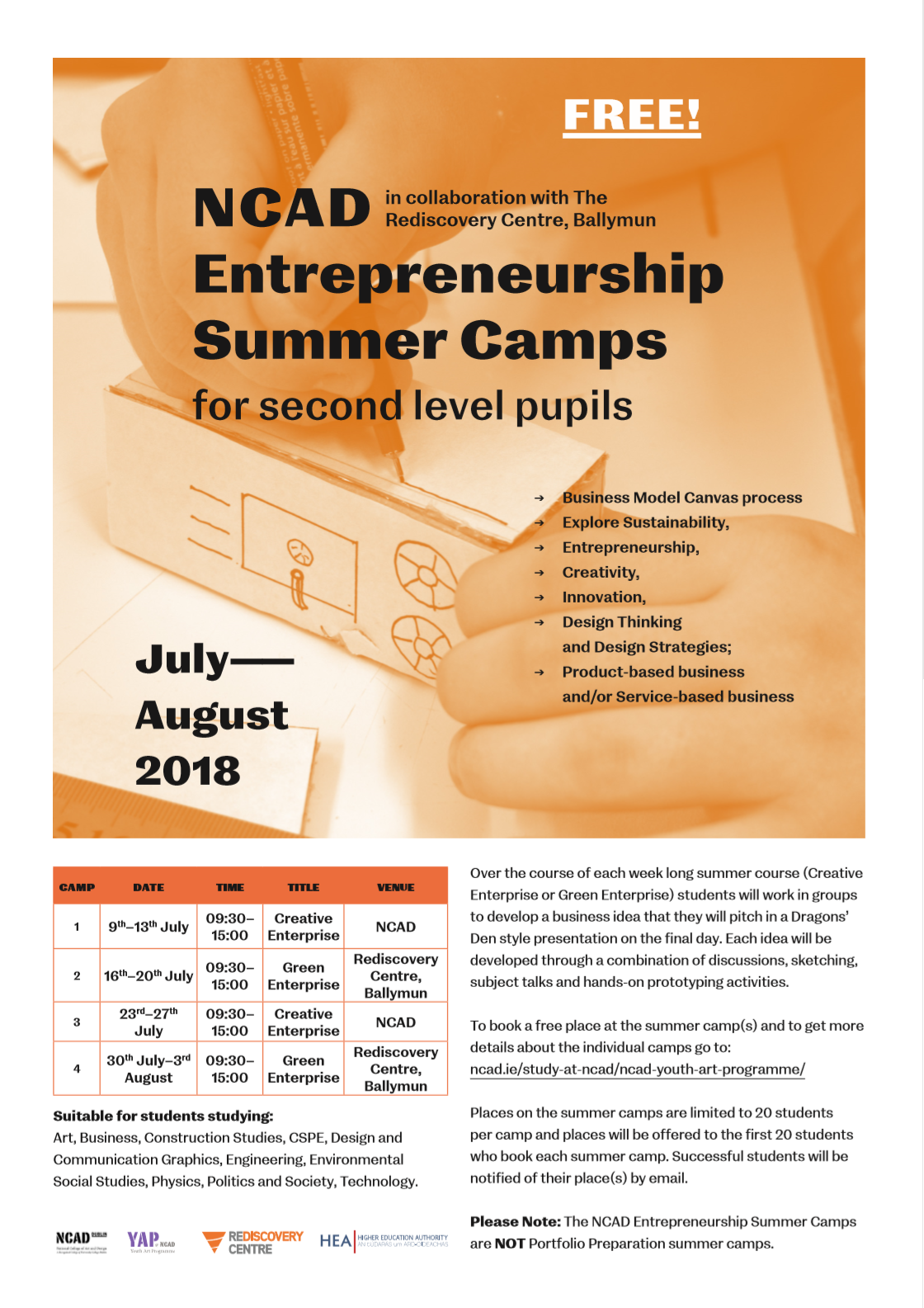 Click here for details of the Creative Enterprise Summer Camp.
Click here for details of the Green Enterprise Summer Camp.
Click here to book one of the Entrepreneurship Summer Camps.
Creative Enterprise Summer Camp, NCAD- 9th-13th July or 23rd-27th July 2018.
The Creative Enterprise course aims to foster creative thinking and innovation among participating students. The course content is an introduction to the creative and business skills required during the development of a commercially viable and socially engaged product or service. Working in groups, students will be involved in the research, prototyping and testing of their idea and engage in market research and validation, competitor analysis and business model exploration. The course material will be pitched and explained at a pace and level that is understandable and interesting with ample opportunities for questions, explanations and discussion. Participants will be guided through the Business Model Canvas process. The daily timetable is structured to achieve a balance between delivered content (lecture and video based), group work (consisting of project development and workshops), and hands-on sketching and making activities involved in the production of physical prototypes or service plans. Each group will give a visual and verbal presentation of their project progress every afternoon culminating in a final "Dragon's Den" style presentation to a panel of judges on the last day of the course.
Green Enterprise Summer Camp, Rediscovery Centre, Ballymun- 16th-20th July or 30th July-3rd August 2018.
The Green Enterprise Camp will be delivered at the Rediscovery Centre in Ballymun in collaboration with staff from NCAD. The Rediscovery Centre is a creative space connecting people, ideas and resources. We bring together the skills and expertise of artists, scientists, designers and craftsmen united in a common purpose of sustainability through resource efficiency and reuse. This camp aims at developing green business skills and knowledge. The programme encompasses a series of workshops, on both theory and practical skills demonstrations. Participants will be introduced to user-centred design research methods and design thinking as well as discussions on current sustainability issues and challenges faced by our society. The workshops focus on finding solution-based green business ideas. Participants will be guided through the Lean Business Model Canvas to rapidly produce robust green business plans. Practical skills workshops, delivered as part of the course, will enable students to reuse and redesign waste resources to develop successful and sustainable enterprises producing environmentally sound products. Students will be able to access support and advice from the Rediscovery Centre social enterprise staff and entrepreneurs. During the camp students will gain experience in rapid ideation, design sketch modelling, and prototyping while also building key problem solving skills, design research and presentation methods. At the conclusion of this intensive workshop the green business ideas will be presented to circular economy industry experts and green business consultants in a Dragon's Den style scenario.
To book a free place on one of the Entrepreneurship Summer Camps, use the link below:
https://www.surveymonkey.com/r/NCADSummerCamps2018
The list of remaining seminars for 17/18 can be found below.
| | | |
| --- | --- | --- |
| No. | Description | Date |
| 13 | Early Renaissance Sculpture | 11th April |
| 14 | The Romanesque Period- 11th and 12th Centuries- Metalwork | 18th April |
| 15 | High Renaissance Sculpture | 25th April |
| 16 | The Georgian Period 18th Century- Architecture | 2nd May |
| 17 | High Renaissance Painting - Boticelli | 9th May |
| 18 | The Georgian Period 18th Century - Applied Arts | 16th May |
| 19 | The Period of the Viking Invasions - Architecture and stonework | 23rd May |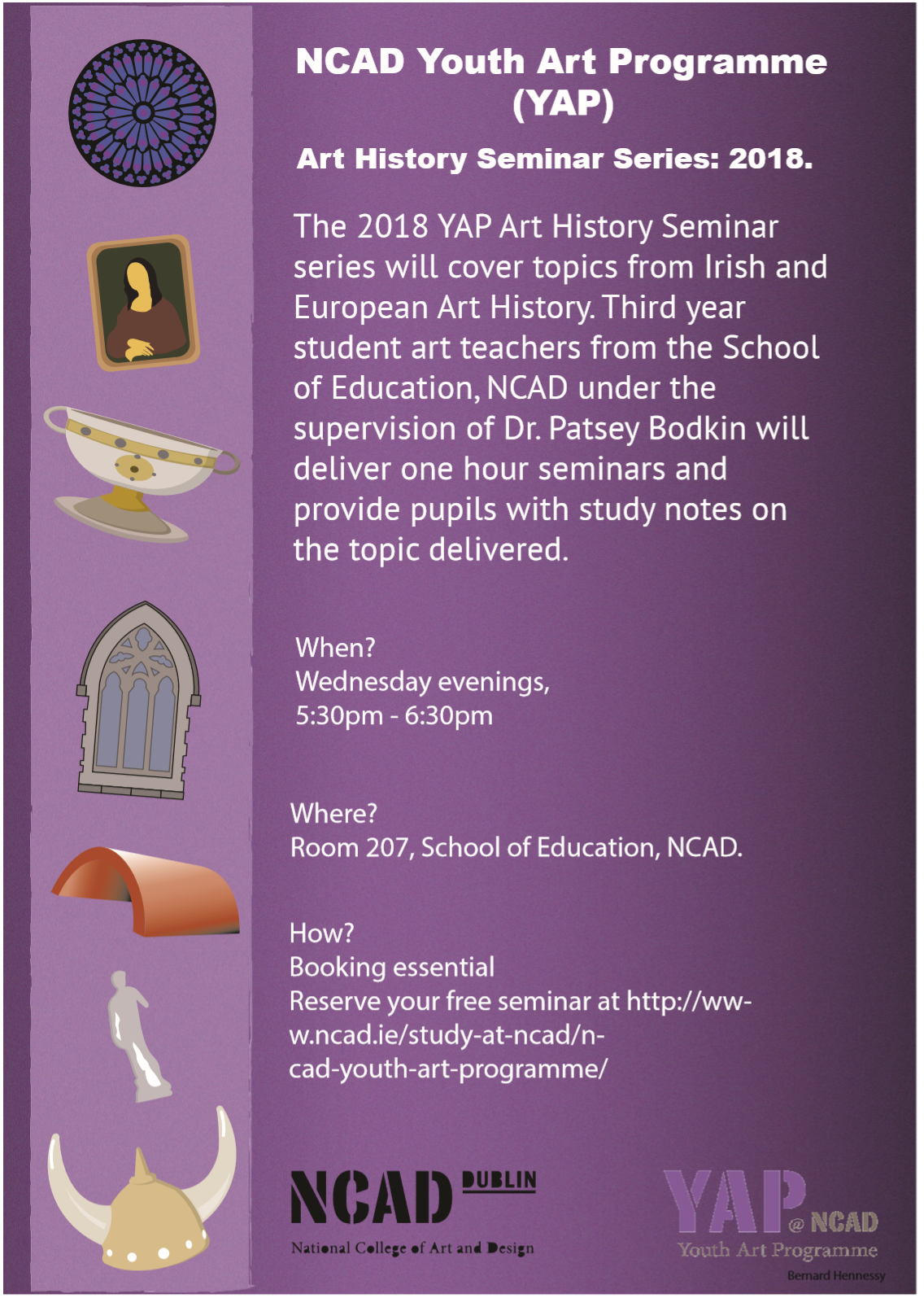 To see the list of seminars and book a place please click HERE.