Home »
MA in Socially Engaged Art - currently under review
MA in Socially Engaged Art - currently under review
PLEASE NOTE: THIS PROGRAMME IS CURRENTLY UNDER REVIEW. THERE WILL BE NO INTAKE FOR 20121-2022. The reconfigured one-year Graduate Diploma in Further Education and Arts will be offered as a one-year teaching qualification in Further Education. Students are required to undertake a teaching practicum of 100 hours within a formal education setting as well as a practicum in an informal educational setting with some additional day-time blocks for workshops, field trips and seminars. This programme is currently pending Teaching Council approval. Further Education continues to change and evolve, with ETB's, Youthreach and informal community settings offering opportunities for working with a range of age groups in formal and informal educational settings.  If you are interested in working with diverse students across various settings, and look to develop a professional identity as an educator, teacher or facilitator of learning in FE, then this course offers prospective students an opportunity to teach. The MA in Socially Engaged Art CURRENTLY UNDER REVIEW will be available through the School of Fine Art in due course. If you are an; artist, designer, educator, a community activist, a youth worker or have an interest in teaching in the area of formal or informal education, this programme could be for you. A two year Taught Masters will focus on the dynamic relationship between socially engaged arts practice and pedagogy.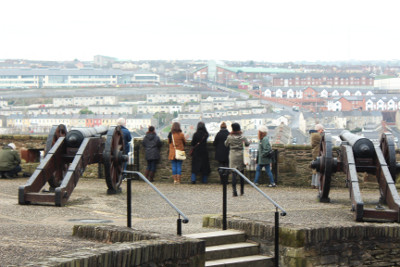 DonegalDerry fieldtrip, Marie Barrett on City walls. Photo: Fiona Whelan. DonegalDerry fieldtrip. Photo: Janet Williams
Programme Overview: CURRENTLY UNDER REVIEW
The MA Socially Engaged Art is a two year, Level 9, taught masters degree focusing on the dynamic relationship between socially engaged arts practice and pedagogy. This programme provides students with an opportunity to explore the fields of practice of socially engaged art. As a site for experimental learning and critical debate, the course attracts students from a range of disciplines who want to immerse themselves in a trans-disciplinary enquiry.
Socially engaged art practice is an artistic practice that requires a meaningful interaction with communities of place and/or interest and with broader social or political intentions at its core. It includes collaborative, community based, process based, public and dialogic practices that rely on social intercourse and exchange.
This full-time MA course is provided through taught classes in NCAD, typically taking place two evenings per week.. In Semesters 2 and 3, students also engage in practice placements. Semester 4 centres on student-led research through a major project.
The MA in Socially Engaged Art offers a range of engagements off campus. NCAD has established working relationships with a range of arts, community and education organisations nationally offering students the opportunity to immerse themselves in rich sites of learning. Another feature of the course is a field trip where students are exposed to a range of cultural and arts practices operating in a specific context.
FE teaching practice placements can be undertaken in ETB's, in Youthreach and other QQI-Fetac approved settings. NCAD has developed links with a range of FE providers and can assist in placement. Students are encouraged to link to the FE practitioners network and attend seminars and forums relevant to professional practice. Modules include; Adult and Community Education, Pedagogy and Practice, Spaces for Learning, Socially Engaged Art Practice, Curriculum Studies, teaching and learning and work based practicums.
The MA SEA is committed to staying connected to the national and international field of Socially Engaged Art and regularly engages with other organisations to further enhance the course programme. For example, we have hosted a Dublin screening of the Creative Time Summit for three years, partnering with Create, Fire Station Artists' Studios and Dublin City Gallery The Hugh Lane. In 2015, we co developed the TransActions publication with The Stockyard Institute in Chicago (Issue 1 2015, Issue 2 2017).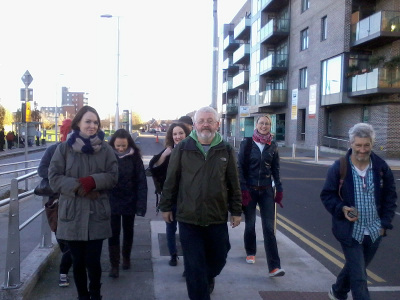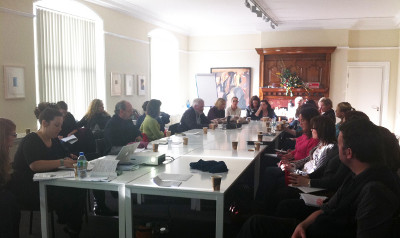 Rialto fieldtrip. Photo: Clodagh Kelly. Situating Practice Seminar Nov. 2012. Photo: Fiona Whelan
The MA SEA is based on the NCAD Campus in Dublin, where lectures and seminars are located and workshop facilities are provided. A feature of the MA SEA is the group collective experience, approaches to teaching include problem based learning, student led presentations and peer learning, all feature within the programme.

Alumni/Recent Graduates

The MA SEA+FE course launched in 2013, recruitment took place every second year. However it succceeds the GDip Community Arts Education course which has produced over 120 graduates over ten years. Many of these graduates are practicing artists with a wide range of public, socially engaged, community based and educational practices with many others moving on to work in arts administration, arts management and within the community and voluntary sector.
MA SEA+FE graduates are eligible to progress to PhD, or professional development opportunities. THIS COURSE IS CURRENTLY UNDER REVIEW AND WILL NOT BE RECRUITING IN 2021-22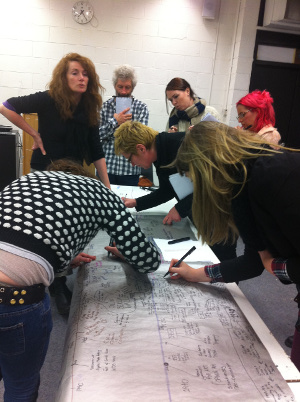 Eligibility
The programme is open to graduates with an honours degree award of 2.2 or higher, or an equivalent academic or professional qualification in a related discipline. The College also takes into consideration prior learning and experience.
English language: Students who have not been educated through English must show proof of achieving IELTS 6.5 (with a minimum of 6 in the writing section on the academic version) or an equivalent score in another accepted test.
How to apply
Please fill in the NCAD postgraduate application form and return to the NCAD Admissions Office. You will find full details on entry requirements and the application procedure at the link below.
We look forward to hearing from anyone with queries about the course.
Please contact Catherine Creagh, Administrator, School of Education
Phone: 353 - 1- 636 4301
Programme Contacts
Nuala Hunt - huntn@staff.ncad.ie
Fiona Whelan - whelanf@staff.ncad.ie