Home »
MSc Medical Device Design
MSc Medical Device Design
Medical technology needs innovators who are able to generate great ideas and produce great designs for successful products. Innovators who understand the need for empathy with users and the technologies needed.
The MSc Medical Device Design is a one-year full time taught masters. The course teaches fundamental approaches, methods and tools related to the design of medical devices, experiences, systems and services with a focus on users and context of use. The MSc is studio-based with students engaging in lectures, seminars and workshops along with projects with industry and clinical collaborators. The studio environment is an essential component, fostering collaborative peer-to-peer learning while exploring the complexity of medical care.
The MSc Medical Device Design brings together candidates from a range of fields including design, health care, engineering and business, and prepares graduates to play a leading role in the development of emerging medical devices.
The programme focuses on the interdisciplinary nature of Medical Device Design, covering topics ranging from basic medical science and bioinstrumentation to product design and human factors. At the core of the programme is a focus on the needs of people in healthcare. Through a range of studio projects students learn to conduct human centered contextual research, extract meaningful insights, create and visualise concepts, and develop and evaluate prototypes, all in the context of the complex and highly regulated world of medical device design. Covering the theoretical and practical aspects of the discipline, the course encourages students to design from a human centred perspective while gaining a deep understanding of the underlying science, technology, materials and manufacturing processes which underlie medical device design and development.
Follow the MSc Medical Device Design programme on Facebook, Twitter and Instagram.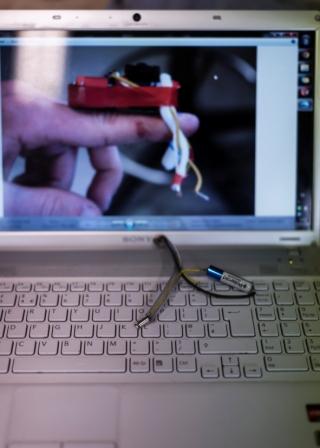 The MSc in Medical Device Design programme consists of a combination of taught modules and studio-based project work. In semester one Basic Medical Science is taught at Trinity College Dublin (TCD) while taught modules covering Research Methods, Human Factors, and Materials for Medical Device Design are delivered at NCAD. For a number of years we have collaborated with the UCD Veterinary School and the Royal College of Surgeons in Ireland (RCSI) in the production of simulators for surgical training. This project immerses students in the human factors involved in completing a surgical procedure. It is also an excellent opportunity for the students to become familiar with building models in the workshop and presenting complex tasks in a visually engaging manner. Each year the students collaborate with the MA Interaction Design students on an intensive real-world project. For a number of years this project has been in conjunction with the Mater Hospital with students working on real world problems which staff within the hospital have identified. This collaboration is followed at the end of semester one by an industry project where we work with an industry partner to generate innovative human centred solutions to clinical needs.
Two further industry collaboration projects are carried out in semester two while taught content includes History of Medicine, Bioinstrumentation, Biomechanics, Regulatory Affairs and Intellectual Property. Biomechanics is taught by visiting lecturers from TCD while Bioinstrumentation is taught at St. James's Hospital by their Medical Physics team. Also in semester two each year the TCD MSc Bioengineering students visit NCAD for a collaborative project. For a number of years this project has been in conjunction with the medical physics team at St. James's Hospital with students working on real world problems which staff within the hospital have identified.
Our industry collaborations are an essential part of the studio learning experience. Industry partners we have collaborated with over the years include Teleflex Medical, Cook Medical, Hollister Medical, Medtronic, Stryker and Boston Scientific. In all cases the design briefs are based on real clinical needs or live industry projects on which the companies are working. The creative, collaborative and interdisciplinary nature of medical device design is emphasised. Where possible the students get to do contextual research with clinical staff and in real clinical environments. Students present their work to engineers and scientists from the companies along with their peers. Each student generates their own concepts and final designs, learning how to generate creative ideas and how to analyse and validate them in an iterative cycle of analysis and synthesis. This is a great opportunity for students to produce significant work in a real world product design and development environment. Feedback from industry tutors and practitioners is an invaluable part of the learning process and builds confidence in presenting creative work in this complex field. This is all done in a supportive studio environment where peer to peer learning is the norm.
Much of the work generated is proprietary to the companies we work with and cannot be placed in the public domain. However having learned the process of medical device design in conjunction with industry the students have an opportunity over the summer months to complete a self-directed major project and dissertation. Products can be designed and developed in conjunction with clinicians and it gives the students an opportunity to develop their own products within the NCAD innovation and commercialisation framework. Since the course's inception students have generated many patents and much of the work has gone on to be further developed. Students complete the course with an excellent portfolio of work and are ready for a career in design practice or the medical device industry.
Graduates of the MSc in Medical Device Design are sought after in the medical device industry and design practices. While some graduates go on to register for a PhD the majority go on to work in industry or design practice. Recent graduates have an excellent employment rate and can be found working across design practices and the medical device industry in Ireland and abroad. Graduates have found employment in companies such as Design Partners, Cook Medical, Dyson, Medtronic, Teleflex, Starfish Medical, Dolmen and Trulife.
Alumni and recent graduates
Rory O'Callaghan - Founder Tympany Health
Thomás Gilson - Medtronic
Dmitry Sheremetiev - Medtronic
Vivienne McNulty - Hollister Medical
Mark Dillon - Signaure Orthapaedics
Chen Xie - Creganna
Jonathan Keirns - Pfizer UK
Ter Kealy - Design Partners
Peter Murphy - Design Partners
Johannes Shork - Stryker Mako Freiberg
Frederick DeSmet - Materialise
Eligibility
The programme is open to graduates with an Honours degree award of 2.2 or higher, or an equivalent academic or professional qualification across various disciplines including design, engineering, science, art, the humanities, social science, computer science, engineering and business. The college also takes into consideration prior learning and experience.
Students who have not been educated through English must show proof of achieving IELTS 6.5 (with a minimum of 6 in the writing section on the Academic Version) or an equivalent score in another accepted test.
Application
Programme Leaders
Enda O'Dowd BSc., MSc.
Enda holds a BSc in Polymer Technology, an MSc in Engineering Product Design and a PgCert in Ergonomics. He specialises in applying science and technology to design questions, helping designers use technology to develop new and innovative human centred products, and applying his knowledge of materials and technology to bigger questions such as systems thinking and human behaviour.
Derek Vallence BDes., MSc.
Derek holds a BDes in Industrial Design and an MSc in Computer Aided Product Design. He specialises in producing human centred design solutions to technical and engineering problems. Along with design problem solving Derek's expertise includes 3D modelling, simulation, prototyping and design for manufacture.